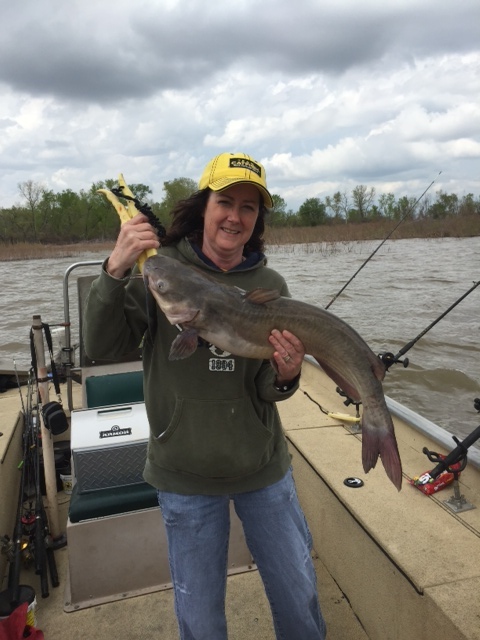 Mike's wife Teresa starts the 2015 season with a channel cat master angler. (Click on photo for larger view)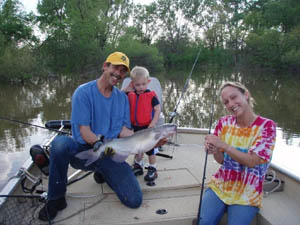 Four Lake Guides owner Mike Cook shows off a nice fish caught while fishing with his daughter Misty and his grandson Gage. The three were fishing at Cheney Reservoir. (Click on photo for larger view.)

Guide Mike Cook has been fishing Kansas waters for years.

From bluegill to flatheads,
Four Lake Guides
can fullfill your fishing needs

We offer custom guided trips for most species in Kansas waters. Perhaps you would enjoy jig fishing for crappie or battling a giant flathead.

Maybe your interest is in the popular walleye or a stringer of big hard fighting channel cat.

Mike Cook can help you find crappie if that's your interest.

See Customer Catch Photos
Stripers, wipers and white bass are also available.
Give us a call at Four Lake Guides and let us know what excites you.
Day or night fishing is available.
We offer personalized attention, tackle and bait supplied
and we clean the fish!
Your enjoyment and safety is our job. We do excellent work.
Certifications include Red Cross First Aid, Red Cross CPR, Kansas Boater Education,
Kansas Professional Guide. We're listed in the Kansas Guide Directory (available through the Wildlife and Parks Department).
We're also proud members of the Cheney Lake Association.
Whether you're a novice or avid angler, give us a call. We would love to hear from you.
Good Fishing,
Mike Cook
Contact Mike Cook at Four Lake Guides -
(316) 655-1541
By email
Visit My Sponsors
Team Catfish
Cattracker Catfish Baits | Zeiner's Bass Shop