Be sure to refresh your browser to be sure
you get the latest information.
Help The Angler keep others informed by emailing fishing reports to us. Include your name in the message part of your report if you'd like to receive credit for the report.
June 30, 2000 - Cheney - Numbers of those postspawn channels are growing everyday. They are hitting so hard. It's like they want to knock it into the middle of next week. Yeehah. Catching them in 2-6 foot. Depending on the wind you know. Walleye and wipers dropped off big time. Whites are pretty hot still on the points. I'ld like to head up the river and find them. Boy would that be fun. Jusst not enough time in the day. Mike Cook - Four Lake Guides
June 29, 2000 - Unknown Lake - Channel Cat biting fair on live bluegill. Caught three early morning hours of 6-26-00 between 5 and 8 lbs. Caught them on the rocky points in about eight to ten foot of water keep the bluegill alive for bigger fish!!
June 28, 2000 - Wilson -Fished Wilson this morning and the stripers were still surfacing pretty good in the dam area. They were however hard to approach and even harder to hook. We threw everything in the tackle box at them and ended up catching one on artificial. Caught 3 drifting bait in the same area they were surfacing in. With this cooler weather the surface temp. has cooled down to 74 degrees. Don't Catch'em All, Jack Hoskinson Madd Jack Striper Guide
June 26, 2000 - Kingman - No wind and fishing was poor Saturday at Kingman. Caught some Channel cats but only one keeper. Rest were fiddlers. No weeds so lake's been treated. Few anglers reported little success at bass fishing. MH.
June 26, 2000 - Fall River - Fished Fall Fiver sunday evening the 25th from 7:45pm till 9:15pm. The majority of the time fishing was fighting a 19lb flathead on 10lb line! Talked to a few locals and they said earlier this week someone caught a 40# and earlier then that they caught a 70#! Needless to say I hooked that fish
at 8:00pm and fought him till 8:45pm. Landed him, then decided it can't get
any better than that and headed home. Good luck! Seth Pound
June 26, 2000 - Wilson - The sun was just beginning to light the sky on a warm calm june morning, my boat was rigged and ready for the coming day of fishing. I patiently waited for my two clients to arrive, a local hunting guide and his brother, neither of which had ever experienced striper fishing.
As I stood looking out at the lake enjoying the fact that I was alone at the ramp and there were no other boats on the water, I caught a glimmer of boiling water. I focused my attention to this area in the low light conditions it was hard to tell but it looked like a huge school of surfacing fish. I grabbed my binoculars for a better look and sure enough my first thoughts were correct. Now my patience had turned into fever, I wanted to get to these fish fast.
Lake Wilson, Ks has never been known to have a lot of stripers surfacing but this day was to be different. After about 10 minutes of watching these stripers ravage the shad and the size of the school ever increasing, my fishing partners of the day arrived. They had to drive in the fog for several miles which had slowed down their arrival.
I pointed to the school and informed them it was time to be out there. We loaded their stuff which included a ultra lite rod which Tim wanted to catch a striper on and headed for the school. As I approched them the sight was awesome, I slowed the boat and slid as close as I dared, Tim's first cast with his ultra lite connected with about a 4 lb. striper which made one hard run and popped the line like it was nothing, Bill had a hook up with a casting rod I had rigged and was fighting his first striper. Tim decided his tackle was too small so he grabbed one of my striper rigs and began casting, hooking up almost instantly.
This was the start of a day we will all remember for along time, we caught and released 13 fish in the first hour, at times the stripers surrounded our boat and were so close you could count the stripes on their sides. As the light levels increased the fish moved out to deep water but continued to surface. There were schools on top in just about any direction you looked, by now I was trying to concentrate on finding the bigger fish. We had seen several stripers in the over 10 lb. range but were never lucky enough to get a hookup. By the end of the day we had caught 23 stripers up to 7 lbs. and missed at least that many more.
It was indeed a day to remember. Jack Hoskinson Madd Jack Striper Guide
June 25, 2000 - Wilson - Caught 4 stripers up to 5 lbs. missed 3 more fishing live shad in the lucas park area. The stripers were still surfacing, but very spooky and hard to approach. Don't Catch'em All, Jack Hoskinson Madd Jack Striper Guide
June 23, 2000 - Garnett North City Lake - I brought in 3 chanelcat at the Garnett North City Lake today between 20 & 24 inches today between 11:30 &12:30 in the northeast cove by the far east feeder. Thanks, Gilbert Holden
June 22, 2000 - Wilson - June 21 caught 7 stripers up to 7 lbs. on live shad in Lucas park area. June 22 caught 3 stripers on shad and 23 stripers up to 8 lbs. casting rotten ronnie's one ounce jigs to surfacing fish. There were many huge schools of stripers on top at times, it was an awesome site even to watch, got some of it on video tape, pretty hard to lay your pole down and run a camera with stripers all around your boat. Don't Catch'em, All Jack Hoskinson Madd Jack Striper Guide
June 19, 2000 - Elk City Reservoir and Big Hill - Cat fishing is still good at ELK city res. They are letting out water & you can catch flatheads on worms and/or goldfish. Chanel cat are still going in the lake along the riprap. Crappie are good in the river & in card creek. Crappie fishing at BIG HILL res is great on jigs or minnows around the brush piles & no. of the bridge, Channel cat are slow,but some are being caught in the 1&1/2 to 2lb. class. Flat head are still slow.
Earl Huffman, 801 E. Main, Cherryvale, Ks. 67335
P.S. If you need to contact me you can E MAIL
June 19, 2000 - Wilson - Fished Wilson the 18th in the evening, caught 5 stripers up to 7 lbs. missed at least 10 more fishing live shad right on the bottom in 36 feet of water in lucas park areas. June 19th in the morning, caught one stripers 12lbs. wind increase and all we could catch were channel cat. Water temp. 73 degrees Good Luck and Don't Catch'em All, Jack Hoskinson Madd Jack Striper Guide
June 17, 2000 - Wilson - Fished Wilson Friday evening, caught 6 stripers up to 10 lbs on live shad in the Lucas Park area. Sat. morning caught 1 striper on shad and 3- 7lbers casting rotten ronnie's 1oz. red and white jigs to surfacing fish. The stripers were surfacing from the Lucas park swim beach to Coopers point. Don't Catch'em All, Jack Hoskinson Madd Jack Striper Guide
June 14, 2000 - Kansas River in Topeka area - Went fishing for catfish At about 1 am Tuesday night-Wednesday morning 6-13-2000. After 2 to 3 weeks of not catching anything, not even a bite, we caught several 3 to 4 LBS. cats but threw them back as we don't keep anything under 5 pounds. Yes it was raining but didn't really care as we were catching them left and right. They were hitting hard and strong as no warning. We would literally watch our poles slide across the tackle box and boom you got one, but like I said only in the 3 to 4 pound range.
Good Luck guys and gals. Jason Porter. Porter5937@aol.com
June 12, 2000 - Smokey Hill River - We went limb lining this weekend on the Smoky Hill river and cought our limits. They were all 8 to 10 lbs with one 40 lbs that we caught on our noon run, we run them every 2 to 4 hours. So don't give up on the smoky if you want some good flats. Richard Hoffman
June 12, 2000 - Cedar Bluff - Just spent a great week at Cedar Bluffs. Bass, Sun Perch and Wipers were plentiful. When is the State of Kansas going to put some money into this great fishing and camping spot? Shower facilities could use an upgrade, possibly add another one on the south shore. Roads into the south shore need to be graded, why not blacktop? I would be willing to pay more for camping
if these type of upgrades are done. Nice place. Wayne Borelli
June 6, 2000 - Wilson - Water 71 degree's June 4, caught 4 small stripers at sundown, in 12 foot of water. Caught 2 small stripers at sunrise June 5, couldn't seem to get the hook into several other hits. Fishing the east shore dam area. Big fish laying in the deep water from lucas to the Dam. Good Luck Jack Hoskinson Madd Jack Striper Guide
June 5, 2000 - Cheney - Fished Cheney on Sunday for Walleye. Light winds made the morning bite very slow. We worked the points and the sunken island until midday, waiting for a blow. Once the wind came hard out of the north, the fish moved up on the points. 2 of us took 6 nice keepers and several fats shorts fishing a worm tipped jig in 6 to 11 feet of water. Pink head and green/black body
seemed to work the best. Too bad we had to quit at 4:00. Good Luck! Tedd Gibson
June 5, 2000 - Cheney - Sunday I had a new client. We smoked the walleye at Cheney and got smoked by the channels at Cheney. We caught some really nice fish so he was happy. Said He would call again to take his daughter out. Mike Cook - Four Lake Guides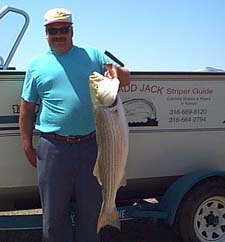 June 3, 2000 - Wilson - Fished Wilson Friday June 2 water temp. 70 degrees, caught 13 stripers with the biggest being 20.75 lbs. had two other good fish on and lost them. Fishing humps off of the river chanel in the Lucas park and east shore dam area. Fishing 24 to 38 feet with live shad. June 3 caught 4 with 12 lbs. as largest fishing same area. Don't Catch'em All, Jack Hoskinson Madd Jack Striper Guide
May 31, 2000 - Milford - Fished Milford Lake early Monday morning the 29th. On the water before 6:00am and fished until about 9:00am. Caught 3 walleye--20",22"&25". Using floating jigs tipped with half nightcrawler. Drifting 20' of water up on a 5' shelf. Great morning to be out before all the other
watercraft started their day!! R. Carlson
May 28, 2000 - Cheney and Marion - 35 walleye Saturday at Cheney. Thirty big channels Sunday at Marion with a couple of clients and an 11 year old boy who said daddy this is so much fun. Do you ever have one of those weekends when you feel overly blessed? Mike Cook - Four Lake Guides
May 28, 2000 - Wilson - Fished Wilson the 26 and 27. The first day was a skunk for myself and two other guides, couldn't buy a bite. Incoming thunderstorms and wind shifts I am sure had a lot to due with the lockjaw pattern of the fish. The morning of the 27th we caught 5 stripers up to 8 lbs. they hit good until the wind came up and the boat traffic increased. The ones we caught were in the minooka park area fishing a 24 foot hump with live shad, right on the bottom. Water temp. is nearing the 70 degree mark. Jack Hoskinson Madd Jack Striper Guide
May 27, 2000 - Lovewell - Just returned from fishing Lovewell for the last week. Caught Walleye, Drum, Wiper, Crappie, and Channel Cat. Most Walleye were "short" in the 17+ range. Usually ended the day with couple keepers. Weather
conditions were tough with no wind to give a good Walleye chop. R.Carlson
May 24, 2000 - Perry - Fished all morning at lake Perry 5/23/00. Spawn seems to have finally got going. Caught many little ones probably 50 and about 10 keepers (10"+). Minnows yielded only three fish in five hours. Chartreause jigs and twist tails grubs, pink and blue jigs, and a chartreause rooster tail yielded the
best response. 3'-10' of water seemed about right. Some close some deeper.
Had a great time. Thanks Josh McVey rentit@networksplus.net
May 20, 2000 - Wilson - Hi, I took the wife fishing today it was a beautiful day on Wilson. Caught 12 stripers up to 10 lbs. and the wife had a biggum right up to the net and lost him. I'd guess him or problably a her at around 20 lbs. The stripers we caught were mostly spawned out females and they are hungry. Big shad up to 1/2 pound were getting lots of hits. We were catching the fish on humps up to 24 feet in the Minooka park area. For the next few weeks there will be alot of the bigger fish caught. So if it's a big fish you want now is one of the best times to try. Don't Catch'em All, Jack Hoskinson Madd Jack Striper Guide
See more pictures of fish in The Kansas Angler Photo Gallery.
May 20, 2000 - Clinton - May 19, Crappie still slow at Clinton. Caught very few and the females still had eggs. D.T.
May 20, 2000 - Milford - Fished Milford the 18th and 19th what a disappointment. On a lake that usually produces more fish than you can keep, we fished hard in windy, rainy, miserable conditions. We hit every honey hole for 8 miles up and down the lake. It was no problem finding fish but finding hungry fish was next to impossible. The low pressure that had brought the wind and the rain my have been the cause but in this guides opinion it was a day to pay your dues in hopes of the excellent fishing days ahead. I sure do like the catching days but there are times when it's just fishing and there isn't a thing you can do about it. Good Luck, Jack Hoskinson Madd Jack Striper Guide
May 19, 2000 - Council Grove - Fished Council Grove for crappie on Thursday. They were going good until late afternoon when the cold front settled in. We were working minnow tipped jigs around the rocks and deadfalls in 1 to 2 feet of water. Color didn't seem to matter. Between 3 of us we boated around 150 fish. Most were males but several good females were caught also. A couple more warm days and they should really bust loose! Good luck, Tedd Gibson
May 13, 2000 - Cedar Bluff - Went to Cedar Bluff May 6th-7th and hammered all kinds of fish. Hammered nice crappie in the page creek area using a three inch chartuese grub fishing in about 10 feet of water catching at 5 ft. Also caught quite a few white bass and one walleye in page creek. Caught wipers and whites along the dam and some walleye using the same grub. Got bored catching whites so i tied on a spinnerbait and caught several nice smallies. Needless to say but cedar bluff is one hell of a lake wish the goverment would give them more money to expand camping and hire more help. Happy fisherman David Tenan
May 13, 2000 - Wilson - Fishing Wilson, May 12 water temp.62 degrees. Caught 8 stripers up to 8 lbs. missed at least that many more. Using shad at 24 to 30 feet in the lucas park area. The water is starting to get a little color and the fishing should continue to improve. Jack Hoskinson Madd Jack Striper Guide
May 13, 2000 - Clinton -May 10th. Crappie slow and away from the bank. Females still full of eggs, and no sign of males sweeping nests on the few we caught. D.T.
May 8, 2000 - Jetmore City Lake - Caught a few large mouth bass several catfish and alot of wipers 6lb was the biggest. =====
GOD BLESS ALL POWs-MIAs & VIET NAM VETS nep2much4u@yahoo.com
May 8, 2000 - Wilson - Hi Jim, We fished Wilson hard the last 2 days and ended up with 7 small stripers about 4 lbs. The water is very clear and the fish are very boat shy. Fishing early or late seems to be the best and fishing shad on ballons did produce a few. I did find alot of bigger fish in deep water 60 feet but could not get them to go. Jack Hoskinson Madd Jack Striper Guide
May 8, 2000 - Tuttle Creek Res - Crappie no longer biting on minnows in rocky coves at any depth from 10AM-4PM. Water may be too clear???
May 8, 2000 - Atchison SFL - Went to Atchison on a beautiful Sunday. Caught about 7-8 LM bass, largest being around 3 1/2 lbs. Surprisingly enough, the shallows were not really working for me, and I caught my 3 biggest bass in about 8-10 feet of water off the points. Mann manipulator worms, texas-rigged, seemed to do the trick for me! I also had a little luck with a Wiggle Wart crankbait. Happy fishing. ROB
May 8, 2000 - El Dorado and Cheney - All hell broke loose this weekend. El Dorado produced great numbers of assorted sizes of crappie. Cheney white bass broke loose on the dam and in the river. Finally, we get a good spawn. Hope you were out. Mike Cook - Four Lake Guides
May 7, 2000 - Perry - Got to Perry at 6pm fished in the slough creek area, caught around 15 fish, only one of which was a keeper, a female. Eggs still
pretty hard and saw no indication of she was ready to go. My guess would
be a couple more weeks. I've been reading your fishing reports thought I
would contribute.
May 4, 2000 - Cheney - I went fishing at Cheney this Saturday. I went with a friend of mine. He had a boat, we trolled the dam just pitching a white jig up on the dam and worked it into the water. The white bass just nailed it. Using 1/8th jig white or pearl white 3" grub. I caught 24 and my friend caught 20.
May 4, 2000 - Cheney - Starting to catch white bass drifting off points with green jig with pink head. Picked up a few walleyes but lucky to get more than one keeper per trip. Thanks for email responses on anchor question. M Hood
May 4, 2000 - Wyandott Co Lake - MAY 3 Got off work and headed for the lake caught 2 channelcats out of boy scout cove 2lbs and 4lbs using shad sides, I also caught 2 bass and one walleye. The lake is a little low. Fishing is good on the dam and the grassy slope. bass fishing is very good just before dark.
April 29, 2000 - Cross Creek - Fished Cross Creek near Rossville for Channel Cat 4/28/00 Limb lines & Rod & Reel Used live bait, Turkey liver, Night crawlers. Have been cathing 1 to 7 # cats from 5-8 pm after dark it seems that fish shut down. Have been fishing Mission Creek near Dover with out any good results. Farm ponds near Dover have been good for channel cat & Bass. Generaly between 5-8 pm Good fishing to all Bruce Teeter Yodeldawg1@cs.com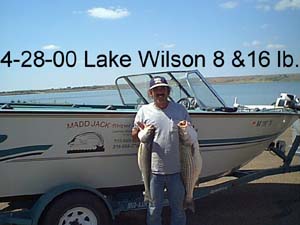 April 28, 2000 - Wilson - Water temp. 58 degrees. Catching stripers 4 to 6 lbs. On the humps in the dam area drifting shad on ballons. I also caught an 8 lb. male and a 16 lb. female at the same time, it was a good fight. These fish are starting into there prespawn cycle. You will find a big female surrounded by her male friends. I been throwing redfins early in the morning hoping for some topwater action I did have one striper boil my lure. It wasn't a hit but it sure gets your blood going. Good Fishing. Jack Hoskinson Madd Jack Striper Guide
See more pictures of fish in The Kansas Angler Photo Gallery.
April 25, 2000 - Wilson - Hi, I just got back from a scout trip at Wilson. I caught a few stripers up to 5 lbs. I had alot of bite's using big bait but just couldn't seem to get the hook set. No problem catching small fish on small bait, that is if the wind will let you on the water. It seems the wade fisherman are doing the best on big stripers. I saw a picture of a 20 plus lb. striper caught in the last couple days, and heard of a 13 lb. caught this week. They have been fishing the points near the dam. Good Luck and Don't Catch'em All Jack Hoskinson Madd Jack Striper Guide
April 22, 2000 - Kingman State Lake - We went to Kingman State Lake on April 23rd. We got to the lake about 6:30 a.m. We caught 3 bass in about 15 minutes. They were about 2 lbs each. We caught them on spinnerbaits on east side of lake. Fishing slowed a little, but was still catching fish on spinnerbaits at the east and west sides of lake. I changed to a black and blue salt craw. The first cast I caught a fish, and kept catching fish all day long.
My wife caught 9 bass, my son caught 1 bass and I caught 1 walleye and 22 bass, all between 1-2 lbs. We fished until 4:00 p.m. We had a great time. I hope this will help everybody else catch some fish. Good luck and see ya on the water.
Also, would like to hear about some good places to fish on El Dorado Lake. We are new to KS. Email us at JANDKFISHER@CS.COM
April 22, 2000 - Cheney - Tried Cheney again for channel cat and crappie in coves. Caught one Channel cat and no crappie. Wind was rough and water temp. was 57 degrees. M. Hood - Anyone have any suggestions? I'm currently using either a crabclaw 12 lb. anchor or a "hooker" for 16-18 ft. boat. I even tried a combo of both but I can't seem to hold position in 4 ft. of water or less in gravel condition fishing a windy bank. What anchor would you recommend? I normally fish out of a Bass Tracker 16 ft. Deep V. Email an answer and The Kansas Angler Online will forward it to him.
April 22, 2000 - Wilson - Hi, well the weather did it to us again. Caught 8 stripers missed at least 6 then the wind came up and the fish shut down. Lake Wilson, water temp. 54 degees Minooka park area, fishing live shad on the river channel break. At least the fish are starting to school again, the last few weeks has been mostly small groups of 2 or 3 and even those were moving all the time. I wish I could twist the weathermans arm into giving us at least 3 or 4 days with out a front or the wind blowing the lake to whitecap's. Good fishing Jack Hoskinson Madd Jack Striper Guide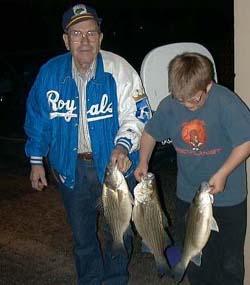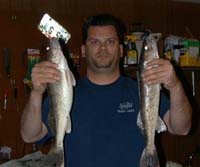 Submitted April 22, 2000 by Mike Franano - Wipers caught at LaCygne on jerkbaits. Walleye caught at Wolf Creek on a Foxee Jig and nightcrawler.
See more pictures of fish in The Kansas Angler Photo Gallery.
April 22, 2000 - Fall River - Water was a little stained and 64 deg in the river. Clearer on the flats and 66 degrees. Had a trip today for white bass and channel. A combo trip. The morning was pretty slow with only a couple of big female whites. The afternoon was pretty wonderful. Only 11 fish, but a 10,8,five 6 pounders and the rest were between 2 and 4. My client asked where the little ones were. I told him out in the deep water.Mike Cook - Four Lake Guides
April 19, 2000 - Lake Afton - Hi, fished for Catfish today, April, 19. Fished at Afton Lake on the East side using minnows and shad sides. Had several bites but I couldn't get them to take it all the way. Good Luck
April 19, 2000 - Tuttle - Got off work late and headed to Big Dawg Marina on Tuttle. I fished from 6:30 to dark with no luck on the crappie. The water temp was up from 54 on Saturaday to nearing 58. The water is very clear and rising up to the Christmas trees placed by KDWP. I hear of some being caught but it is hit and miss. Any day now. Pat Downing Manhattan pdowislc@hotmail.com
April 19, 2000 - El Dorado - Greetings, I've been fishing El Dorado lake from shore for the last 4 days. About 6 hours aday. Crappie are hitting minnows at a fair
rate. Caught 2 Walleye off minnow at the old rock Quarry. Saw others with 8 to 10 crappie. Also off minnows. Over all hit rate for crappie is slow to fair. Going out again today :~ ) -- Col. Fast Eddy Fighter C.O. 22ND F/B Group The Red Raiders
April 18, 2000 - Webster - Got word yesterday of a 10 and 13 lb. wiper being caught yesterday at Webster. They were caught off the bank fishing into the wind. No more info than that but I'll bet they're back trying there luck again today. Good Luck. Jack Hoskinson Madd Jack Striper Guide
April 17, 2000 - El Dorado - Temp. 59, caught fish in little pockets on laydown. most of them caught on spinner bait. Dave Galgon
April 17, 2000 - Kanopolis - A friend and I caught 17 white bass in the morning above Kanopolis on Roadrunners with chartreuse grub tail. Kept 6 the biggest weighted 1.5 lbs. and the smallest weighted .75 lbs. All but one were males. Vance Stirn, Tescott
April 16, 2000 - Kansas River in Topeka area - I just got home from fishing the Kansas River in the Topeka area. I caught 3 catfish 3lbs. 6lbs. and 7lbs. All caught on liver and here's a secret, mix it with garlic powder. I caught them quite early, maybe due to the cold front moving in. But these were caught between 6 and 8 pm. After that they quit biting all together. Planning on going back on Tuesday night. A couple of other guys claimed to have caught a 15 lbs. and one broke their line on shad sides but had no proof. Good luck. Jason Porter e-mail Porter5937@aol.com
April 15, 2000 - Wilson - Hi, I fished Wilson Thursday, Apr.13. Never did like that 13 number. We concentrated on the big fish, with big baits, shad 8 inches or longer. Got several good hits and one striper on for a short time but didn't have a good hook set. Most of the bigger fish we found were near points or submerged brush suspended 12 to 22 feet in the Minooka Park area. With the water at 52 degrees and the warmer weather coming these big fish should bust lose soon. I can hardly wait. Jack Hoskinson Madd Jack Striper Guide
April 15, 2000 - Fall River - Friday, I fished Fall River for crappie. Client demand you know. We found the crappie in 14-17 foot of water in the river. It was windy bad so that was the only place we could safely fish. 63 degree water temp and clear. Bright day, I don't recall the air temp. All we could catch were 5
inch fish I was marking just off the bottom. So we moved in shallow along
the bank checking rocky areas and brush in 1-3 foot of water. Well the big
crappie were not there but we did catch a half dozen whites 1 1/4 - 2
pounds. One was 2.5. The bigger ones appeared to be females. All were
returned. He wanted a dozen crappie fillets. So we worked the back in and
out staying on top of the schools in deeper water as shallow as 8 foot and
caughht only small crappie. Mike Cook - Four Lake Guides
April 15, 2000 - Marion - The weather has had me off the lakes and up the rivers here lately. Within the next 2 weeks is when the whites will run at Marion. The water temp is still in the 50's. They had some rain last night. Don't know if it mudded the water any. Mike Cook - Four Lake Guides
So given a 70-80 deg day with a little wind I think we could find 100 fish
on the cottonwood river at Marion. If they move up too far for the boat we
can hoof it along the bank but I don't think that would be neccesary.

April 12, 2000 - Kansas River in Topeka area - I have done pretty good on the kansas river for catfish so far this year. I have been using liver and have caught a 2 6 7 and 9 pound catfish so far and 2 snags and a cold. so good luck and i plan on going this weekend 4-15-00. Questions or comments Porter5937@aol.com
April 11, 2000 - Council Grove - Water level is stall 5' below normal, water temp as of 04/09/00 was 52.7 in the mid afternoon to 53.6 at about 16:30. crappie were slow, but could be hook at about 15ft on jigs. water is stained with about 8'' visibility.
April 11, 2000 - Cheney - The whites are beginning to move up the river at Cheney. Action has been pretty slow but best in the evenings. I have also been catching a couple of short walleye in the river but none have measured 18". Good Luck
April 11, 2000 - Cheney - My son and I hit Cheney pretty hard the past two weekends for channel cat. It was slow picking up 3 last Sat. and only 1 the weekend before. Water temp. was 54 on main lake and 58 in coves. Prior weekend was 49 lake and 52 cove. Last Sat. drifted around dark on east end of dam for walleye and
didn't get a bump. Being the only boat along the east shore this time of
year tells you something. Water is very muddy. M. Hood
April 9, 2000 - Cheney - Three walleye in two hours on east side of Dam, chartreuse jigs, one male full, two empty, all three were 16 and a half inches
April 9, 2000 - Council Grove - Fished crappies at Munkers Creek at Council Grove for about three hours. Two of us caught nothing using minnows and jigs. Talking to others fishing, a few small crappies being caught on minnows. The water is a bit cool yet. I would like to see more reports around the Manhattan area. Thanks, Pat Downing - Manhattan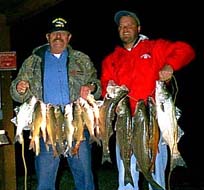 April 9, 2000 - Wilson - Minooka Park area - caught five stripers up to 7 lbs. Fifteen whites fishing live shad. The fish were moving all the time and you had to move with them. Lots of fish in this area and west. Good luck.
Jack Hoskinson Madd Jack Striper Guide
See More Fish Photographs
in Kansas Angler Photo Gallery
April 5, 2000 - Kanopolis - Just heard about the white bass in the river above Kanopolis, iron bridge area.Catching females on charttuse roadrunners up to 1 1/2 lbs. Jack Hoskinson Madd Jack Striper Guide

April 5, 2000 - Webster - Just received a report of a 15 lb. wiper being caught at Lake Webster. I don't know any more than that but this is prime time to catch a trophy size monster at this lake. Good Luck Jack Hoskinson Madd Jack Striper Guide
April 5, 2000 - Cheney - I received another report today of a 27 lb. striper being caught at cheney. The source is reliable but was not to willing to give up much info only that it was caught bottom fishing with cut bait. Good Luck Jack Hoskinson Madd Jack Striper Guide
April 5, 2000 - Clinton - No luck fishing for white bass in the upper arms of Rock Creek or Deer Creek as of Apr. 1, 2000. I was using tube jigs, perhaps
live bait would bring them out. I'm wondering if anyone else has had any luck yet?
If you have, email me.
April 2, 2000 - Marion - White bass-2 on chartreuse jigs at broken bridge and North, nothing on face of dam.
Source: Kansas Anglers like you. Send us a report.
Reports for January - March 2000
Back to Current Reports from Kansas Anglers | Kansas Angler Home Page
Reports for Kansas | Colorado | Missouri | Nebraska | Oklahoma | Texas