Be sure to refresh your browser to be sure
you get the latest information.
Help The Angler keep others informed by emailing fishing reports to us. Include your name in the message part of your report if you'd like to receive credit for the report.
September 29, 2000 - Wilson - Fished Wilson 1 PM to dusk, caught 17 stripers up to 7 lbs. 2 walleye and 3 chanels fishing shad on deep water humps in the dam area. Another beautiful day! Jack Hoskinson Madd Jack Striper Guide
September 27, 2000 - Wilson - Fished Wilson the evening of the 26th and most of the day on the 27th. The wonderful fall weather is here. We caught 25 stripers up to 6 lbs. fishing deep water humps in the Lucus Park and dam area, fishing live shad between 36 and 42 feet. Jack Hoskinson Madd Jack Striper Guide
September 23, 2000 - Wilson - Fished Sept. 23 windy and rain. Got several good hits early in the day but only put two small stripers in the boat. The water is cooling and the fish seem to be scattered, once this weather stabilizes the fishing should be great! Jack Hoskinson Madd Jack Striper Guide
September 22, 2000 - Wilson - Fished Wilson Sept 21 South wind 25 gusting to 35 despite the wind we did manage to put one 11 lb. striper in the boat, fishing minooka park area 28 feet on live shad. Jack Hoskinson Madd Jack Striper Guide
September 21, 2000 - Butler County State Lake - Largemouth-Fair 1 - 4# on spinnerbaits in 4-6' of water near weedbeds
September 18, 2000 - Cheney and Marion - Saturday I headed a couple hundred miles north to Marion hoping to find cooler shallow water. I found hungry cats, 32 to be exact. A couple of 29 inch fish too. The fish were biting lakewide. Everywhere I fished I caught fish. Sunday was a little different at Cheney. I caught 17 2-4 pound fish but they all came from the same point. A dozen spots failed to produce a fish. Now you know I was using Junnie's Cat Tracker Products. Jo Jo's
Pole Snatcher was the blend of bait along with a variety of Cat Tracker worms. The Marion fish didn't show a preference for worms. The Cheney fish wanted the Tubie 2000 worm in the crawfish pattern, as 14 of the 17 fish caught were on that worm. The fish were hitting hard. Several times my Aurora rods nearly touched the water. That Pole Snatcher bait really is an exciting bait to use.
All fish were released. Mike Cook - Four Lake Guides
September 17, 2000 - Cheney - Fished Cheney Saturday and Sunday AM. Found Walleye in four feet of water. I was trolling a dark green, speckled lure and a dark perch colored Walleye Diver. Caught one 24", a 21", 19", 18" and a 17" on Saturday and a 17" and a 18" on Sunday AM The wind had kicked up, so I was trolling the point at M&M. I was bouncing these lures off the bottom. The 24" was hooked in the top fin, making it feel like I was snagged the entire time pulling it up. All the fish were caught between 9am and 11am. Most fisherman that day were only catching 1 or 2. None were being caught deeper. All were released in great shape for another day. gl
September 15, 2000 - Cheney and Wilson - Madd Jack has spent the last week at the fair and boy am I ready to go fishing!!!! I have heard one good report on cheney that came from a reliable source. 2 stripers in the 14 to 17 lb. class were caught bank fishing in the dam area. Also the surfacing action is starting to increase on lake Wilson. These cool nights and under 100 degree days is starting to spark them into ther=e fall feeding pattern. Personally I'm ready for some hot fishing and cool days. I'll be on the water again next week and hope to pass along some
great reports. Don't Catch'em All Jack Hoskinson Madd Jack Striper Guide
August 28, 2000 - Milford - My son and I went to Milford yesterday evening and caught 20 to 25 whites apeice on Kastmaters and Mepps Syclops spoons in Farnum creek. Kept 5 that weighed 1 to 1.25 pounds. The rest were all smaller. Went back early morning and did no good at all mainly because of the wind early. We also were there last Thursday evening and Friday morning and had the same luck except the morning was the time to be there. Vance Stirn
August 23, 2000 - Lake Webster - Lake Webster is still producing a few nice wipers 5 lbs and even a few over 10. The surface action is unpredictable and trolling seems to be producing the most fish. Lake Wilson is hit and miss as far a surfacing but a few stripers in the 2 to 9 lb. range are being caught from lucas to the Dam on bait and trolling. Early morning hours seem to be best. That's all for now, I sure hope this weather cools off soon! Jack Hoskinson Madd Jack Striper Guide
August 23, 2000 - Ford County Fishing Lake - We were catching 1 1/2-2 1/2 pound bass on a carolina rigged lizard. the leader was about a foot-a foot and a half and the lizard was pumpkinseed with a chartruse tail. we were fishing on the east side of the dam casting west about 10 feet off the damn and we were casting as far as we could. they were slow at times we both caught 4 fish in the 4 hours we were
there and the crainkbaits we usually use didnt work for us so that is a good
amount. Nathan Herrera and Kyle Klein
August 22, 2000 - Ford County Fishing Lake - We caught 10 Largemouth bass using plastic lizards and worms around rocky shoreline, 13-16 several nice 2 pounders where caught. Several small channel cat were caught on dough bait around rocky shoreline.
August 10, 2000 - Lake Webster - The Dog Days of Summer! With the water temps. in the mid 80's and the day time highs nearing or entering the 100's, the fish seem to settle into a pattern of leave me alone, it's too hot! Which I totally agree. This time of year the only ones who seem to benefit are the power companies and of course the air conditioning repair people!
I dream of a cool fall breeze with the leaves changing colors, the lakes being void of the summer power boater's and of course those darn jet ski's are put in the garage til next year. But still I do fish the dog days, always thinking I will get on that school of biggun's, I mean they have to eat sometime, right?
But when is that time? I concentrate on the early morning hours the most, as the surface temp. has cooled ever so slightly over night. At times this slight cooling will provoke the fish into surface feeding, which in my books is some of the most exciting fishing there is. But still there are days you sit and wait, watch for the start of the action, straining your eyes for the slightest ripple to give away their location.
Of course the old comment you should have been here yesterday always rings in your ears. Now being a guide on 3 different lakes I can not be on all three at the same time but I do have a lot of fishing partners who keep me up to date. But this time of year if they're hitting on Webster today where will they be hitting tomorrow? The fish only know, being a guide certainly doesn't hold the answer, if those fish aren't bitting today all I know and have learned after years of hard fishing, and countless hours on the water don't mean a thing! It all comes back to being in the right place at the right time and if you're not on the water you won't catch a thing. This is supposed to be a fishing report , Lake Webster is producing wipers early and late casting to surfacing schools, fishing live bait, and a few are being caught by trollers. Most are in the 5 to 7 pound range with a few bigger fish being hooked and lost. I heard last week of one wiper that broke an ugly-stik rod, it must have been a HOGG. This is the only lake that I have heard much about in the last few weeks so that's all for now. Hope to pass alone some good news soon! Jack Hoskinson Madd Jack Striper Guide
July 29, 2000 - Wilson - It was a perfect night for fishing a slight breeze, with very little boat traffic, no moon and lots of stars, too bad the fish didn't agree! Caught one small striper in the dam area. Started at 5 AM the next morning had several good hits but couldn't get a hook in them. Jack Hoskinson Madd Jack Striper Guide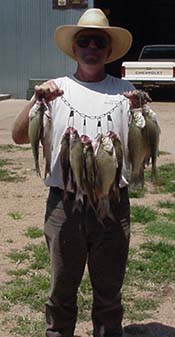 July 26, 2000 - Cheney Reservoir - You can catch a boat full of white bass fast trolling a sassy shad, road runner, or beetle spin in shallow water on the windy side of points, islands, and humps. Best days are those preceding a major front. Stay home the day after.
July 26, 2000 - Wilson - Fished Wilson in the evening til almost midnight. Caught 2 -5lb. stripers, one nice chanel. The stripers surfaced for a short time right before sunset, never really going good, just enough to get your blood going. Fishing live shad 26 to 38 feet in the Lucas park area. Jack Hoskinson Madd Jack Striper Guide
July 22, 2000 - Wilson - Fished Wilson late on the 21th, caught 3 stripers up to 5 lbs. missed that many more, then I set up for nite fishing only to have storms cells with lightning build all around us so we called it a night. Started early on the 22 and fished hard only to catch one 9 lb. striper, the storms that blew threw before sunup certainly shut the fish down. I have heard of large walleye 5 lbs. being taken in the minooka area fishing shallow, that's all I know but if it's walleye you want it would be worth checking out. Jack Hoskinson Madd Jack Striper Guide
July 20, 2000 - Wilson - Fished wilson for a short time this evening until a storm scarred us off. Caught one 5 lb. plus walleye, on a large shad fished 22 feet deep on a fast break near the dam. This is the second large walleye we have caught in 3 trips. We have been fishing for stripers and the walleye have just showed up, especially under lights at nite when the weather cooperates. I would suspect that if they are taking large shad 6 inchers if someone were to try worms or minnows they should do pretty well. Keep an eye peeled to the sky as these storms of late have been coming in fast and as much as I love to fish, the high winds and especially the lightning are notJack Hoskinson Jack Hoskinson Madd Jack Striper Guide
July 20, 2000 - Lake Shawnee - Lake Shawnee at the heated dock area.
Crappie where hitting good on minnows around the paddle boats on minnows.
Seen a few people leave with there with some good stringers. With one person having over 30+ to clean. Fish where hitting all depths i had the bigger fish around eight feet. Good fishing All.
July 18, 2000 - Wilson - Fished Wilson this evening until a storm came in and had to get off. Caught 3 stripers over 7 lbs. and one keeper walleye. Sure wish the weather would have cooperated as they were hitting good, fishing the humps in dam area. Jack Hoskinson Madd Jack Striper Guide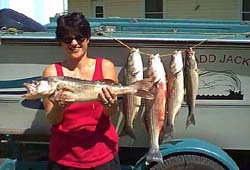 Submitted July 18, 2000 by Jack Hoskinson Madd Jack Striper Guide - Hi Jim, Here's a photo of a pretty nice Wilson walleye almost 5 lbs. Caught nite fishing July 15. Thought it might look good in your walleye gallery. Thanks Jack
July 14, 2000 - Wilson - Nite fished wilson caught 6 stripers up to 7 lbs. one 5 lb. walleye and lots of channel cats. Fishing a river chanel break in the dam area, had lots of hits using small hatch of the year shad. Don't Catch'em All,
Jack Hoskinson Madd Jack Striper Guide Madd Jack Striper Guide Catching Stripers and Wipers In Kansas
July 14, 2000 - Lansing Lake - Bluegill were biting extemely well in the morning on nightcrawlers and small insects. Lots of channel catfish were caught also; weighing about 1/2 to 2 lbs. They were caught on nightcrawlers and prepared baits.
The whole time I was there I only saw one bass taken, but I wasn't sure
the size of it. It was caught on a chartreuse spinner. Justin Parr
July 11, 2000 - Wilson - Fished Wilson starting at 2 in the afternoon. It was a nice day for a change, no wind to speak of, schools of hatch of the year shad were holding near the surface from the dam to lucas point which was as far west as we went. Didn't do any good during the heat of the day but a few schools of stripers and whites started surfacing about 7:30 PM never could get close enough to the schools to pull any fish, very spooky fish, the surfacing only lasted about 20 minutes and they were done. We caught our first striper at sundown on a small hatch of the year shad about 1 inch in length fished near lucas point. Caught several in the 4 to 5 lb. range until about 2 AM. Missed several good hits. It was a beautiful nite, hardly any wind, to bad the fish didn't cooperate a little more. Don't Catch'em All Jack Hoskinson Jack Hoskinson Madd Jack Striper Guide Catching Stripers and Wipers In Kansas
July 8, 2000 - Jerry's (Leavenworth) Lake - Channel Catfish: Minnows, night crawlers ... 1/2-2 lbs (fair) - Largemouth Bass: minnows ... up to 1 lb (very slow)
Bluegill: Nightcrawlers ... around six inches? (fair) - I'll be going to Lansing lake this Friday (14th) and I'll probably send a report. Justin Parr

July 8, 2000 - With the constant southerly winds and the temps soaring to the 100's I sit back and watch the weather looking for a possible cool front or at the least for the winds to drop below 15. Now 20 years ago I would have been on the water despite the winds or the high temps. Just a rocking and a rolling in search of another striper. Maybe I am getting older but I prefer to chaulk it up to experience. Does all the hassle of fighting the winds and the heat equal up to the fish you may catch in the process?
Now don't get me wrong I LOVE TO FISH! As a boy my brother Sam and I would fish with our grandpa for hours on end. Grandpa's idea of refreshments was an old clorox bottle filled with water. We would sit that bottle in the shade but it still got very hot! Talking was not an option as grandpa believed it to scare the fish, now Sam could never follow this rule and still caught alot of fish. We decided he talked them on the hook. The most bites we received were from the flying and crawling insects as deep woods off was years from being invented. I sure do miss those days and my Grandpa the most. So I guess the conditions or the amount of fish you catch don't have as much to do with a day of fishing as the company and the memories that go along with it!
All the reports I have received lately is that fish is pretty slow for most species. I will be on the water soon, weather permitting. Planning some night fishing for stripers of course. Good Luck and Don't Catch'em All, Jack Hoskinson Madd Jack Striper Guide
July 6, 2000 - Cheney - Channel have dissappeared from my shallow water. Alas, it will be September before they show up in force in the shallows again. You know
except for big rains and other things that might bring them in temporarily.
But Cheney and Marion are giving up some nice shallow water walleye and
whites. I sure like that shallow water you know. Mike Cook - Four Lake Guides
July 4, 2000 - Cross Creek near Rossville Ks. - Set lines with live bait the 1st 2nd 3rd. Had 1 32 lb. Flathead, Lots of trouble with Gar & Turtles. The water levels are down real bad, It's hard to move a boat around. The 3rd from dark till about midnight fished with rod & reel. Caught a nice 5 lb. Yellow cat & a 15 lb. channel cat caught by Steve Rose on turkey liver. Tuesday morning the 4th got 2+ inches of rain that should help fishing a lot. Hope yawl had a good safe 4th. Good fishing to all. Bruce Teeter Midnight463@cs.com
Source: Kansas Anglers like you. Send us a report.
Reports for July - September 2000
Reports for April - June 2000 | Reports for January - March 2000
Kansas Angler Home Page
Reports for Kansas | Colorado | Missouri | Nebraska | Oklahoma | Texas