| | |
| --- | --- |
| | See Zeiner's new online catalog. New items are being added regularly. |
Click here for Zeiner's new secure online catalog
September 14, 2001 - Douglas County Lake - How is it goin' fellow hillbillies? I have been spending a lot of my unemployed time at Douglas County Lake, but am happy to say I have caught some big fish. Though Douglas is full of carp I manage to get a decent catfish in once in a while.
I spend most of my time at the feeders and am always trying to get those darn carp and this summer I landed a 32lb. grass carp, I darn near messed my pants! I catch alot of regular old carp but not many grass carpers.
I also catch many channel cat 10lbs, but see others that could eat those whole. I see them when they come up to the feed that the feeders throw out. So if you wan't to catch some big ass fish try Douglas County Lake when they feed. Also stop by the bait shop in Baldwin and visit with the owner, he will show you some pictures of my fish. GOOOD LUCK Kyle Wilson
September 14, 2001 - Cheney - Went fishing around 3 pm until 7 pm caught 1 4lbs walleye and two flathhead, one 6lbs and the other 3 lbs. We didn't catch a lot of fish but it was a great way to get away from all that is going on in the world. Thank God for fishing!! Snag
September 11, 2001 - Cheney - What a horrible beginning this day brought! I sat in the office listening to the radio, and T.V. of the hijacking of the planes and destruction of The world trade center and pentagon. It was very very depressing to say the least!. I decided I didnt want to be miserable all day so I took the rest of the day off and Went to the lake at 2pm. Tried spooning, caught several small White perch. Then I started Trolling off Wichita point around 5pm, The first pass through 13' of water caught an 8lb STIPER! There are still some live stripers in cheney!! That was great news!!! YEAH! by 7pm between the 2 of us, we caught 6 Large Stipers from 8 to 15lbs! , and 4 nice wipers around 5 to 6 lbs. IT was awesome! 2 broke off with 25 lb leaders! The water Temp has cooled to 74 degrees, and the fish are really active! Saw many schools chasing shad in the shallows 2 to 5' deep. The Gulls were going NUTS!! swooping down on the corraled shad taking advantage of a good situation! It was an absolutely beautiful day and a Wonderful ending to an othe wise GRIM beginning! I decided to get away from the chaos of the news, and escape to tranquility. Im so glad I did. My heart goes out to the families of all the victims of the terrorists, and I'M so glad to live in a peaceful state with lots of great fishing to take my mind off of reality for a few hours. GOD BLESS KANSAS and the rest of the USA! good fishing, MIKE
September 5, 2001 - Winfield City Lake - (SEPTEMBER 1) FISHING FOR LARGEMOUTH ONLY. PICKED UP A TOTAL OF SIX IN JUST ONE AND A HALF HOURS. BASS ARE SHALLOW AND ARE HANGING ON ROCKY AREAS. NO BASS TAKEN AROUND LAYDOWNS OR WOOD. PICKED UP SEVERAL NICE WALLEYE WHILE RUNNING BUZZBAITS IN SHALLOW WATER IN THE PREDAWN HOURS. I HAVE FISHED THE LAKE RELIGOUSLY OVER THE SUMMER, NO ONE IS LOOKING FOR BASS, I THINK I'M THE ONLY ONE EVEN FISHING FOR THEM. NOTE-WHILE FISHING, I WITNESSED A GUY PULL IN AT LEAST 20 KEEPER CRAPPIE AT THE FRONT OF COWLEY ONE COVE ON THE SOUTH SIDE. HE WAS FISHING ABOUT 10 FEET DEEP IN ABOUT 15 FEET OF WATER. JIGS WAS HIS BAIT OF CHOICE.
LATER
Bryce Evans
BAE SYSTEMS
Environmental/Safety/Preventative Maintenance Coordinator
Phone: (316) 359-5056
fax: (316) 359-5269
September 4, 2001 - Cheney - Had a lot of fun and a little success chasing schooling whites at Cheney Labor Day weekend. Saw schools off the refuge and especially Thorn Tree Point (last big point on Northwest end of the refuge). They aren't staying up long, and it's hard to get close, but it is exciting. Use a heavy spoon to give you some casting distance. Mid-afternoon is best. We saw maybe twenty schools up for about a minute or so each on Saturday. The whites on average are really nice big ones.
September 3, 2001 - Private pond west of Kingman - Took my wife channel cat fishing today to a small private pond west of Kingman. We started out using old reliable Sonny's dip bait. Action was slow for 1.5 hours. We only caught one channel around 2 lbs. Then I got the idea to use grasshoppers, of which there were plenty. Using a bobber with 3 foot of space between it and the hook we really tore them up. Largest was 9 lbs. and caught 7 in the 3-5 lb. range during the next 3 hours. Actually catching the grasshoppers was more difficult than catching the cats. Unfortunately I did not have a net to catch the hoppers. It is always fun to get back to the basics of catfishing. The only way it could be more basic would be to use a cane pole. We are also happy to report that all of the channels were released after we took pictures holding our prize catches. Chris and Becky
September 2, 2001 - Cheney - Went to Cheney on Saturday afternoon. Started out trolling and didn't do any good. There was just enough wind to drift so we started drifting into M and M point. We had our best action in 10 to 13 feet. All walleye came on a jig and crawler. We ended up with 5 keeper Walleye, 2 shorts, and several White bass in just over 2 hours. A good day on the lake. Randy and Martha.
August 26, 2001 - Cheney - Despite last TUESDAYS "FISH KILL", There are still plenty of NICE Fish to be caught in the lake! Saturday was NOT a good day for fishing the lake, but Today, Sunday, was GREAT! Caught Several White Bass, 58 White Perch, and several 5 to 8lb Wipers. Im not sure if any Large Stripers are left in the lake, I saw Many Many Huge fish floating Dead in the water last Wednesday, some looked like 40+lbs. I was fishing off Wichita point, and counted 42 dead Stripers from 10 to 40+ lbs. It was heartbreaking. Went to the shore the next day and There were Walleye, Channel Catfish and even some Flatheads laying all over the shore. Most of the Walleye were 6" fish, but there were several large ones as well. Today proved there are still plenty of Live fish in the water! MIKE
August 20, 2001 - Kanopolis - Just wanted to let everyone know the walleyes are hitting very good in the spillway.Have caught limits the past few days along with numerous small fish.Best results fishing very very slowly.Bring plenty of lead heads and 2" grubs. GOOD LUCK!!!!!!!!! Richard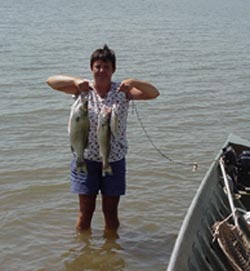 August 17, 2001 - Cheney - Around 11 AM, Cheryl got this nice wiper and we also caught the 20" walleye and a white bass, trolling shallow water off the refuge.
August 13, 2001 - Cheney - Fished early saturday morning august 11till a little after
12:00, caught a limit of walleye, a couple of wipers up to 6 pounds, and
a couple of nice whites. same sunday exept walleye were bigger .fished points on north shore. M&M , WHICITA, AND A COUPLE OF OTHERS . fished real shallow , fish moved in and out every couple hours. sunday was much brighter and we moved deeper and trolled walleye caught trolling seemed to be bigger, majority of fish caught on jig and worm, went thru several dozen worms. when walleye wern't bitting the white perch were. good luck to all. DON

August 12, 2001 - Perry - Fished Perry Lake for about 4 hours this afternoon. It was a bluebird day with very light winds. Tried fishing for crappie, but no luck. Finally found some white bass thanks to the seagulls and caught several small ones on rattle trap and a shad rap. The lake has cleared up greatly from several weeks ago, but the wet spring led to small shad; thus, smaller whites than normal. Would like some tips on catching some crappie.
August 12, 2001 - Douglas Co. Lake - Decided to skip Clinton with all the Sunday boat and jetski traffic. Dg. Co. was a good choice. Lake temp was 81 in the deep water and 83 in the flats. Many large mouth were taken off the wind blown points and fishing piers slow rolling white wiggle warts and 1/2 ounce tandem willow leaf spinnerbaits paid off. Lake is very stained. Ned
August 8, 2001 - Cheney - Fished saturday august 4th caught 29 keeper whitebass, Walleye, and white perch, a few nice wipers. Sunday august 5th, was a whole different story! We couldnt keep them off our hooks!! I cleaned 139 fish and we threw many many more back, because my live wells were too full to hold anymore!! It was a phenominal day! Tonight, Weds the 8th, we started at 5pm, WE Kept 7 nice Walleye, one 8lb wiper, several white perch and a 5lb channel. all caught spooning. It was fun. Good luck MIKE
July 31, 2001 - Cheney - Tues. 10 pm - 2 am had fair success under lights south end of dam in 21 ft of water using jigs. 3 legal walleye & 8 whites that were keepers.
July 31, 2001 - Lake Afton - Fish shallow, we caught several over 5 lbs, had a excellant night, we started after dark and fished till about 3 am. Any type of blood stick bait was working.
July 29, 2001 - Wilson - With increasing water temperature and the water sports people out in force Lake Wilson is still producing a few stripers up to 7 lbs. Most are being caught fishing 32 to 36 feet deep over various depth's of water. I can't seem to figure any pattern or place to catch them on a day to day bases so I just have to go look and try my luck. I did catch a school of small stripers, 4 lbs., surfacing at 7 AM along the face of the dam. Good Luck. Jack Hoskinson Madd Jack Striper Guide
July 23, 2001 - Kanopolis - Went to Kanopolis this morn. managed to catch 3 keeper walleyes from spillway. good fishing
July 23, 2001 - Marion - Channel cat fishing is good.
July 17, 2001 - Wilson -WENT TO WILSON OVER PAST WEEKEND. WAS MY FIRST TIME THERE.HAD A GREAT TIME MANAGED TO LUCK INTO THE STRIPERS CAUGHT 6 OVER 10 POUNDS SAT NIGHT ALL WERE FROM BANK ON SMALL PERCH SEINED FROM LAKE. I BELIEVE THE AREA WAS MINKOOSA PARK? PLAN TO RETURN SOON!!!!!!!!!
July 17, 2001 - Cheney - Sunday proved to be another Fantastic Fishing day at Cheney! Started about noon, fishing for Wipers and Stripers Trolling, caught a few white bass and white perch, no Wipers or Stripers though!, The wind picked up, and I just happened to have about 6 dozen night crawlers, so thought we would drift for
some Walleye... started drifting straight off M& M point towards the dam on
the Southern most Flat in 13 foot of water, as soon as the first worm hit the
bottom, caught a 4lb Walley.. and Man It just didnt get any worse! between
the 2 of us, we caught 39 Walleye and only 6 were under 18 inches! We kept
10, and threw the rest back. What a day it turned out to be. Just goes to
prove, on Cheney, if your fishing for a particular species of fish, and they
arent biting, switch gears and try for something else! It can really payoff!
GOOD LUCK!! MIKE
July 16, 2001 - Cheney - Well my wife did it again. She has this annoying habit of out fishing me every time I take her along. We were trolling Wichita Point at Cheney last Saturday evening the 14th. We wern't catching much, a few White
Perch, one White Bass, and a Channel Cat of about 3.5lbs. We were trolling hot-n-tots in about 18 ft. of water when something hit her pole with the force of a freight train. She uses a medium action rod with an open faced reel with 8lb. test line, so we both knew right away that she had her hands full. I didnt know who was going to win this one since Peggy is a pretty small person, but 35 minutes later I netted a 15lb. Channel Cat for her. She is pretty pleased with herself. I'm pretty
pleased with her too. BOB It was a very strong and stubborn fish.
What a battle! But I WON !! PEGGY
July 16, 2001 - Cheney - Here's a little advice to those fishermen who've been complaining about the White Perch in Cheney. Take some home and fry them up. They are delicious. I figured that since they look so much like a White Bass,
They would probably taste like one too. Not So! They lack the dark strip of meat that Whites and Stripers have that gives them that muddy taste. If anything they taste similar to Crappie. From now on, I'll probably throw the whites back and keep the Perch! BOB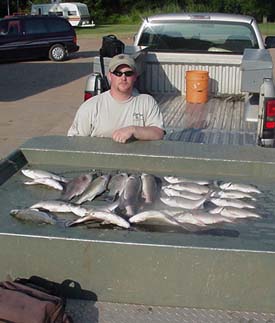 July 15, 2001 - Cheney - Saturday afternoon in two hours we caught around a hundred whites, walleye, wipers, and white perch. Biggest walleye was about five pounds, half a dozen whites over two pounds. Caught on chartreuse sassy shads on the drop-off west of the shallow water buoy just out of Fish Cove. Watch for surfacing schools. They may not be really obvious, just some swirls on the surface, then anchor and cast.
July 14, 2001 - Private Pond - Hello all. I went fishing today at my favorite private pond that has had unbelievable action with channel cats in the past 6 weeks. I went today and boy what a difference a day makes. I failed to catch any channels in 4 hours of fishing. Perfect weather conditions and all. This was at a pond where the average catch is 5-6 lbs. I only could manage a couple of nibbles from probably some stocker size channels. Man what a frustrating day. I tried everything and everwhere there. I did notice some pelletized fish food that had fallen on the dock as I left. Maybe the owner fed them well before I got there with that. I hope everyone else had a better day than me. Thanks for the great site ----Chris
July 10, 2001 - Cheney - Summertime is a Fantastic time to catch Stripers, Wipers, Whitebass, and the pesky WHITE PERCH that were mistakenly put into cheney a few years ago! over the past week from July 1st to the 8th, I fished almost everyday, and had very very good success! I know this will sound like a "FISH STORY", but My friend and I have caught over 500 of these fish in the past week! Of course we didnt keep them all, just a few for eating, but It was absolutely a phemominal week! Yes, the weather was HOT, but the fishing has been super. If you are staying home because you think Stripers and Wipers dont bite in hot weather, Your totaly WRONG! They stay on ledges off the points, in 13 to 16 foot of water, with steep drop offs handy. Troll over them, and you will be amazed just how many of these fish you can catch. the average size for the wipers has been 2 to 8 lbs, Stripers to 11 lbs. I saw a few 20+ fish caught on live bait by the dam. White bass are everywhere, and the white perch are really hungry.
When all you fishermen see someone trolling, PLEASE PLEASE Give them lots of space when you pass by them! Ive had my lines cut several times last week from mainly "WALLEYE" Fisherman who have come to the end of their drift, and zoom back to the beginning of another drift. They cut right behind my boat and CUT the line! So please be courteous! Lures are not cheap!!!! GOOD LUCK!!! MIKE
July 8, 2001 - Arkansas River near Nickerson - Caught a 10 lb channel cat near Nickerson on medium sized crawfish bait at around 1 AM, only fish we caught from 12 - 6 am. Regards, Chad
July 3, 2001 - Pratt, Kingman, Cheney - Took off from Topeka and drove out to Pratt with my wife to fish there Saturday the 30th. Great little lake - caught a 16.5 inch bass on worm and legal limit channels all night long. Very clean lake and well laid out for those without a boat - kudos to Kansas Fish and Wildlife - would definitely fish there again.
Drove down the road to Kingman State Fishing Lake to Sunday - what a huge disappointment - nearly the entire lake has been taken over by grass and moss. Used to fish this lake back in 80s when I lived there and was always good bass and channel fishing - now it is nearly impossible to fish for anything that requires a lure. The lake is a disaster area!
Stopped on the way back to Topeka on Monday the 2nd and fished Cheney Reservoir for about 8 hours - not much luck - very hot and humid but, unlike me, if you're wanting to fish for carp - go to the East entrance and drive back as far as you can. The mayflies have hatched (literally in the millions) and they're drowning in the water. Saw carp all day long within 2-3 feet of the shore in 2 feet of water getting their fill of flies. Looked like the average size was 10-12 pounds and there were dozens of them feeding the entire time we were there.
Good Luck fellow Kansas Anglers!
Randall and Carolyn in Topeka
randallasc@aol.com
July 2, 2001 - Kanapolis -Fished long & hard Sat. p.m. & into the night w/jigs, divers & live bait and only caught a few small game fish. Again early Sun. with same results on upper end.
July 1, 2001 - Wilson -We have been catching stripers surfacing the last few days from the dam to minooka. At times there are lots of schools up but they have been spooky and hard to approach. I have been having my best luck with 1 oz. jigs but have heard of stripers being caught on top with just about any lure you preffer! The action is best in the early morning with evenings being allot slower. Good Luck Jack Hoskinson Madd Jack Striper Guide
Source: Kansas Anglers like you. Send us a report.
Return to current reports from Kansas Anglers
Reports for April - July 2001 | Reports for January - March 2001
Reports for October - December 2000 | Reports for July - September 2000
Reports for April - June 2000 | Reports for January - March 2000
Kansas Angler Home Page
Reports for Kansas | Colorado | Missouri | Nebraska | Oklahoma | Texas