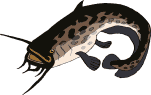 Fishing Reports
Kansas Fishing Reports
Arkansas Fishing Reports
Colorado Fishing Reports
Iowa Fishing Reports
Missouri Fishing Reports
Nebraska Fishing Reports
Oklahoma Fishing Reports
Texas Fishing Reports
Reader's Nook
Latest Angler News
Current Angler Articles
Kansas Angler Archives
Angler's Academy
Fishing and Tackle Tips
Tackle Manufacturer Tips
Lure Making Tips
Club Corner
Kansas Fishing Clubs
Tournament Schedules
Kansas Tournament Results
Tournament Trail
Tournament Organizations
Kansas Fishing Clubs
Tournament Schedules
Circuit Tournament Results
Success Stories
Fishing Photo Gallery
Bragging Corner
Anglers Sharing Stories
Kansas Angler Info
About the Angler
Advertising Information
Contact the Angler
Angler Links
Tackle Manufacturer Links
Departments of Wildlife Links
Other Links of Interest
| | |
| --- | --- |
| 50 years in Wichita | See Zeiner's online catalog. New items are being added regularly. |
Click here for Zeiner's secure online catalog
Help keep others informed by emailing fishing reports to us. Include your name in the message part of your report if you'd like to receive credit for the report.
KS and OK Corps of Engineers Lake Levels | Wichita Lake Info
BASSMASTER'S 40 page 2003 Tackle Guide is available free at Zeiner's
Three Way Rig Instructions
August 26, 2003 - Kingman SFL - One of my days off and wanted to get on the water and not just wading.... So I borrowed my dads van and loaded up. Unfortunately I had many troubles when I got to the lake... Couldn't figure out how to get the keys out of the van. They wouldn't leave the inition until you lock it and I didn't know about some button to push... So that took forever. Then I pull out the boat... get all ready.... and I forgot to bring a tool to install my trolling motor on. So I got a work out since I had to use one oar to get me across the lake and back.. Then I didn't have an anchor with me... Luckily I was able to rig one up with a rock. Caught three bass all at the one feeder that is on the side of the lake with the river access. I don't think there is much in the lines of catfish near that feeder since it's rather shallow. About two feet deep. Caught the bass on a small red eye spinnerbait and one lake fork craw. But in honesty if you are going to fish at Kingman to take some chest waders. I couldn't even find water depth lower than three feet... But I know it's a little deeper near the rock piers. Lots and lots of vegetation, which is my guess why the lake survives so well.
Anyone ever fished in Portland Oregon? Going there soon to visit my sister and we are probably going to do some fishing. Feel free to email me at Huskyhush@hotmail.com
Happy fishing,
Dominic
August 26, 2003 - Republican River -Weather conditions @ Salina @ 0618 hrs:
temp: 76 degrees; humidity: 62%; dewpoint: 62 degrees; barometer: 29.97 Steady
wind: SSW @ 06 MPH; partly sunny
Got to the river just after sunrise (0700 hrs). Used dip bait w/ anise oil drops mixed in. 4 strikes & 3 fish but only 1 keeper (22 inch 4.5 lb channel), other two channels were under 18 inches so I did not keep either of them. Moved around 0900 hrs downstream - used the yellow strip of meat from previous caught channels on 6/0 hook. Had several bites but nothing big enough to take it (figure drum or little channels.) Left about 1015 hrs before it got blazing hot :-) as it is now (101 degrees.)
Tight lines. walt
August 25, 2003 - Cheney - AUGUST 25, 2003. BEEN ON A MUCH NEEDED VACATION FOR A WEEK. LEFT EVERYTHING AT WORK INCLUDING THE INTERNET. LOTS TO REPORT. HAD MY BEST STRIPER DAY ON TUES. 08-19-03 EARLY IN THE AM. 10 STRIPERS, 7-13 LBS. TWO WIPERS. ALL ON THE WESTSIDE. WEDS.PM. FISHING CAME UP WITH 2 STRIPERS 7-11 LBS. 5.7 LBS. WALLEYE AND MISSED 4 BIG FISH. THEY JUST CAME OFF. THURS. AM. FISHING, THREE WIPERS, 6.7 LB. WALLEYE AND MISSED TWO BIG FISH. THE AM. FISHING HAS BEEN VERY ENJOYABLE. SIMI COOL TEMPS. BEAUTIFUL SUNRISE AND THE BITE WAS ON. TOOK A TRIP TO CABELA'S IN K.C. FRI. WAS GOING TO TAKE THE WIFE BUT SHE HAD TO WORK. YOU KNOW IT'S NICE TO GET OUT BY YOURSELF ONCE IN A WHILE WITHOUT ANYONE TRAILING ALONG AND ENJOY A DAY. TALKED TO SEVERAL CABELA'S ASSOCIATES THROUGHOUT THE STORE. THERE VERY KNOWLEIBLE AND THERE SUGGESTION TO EAT UPSTAIRS IN THE RESTRAINT PROVED THAT AS WELL. HAD A ONE TIME THRU THE LINE DEEP FRIED SHRIMP, POTATOES, CORN BREAD, SALAD, CORN ON THE COB, SODA, AND ICE CREAM ALL FOR $8. I WON'T BE OUT FOR A WHILE. GOT TO GET BACK TO WORK AND MAKE THE $$$$$. MARK.
...
NOTE FOR THE FISH BIOLOGIST AT CHENEY AND WILSON LAKE. WENT TO WILSON SUN. 08-17-03 THERE WAS A STRIPER TOURNAMENT GOING ON. I NOTICED THE RESULTS AS OF NOON THAT DAY. THE BIGGEST STRIPER WAS 5.5 LBS. I LISTENED TO THE MARINE RADIO AND THE TALK WAS OF LITTLE SUCCESS. WILSON, THE BEST STRIPER LAKE IN THE STATE. HERE I'M CATCHING STRIPERS AT CHENEY. SMALLEST 7 LBS. PLEASE START STOCKING STRIPERS BACK INTO CHENEY. PLEASE CONSIDER IT. AFTER A WHILE I WON'T BE REPORTING CATCHING THESE MONSTERS IF YOU DON'T. IT'S ONLY GOING TO BE A MATTER OF TIME. MARK.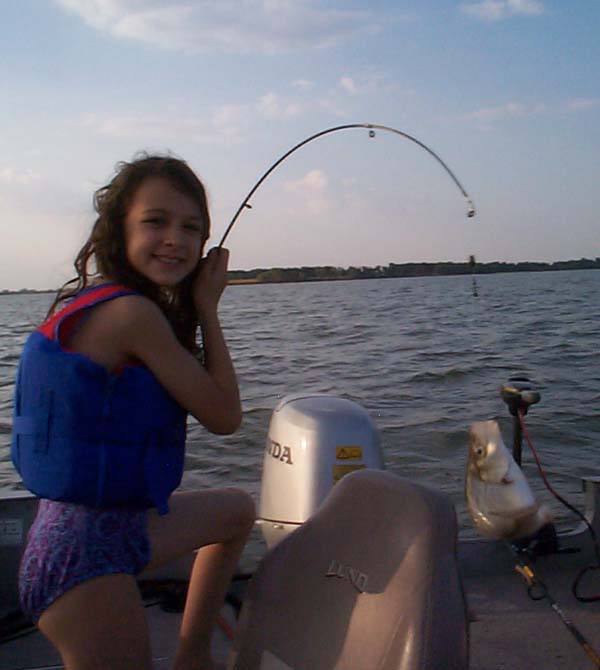 August 24, 2003 - Cheney - Sunday 8/24 I got my first chance to take out my step grandkids for a little fishing. Of course we went after the White Perch so they could have some excitement. I did not even get my pole out of the rod locker before my grandson was reeling in his first fish. After a few fish, they got less interested in fishing and jumped in to cool off. This of course scared off our school so I decided to hook their dad up with a little bigger fight. We brought out Mike's famous 3-way rig and headed for the humps off Wichita point. I got him connected to a 22 inch wiper and most likely a second one also because when I got it netted the bottom lure was snapped off! We got a couple more short Wipers and over 50 White Perch, of which about 30 went into the fridge for a fish fry. The kids kept me so busy that I did not get much fishing done myself but is that not a part of our responsibility to this sport. TAKE A KID FISHING!
August 24, 2003 - Cheney - Sunday 8-24 What a day. We decided to go early today. Actually its the first time I got up before dawn to go fishing this year! With all the heat going on during the middle of the day, it just seemed like the thing to do. I spose I should have stayed in bed for another hour, cause the fish were completely lock jawed until 9pm. But when they decided to open up, they really did it in a big way. We sat out on the refuge on what looked like a very large mirror. GLASS! thats the best way to describe the lake this morning. No wind, not even a breeze. Complete stillness. we threw spoons and were catching a few perch, having a grand old time. I looked up and saw the surface moving. The shad were moving in. They swam just under the surface and were making small wakes. Large massive schools of them were cruising along enjoying the wave free waters.. then WHAM! Right in the middle of the school, the chaos hit. A huge school of wipers and white bass began knocking the shad out of the water, we sat in the middle of a hundred yard circle of boiling water. wherever we threw our little white mouse spoons, we hooked fish. We caught White Perch, White bass, Wipers, small stripers, and 5 very large channel cats. It was a blast! Those fish stayed there till noon, and we caught lots! I have no idea just how many. We didnt keep any just had great fun catching nice fish on ultralite tackle. I was using a very light pole and reel with 6lb test, and believe me, it was definately a workout. I landed an 11 lb Wiper with it, and several 2 to 8 lbers as well. 2 fish broke my line and took my only two white mouse spoons. Left at 1:oo pm, went home during the hot hours and returned about 5:30 and caught several more. I saw something a little disturbing, out in the mid lake, we counted 11 large dead fish floating. Mostly stripers and Walleye. One was the biggest Walleye I have ever seen! It was huge. I hope we're not having another fish kill. Come on cooler weather! Mike E.
August 21, 2003 - Marion County Lake - Went to the heated dock to try and catch some channels on 8/20/03. Me and my fishin' partner C.B. caught 3 nice channels, a couple bass and a couple bluegill. Wasn't a bad day. To bad the "heated dock" isn't a air conditioned dock though!! You all should try this place in the winter though. It is great and it will give you a chance to catch crappie all winter long!! travis
August 19, 2003 - Butler SFL - Spent the day fixing up my boat. Got the trolling motor bracket on and now it's ready to go. I didn't have much time left in the day, but I wanted to do some fishing since I planned it. I got to the lake about 3:30 or so and I went to my spot... the weeds! The time was also the hottest part of the day, but I have a philosophy. If I have caught fish in the place and I know there are fish there then I can catch fish, but each day is just different tactics and skill.

Well I caught one fair sized bass on the lucky strike lure. Then I switched to something slower and something I can put on top the weeds... I used a weightless senko and those work wonders.. they are heavy and I had two definite bass strikes... one stole my senko! and I think one bluegill strike. But was a good day.

Dominic

August 18, 2003 - Cheney - It was another hot day at the lake yesterday, but with the breeze it was very nice if you could find some shade. A little shade, some wind, and a whole lot of water and there is no excuse for anyone to say it is too hot to go to Cheney. I don't know when I have seen so few people at the lake on a summer day. Isn't the heat better than scooping ice off your windshield?

Summer is almost over, and some years we have a very short fall, so go out and enjoy Cheney before the snow flies.

Mark
August 15, 2003 - Cheney - SUCCESS WAS VERY GOOD. FISHED EARLY AM. TILL 12:30PM. AS USUAL IT WAS SLOW AT FIRST. AROUND 9AM. THEY TURNED ON. AS USUAL SAME SPOT. SOUTH OF SAILBOAT COVE TO THE HANDY CAP JETTY. REALLY IT WAS A NICE DAY. FINALLY GOT SOME SOUTH WIND I'VE BEEN WAITING FOR FOR A WEEK. THAT SEEMED TO HELP. HAD TWO FRIENDS WITH BOATS OUT FISHING IN SAME AREA AND KEPT IN CONTACT WITH OUR MARINE RADIOS. I CAME UP WITH FOUR STRIPERS, 7 TO 12 LBS. FIVE WIPERS, 4 TO 8 LBS. MY FRIENDS WERE USING LIVE BAIT AND SEEM TO HAVE A HARD TIME COMING UP WITH FISH.
...
YEP, MY BOAT HAS BEEN NABBED TOO ON TICKETS BY STATE PARK OFFICERS. MARION LAKE FOUR YEARS AGO. HAD THE WIFE WITH ME. SHE HAD FAILED TO GET A FISHING LICENSE. $100.00. DID NOT LIKE IT BUT THAT'S THE WAY IT GOES. MARK
August 15, 2003 - Cheney - Fished Cheney last evening, Thursday 8-14. first day of a south wind, and I was skeptical to say the least, and my sceptasism was right on the mark! I didnt even get a bite. I was to meed a buddy about 5:45 pm, he didnt show till I was leaving at 7:30. He told me today they fished till 11pm, on the refuge for perch. They caught quite a few Nice sized perch. He also told me he went with someone else a week earlier, and they used a drop light down in the water and caught SEVERAL perch with this technique. He put it in an earlier report. I am wondering if anyone has fished for Walleye at night this year? I have never done it, and I have heard that the vast majority of Large Walleye feed at night. Is this true? Please report if you have or havent had any success doing some night fishing.
NOW... Mac... as a matter of fact, I used to work for the Kansas Fish and Game. several years ago... So.. yes I do know several of the GREEDY people I mentioned in an earlier report. I am hip to their antics, and Yes there are indeed some VERY crooked game wardens lurking about. OR at least there used to be! What I was trying to stress, is $110 is way to much of a fine for an empty fire extinguisher. YES I should have checked my extinguisher. I DIDNT! I was wrong. But The fine should be like $35 Not $110! and Like I said before COURT COSTS!!! $60 to cash the check is RIDICULOUS! Take it however you like.
Keep fishing and be nice.
MIKE E.
August 14, 2003 - Cheney - I've made it out a couple of times over the last two weeks and have very little to show for it. I hope things will change when we get a little rain. Next time out I think I will try for the perch since I have a fish fry coming up and need something to "stink" the skillet.
In reference to the law enforcement problem how many of you want speeders, in the park, when your kids are out playing around the campgrounds. As for the night vision goggles, when was the last time any of you saw a meth lab. As far as for Mike E. the laws are made for everybody not just for everyone but you. If you had any idea how many excuses are giving, every time there is a violation, you would understand why your complaints fell on deaf ears. And if you think these officers are greedy and self (rightcheaus) why aren't you out doing the job instead of one of them. These guys don't make a lot of money protecting you and our wildlife and they don't get one penny of your fine to PAD THEIR POCKETS. MAC
August 14, 2003 - Kingman SFL - Another day of fun fishing. Just got a nice handy little boat, but I didn't have a way to get it to some water, but I still wanted to get out and fish. Went to Kingman and noticed that it was down a bit. Probably would have had much better luck if I had my happy little boat. But I targeted just what is covering half the place.... lily pads! Two bass I caught with the new lucky craft lure. Then one on a black spinnerbait, but it was for night so I thought that it might scare the bass if it was going in the water. Switched to a smaller spinnerbait with two willow blades. Caught three more bass off that. Caught the smallest and largest from it. I would cast right into the lily pads and hop it across them. I think next time I will try some worms or grubs to hop along the lily pads. You can hear the bass attacking under those lily pads. Saw many other fisherman bass and catfish.. noticed one catfish caught at the feeder that is on the far end of the lake. If you decide to bass fish at Kingman stick with the lily pads. And I use fireline and suggest that or spiderwire since you need something to tear out the lily pads when you get a snag here and there.

Happy fishing,
Dominic
August 13, 2003 - Republican River -Decided to try the river again this morning. Arrived about 1100 hrs and departed about 1440 hrs. Only caught 2 keeper channels and one throw-back (dip tube as big as it was.) Probably would have done better if had not gotten hung up in the brush pile and messed it up (twice ;-( Both keepers were 21 inches long and weighted about 3 lbs. Using a mixture of blood dip bait, blood dough bait & "Little Stinky" Blood bait w/ anise extract mixed together. Water level in the river seems to have dropped 4 to 6 inches in the past couple of days. Bad news is that Corps of Engineers wants to again drain water from Milford to put water in the Missouri River for barge traffic. Guess they do not comprehend that what water is in Milford belongs to the PEOPLE vice the barge owners on the Missouri and that Kansas is in a drought. Anyone ever used the "yellow" meat from the fillets for cut bait? walt
August 12, 2003 - Milford - milford lake 8-6-03 walleye fished from 7am to 3 pm tried drifting crawlers tried spooning in all parts of the lake, not even a short walleye. We even tried trolling planner boards ,nothing. 8-9-03 went bass fishing from 9am till 5pm lots of shorts around the bluff areas , none measured, tried tubes jigs , grubs caught most of the shorts. if your a shad fisherman milfords your lake.( wait for fall )chuck
August 12, 2003 - Republican River - (8/11) Fished river north of Wakefield from about 0900 to 1445 hrs. Slow was the word for it, but the weather was BEAUTIFUL to include some water still in the river. Fished for channel cats and threw a jig for whatever else wanted to "play." Only caught two channels using dip bait but just being able to sit outside and enjoy the weather was great. walt
August 11, 2003 - Reply to Mike E's posting - I'm sorry to hear about your encounter. even though almost all of my encounters with CO's over the past 27 years have been always pleasant if not enjoyable and I know they are doing their job, your situation sounds a little bit like B.S. to me. keep in mind several of the CO's @ Cheney are equipped with radar guns in their vehicles and I've also been told they're going around campsites at night with night vision goggles. seems a little excessive to me. I have always supported KDWP and I know money is tight, and none of this should affect any of us law abiding, permit buying citizens. BUT ?
August 11, 2003 - Cheney - Sat aug 9th, fished from 2:30 to 7pm, caught several small wipers, a few white bass and lots of White Perch. Wasnt really a spectacular day by any means, but still a great way to spend the day. It was HOT, and the water was a balmy 89 degrees in the upper end, and 84 towards the dam. I havent been seeing many fish schooling this year, but anticipating it when it does happen. Sunday, we started a little earlier, about 9:30, went up on the refuge and anchored over a huge perch bed. These perch were HUGE! alot of them a lb & a half, one was almost 2 lbs! I could have filled the live well, but didnt want to mess with cleaning them. About halfway through the morning the fish and game patrol boat pulled up along side of me to check us out. Yeah, I had my Life vests out, a throw cushion, Fishing licenses a horn, and yeah even the fire extinguisher. However, unknown to me, my extinguisher was on empty! I had checked it the week before and it was full! now, the pin was out and the canister read in the RED. I explained that I have another one, I had in the boat, but I took it out when I cleaned my boat out a few days earlier. Actually I thought someone else had taken it out for me... but I remembered I had done it. SO>>>>> guess what??? YEAH I GOT A TICKET!!! A Nice hefty TIcket! GUYS!!! JUST how much do you think having an empty fire extinguisher will cost you ??? Any Idea?? Well let me be the first to let you know.. It is a whopping $110.00 !! Just for having a useless piece of equipment designed for putting out a fire in my own boat. You know, something that has absolutely NOTHING else to do with anyone else on the water, Its not putting anyone else at harm, Just my poor boat! THIS REALLY SUCKS THE BIG ONE!!!! There is something terrible wrong with our Law enforcement!! They have bocome a bunch of GREEDY SELF RIGHTCHEOUS people who Like to PAD THEIR OWN POCKETS!!! Yeah, maybe I should have checked my extinguisher. I mean I just did a week ago, and it was fine! So send me to the marina to buy another one... I mean Im not putting anyone in danger, Im not out running over jet skiiers, Im not drinking and driving, I have life vests, in case my boat sinks, at lease all on my boat will float! The fine for the CRIME, is $50... but the court costs??? Yeah they are a whopping $60!! Just for some woman to go and cash my check! Am I wrong here? Am I missing something????
HMMMMM! SO?? BE SURE TO CHECK YOUR FIRE EXTINGUISHERS! cause they want your money really really bad! I mean they do have to pay for that EXPENSIVE Striper boat they use to joy ride in and give grief to a few of us LAW ABIDING CITIZENS who go out of our way to buy licenses, and take pride in being totally legal! Can I help it if someone pulled my pin and emptied by fire extinguisher and then stopped me to give me a ticket??? haha ( well its just seems like it happened that way!) Yeah their boat rests not more than 20' from mine in a slip in the marina. I didnt mean for this to be a gripe session, but Yeah im a little steamed. Fees Fees Fees! The parks raise their prices every year, license prices go up! UP UP UP! Lots of people cant even afford to camp anymore. Oh well, enough of that! The rest of the day was fantastic. Caught lots of Nice Wipers, a couple Stripers 12lbs and 15 lbs, Still no luck on the channel cats, but time will make it happen!
See ya,
MIKE E.
(Editor's Note) You proably figured out when you read this that the writer was less than happy when he wrote it. He said we could run it or not. We ran it because it serves as a reminder to always do a boat check before leaving the ramp. The obivious thing to check is to be sure the drain plug is in. Been there, didn't do that. It's always a bit stressful getting the boat back on the trailer. My wife Deb was less than patient with me as I was putting the trailer back in the lake one day while she stressed out about the water coming in the boat.
We also received a ticket for not being up to snuff on our equipment. We were at Eureka City Lake and had been fishing that morning. An out-of-town friend came by and we took her out a little ways along the bank. You guessed it, we were followed in to our dock for a check by a visiting officer on his jet ski. Everything was alright except we were short one life jacket. It was an expensive oversight. Especially when we could have grabbed one from the cabin before getting in the boat.
My dad had an oversight worse than that. In the mid-70s he put his new Ranger in an Oklahoma lake. He pulled it up to the dock, tied it up, parked his truck and headed for the cabin. A little later he heard a knock on the door. The knock was to tell him his boat was about to sink. He headed for the dock and as he was reaching down he his false teeth fell out of the top pocket in his bib overalls. As far as I know they are still there.
Bottom line - Take a few seconds to do that check before setting off in your boat. It not only saves money, it might save a life or let you eat without having to stick to soft food until you get new teeth.
August 11, 2003 - Butler County State Lake - Got to the lake at after five. Wanted to try out the new lucky craft lure so that was my lure choice for the evening. I haven't fished much in the main lake area, but I'm sure there are some nice fish there. From shore though I didn't give it too much of a try. I just wanted to catch some fish. So I went to where bass love to hide.... weeds.. and there are plenty of weeds. I went to the first land outlet that you can walk across and fished the area of the weeds and the fishing was really nice. I caught just about all my bass there walking up and down the shoreline. Caught about fifteen to twenty bass. Lost many as well. Many times they would hit right when the lure landed. The next lure I am going to try is a weightless senko or other plastic and will cast on the matte of vegetation and let it fall off. Left the lake a bit after nine.

Finally, if anyone has a small boat for sale for a fair price to send me an email at Huskyhush@hotmail.com I'm just looking for something that can get me into the water so basically a small john boat. No triton or basscats... I don't have much extra funds at the moment.
Thanks,
Dominic
August 11, 2003 - Cheney - Went out Friday after work with Mike H. We could barely get the White Perch to bite until it got dark and we dropped a light into the water. It was only a few min before the bite was fast and furious! We had to fish close to the light but it was not long before we had a mess of fish to clean. Chris
August 11, 2003 - Cheney - AUGUST 02, 2003. EARLY IN THE AM. SOUTH OF SAILBOAT COVE. VERY SLOW. ENDED UP WITH TWO LARGE WIPERS, ONE LARGE STRIPER. TWO BIG ONES GOT OFF AT EDGE OF BOAT. MARK.
August 7, 2003 - Cheney - It was going to be a hot day indeed on the lake but, My son and I went anyway. We got on the water about 9am and left at noon. You see I had to get pictures taken and then clean a 26" 6# walleye and His little sister a 22" er. before my nap and work. We caught them troling a #5 jointed shad colored shad rap and a smithwick roque deep-diver. They were west of the tower. the 22 incher hooked onto a line my son was watching and he thought it was a snag. I said no it ain't took the rod and reeled her in. the 26" clobbered that #5. i do have pics but they are not down-loaded. you can see them at bud's bait shop until i do get them loaded. question to mikee did you do any good over the weekend on the catfish?
August 5, 2003 - Woodson - Monday 4th: Decided to venture to some new places. I first went to Fall River Reservoir, but just didn't look too appealing to fish from shore. Then I went to Toronto and hit a bit of the same. I never did like the big bodies of water. Toronto though did start look promising when I was driving around. It had areas with timber sticking out of the water, but I wanted to make it to one more place and that was Woodson.

I have to say I really like Woodson. The sign says it's stocked with pretty much everything. I didn't have much daylight so I didn't get to fish too much of the lake, but I found a good camp site and setup my tent. Then I decided to try my Kastmaster that I have never used before. I heard a swoosh and just seemed too big for a bluegill and I was right. I caught a bass, which got me stuck on a tree and I thought I would wade out there and get unstuck... well silly me didn't think that it might drop instantly a few feet. So I just stuck on shore and let the bass get me unstuck. Then I caught a baby bass about two inches long. Then a little bluegill. Then I caught a small channel cat. All in the same place and using the same lure.

Then I took a break and gathered firewood and started a fire using my car lighter since I didn't bring any matches or anything to light a fire with. Once I had my fire going good and night was coming along I was in a good spot. Had to the left of me a few hundred feet of weed beds. And I put on my black buzzbait and the bass were biting. I caught about four bass and missed that many more.
I ended up leaving at around one thirty am since I couldn't judge the storm clouds.

All in all it was a fun little trip and brought me to three new places. All the bass were in the 1-2 pound range. Dominic
August 5, 2003 - Marion -Was fishing in front of the dam by the spillway last Thursday, Friday & Saturday Went from 5:30 to 9:00 Am most days. Was having good luck using shad we caught for bait at that same spot the best day was Thursday morning before a rain. My friends and I caught 4 nice wipers and 3 Channel Cat we would have had more fish but they kept dragging are line across the rocks as we were reeling them in .Had a Great time and kept the electric knife busy .
August 4, 2003 - Answer on Cheney and Kastmasters - Kast Masters can be used several ways. I love to find schooling fish, and Stay about 50' away and throw the spoon into the middle of the fish and jerk it along. It usually takes about 1 second for the hit. If you find deeper schooled fish, use your trolling motor and hover above the school and vertical jig the spoon. Jerk it about 2' off the bottom and let it fall. If they are hungry it won't hit bottom more than once! If I am fishing a large flat or shallow area aprox 9 or 10' deep, I will throw as far as i can, and let it hit bottom and jerk it up and let it fall all the way back to the boat. This is the technique i was using when I caught my largest Wiper last year, and Have caught up to 10lbs this year. Spooning is a blast! Personally I like 3/8oz silver with white feather on the hook. I have had tremendous success with this spoon. If you want perch, use 1/4 oz or smaller. I catch plenty of perch on the larger spoon, but lose most of them reeling them in.
Good Luck, MIKE E.
August 4, 2003 - Question on GPS - After hearing several of you talk about GPS, I have been looking for some information about them. Does anyone use a handheld unit? If so how accurate are they? What about the GPS/depthfinder combos? Of course they are more money but just for a Kansas lake would you need all that? Finally where to buy? I know all the catalogs have them but is there anywhere in town to get one? I really appreciate any help that you can give. Thanks, Randy. fishlips85@aol.com
August 4, 2003 - Cheney - Hi, from the previous post from Mike E., he mentioned that he used the Kastmaster to catch white perches, white bass, and wipers. Would you please ask him to explain a little bit more regarding the size and color of the spoon? And how to work it on the humps? Any detail info will be appreciated. Thanks, Eric.
August 4, 2003 - Milford - Fished Milford this weekend for the first time since mid-June. Looks like a tremendous shad hatch there. White bass that were rail-thin in June are filling out nicely--and the wipers that we caught had round tummies!
We didn't fish extremely early or extremely late Saturday or Sunday (Aug. 2 & 3). Light breezes & 90-degree highs.
Mornings found a few fish chasing shad to the top, but they weren't there long. . .the gulls looked pretty doggoned hungry.
Our best success came trolling over 20 to 30 feet of water with crankbaits that ran 12 to 17 feet deep. We fished a high boat traffic area that no one else fished for more than a few minutes. We boated many 11" to 16" white bass, one 5-pound wiper, and a short walleye (16-1/4 inches). . .oh yeah -- many, many skipjack, too.
Sunday around noon we jigged several smaller wipers (15" to 18") from 50 feet of water using jigging spoons and double-rigged, 1/2 oz. white hair jigs.
I suspect that schools of shad are so abundant that the schools of predators are somewhat scattered, too. Did anyone fishing Milford this past weekend have a different experience?
August 4, 2003 - Cheney - Fished Sat 8/02 all along the west side trolling the 3-way and a rattle trap and got skunked! I did not try for some white perch untill the next afternoon. I had heard the catfish were biting along the dam on shad so that was my plan on Sun. I did not find any kittys but did catch a 19 inch Walleye on a whole shad in 25 ft infront of the dam. QWe also found some schools of perch but they was slow to bite. We cleaned 14 pearch which will make a meal for my son's family. Chris
July 31, 2003 - Cheney - Cheney: 7-30-03 Fished from 6am-10am cought a TON of white perch and a couple small wipers but didnt find any stripers or walleye. I think its going to be hard fishing for the bigger ones till the water temp starts to go down. Cought 4 white perch at the same time using a 3 way rig with an extra sassy shad, so i guess its a 4 way rig.... 2 were on the shad rap and they were the bigger ones i had for lunch that day. They are pretty good you know. Dont let any of those things go! I think there are more white perch than there is water in Cheney right now. gregsoutfishing@aol.com
July 31, 2003 - Cheney - Tues 7-29 - Started fishing around 6pm, trolled for a little while with not so much as a bite. The barometer was steady again, and when its not moving, I just cant seem to catch big fish. I only trolled for 30 min, and decided to go out on Wichita point and use the trolling motor and spoon some Perch. And of course Perch always bite. We caught many many perch in an hour or so, and I was getting pretty bored with it. I dont eat fish, so the attraction wears off quite quickly for me. 5 other boats moved in and were fishing all around us so I decided to let them have this particular hump and went on over to the refuge. I put out my marker bouy on a 9' hump, and started tossing the Kast Master. I noticed on my screen, no perch! I moved around and around and didnt see anything! So i pitched the spoon out as far as I could to the point of the hump I was fishing, and sure enough WHAM! I caught a very nice White Bass. Then another, and another. I was using my spinning rod med action, having a pretty good time. I caught several White bass, and was reeling in the spoon, and just as I started to pull it out of the water, WHAM! A Wiper hit it right under the surface, with such force my rod went straight down instantly against the edge of the boat rail and broke in two! The fish was ripping line off the reel, and all I could do was just hang on. after a few minutes I managed to land the pole breaker. A very nice 8lb Wiper. I swiched poles and caught 4 more from 4 to 9 lbs. Man that was fun! I figured if the perch werent around, BIG FISH WERE! I was right. A little patience payed off. I hooked 3 other fish that I lost, that Im pretty sure were nice Wipers as well. A windless day, a nice evening, and a Kast Master spoon can prove to be an exciting combination!
MIKE E.
July 31, 2003 - Cheney - My wife and I got out on the lake about 4:30 and headed for Wichita Point. Just only got a couple of whites so we headed to the West side. Trolled around the toadstools and in that general area. We ended up with 2 23 inch walleye. We got them both using the 3-way set up. We never did find any wipers. Very calm. I think a little wind might have helped. Due to working OT early in the morning we were off the lake by 8. Randy and Martha
July 31, 2003 - Cheney - (July 30) - When to the lake about 5 pm with my son, we trolled a bit catching one wiper. We decided to go try for some of these white perch I've been hearing about. We fished on a hump for about 2 hours catching about 50. We had a great time, this is perfect for kids. Also I did clean about 25 of the larger ones, took them home and cooked them in the fry daddy. They were delicious!!! I don't know what we are going to do about these guys, they are everwhere!!!!!!! I
marked them on the finder on every corner of the lake. Looking forward to
takeing my boy back for some fast action white perch fishing. For as big as they
are they sure put up a nice fight. Ultra light is the only way to go.
SNAG
July 31, 2003 - Cheney - JULY 30, 2003 WEDS. LATE AFTERNOON TILL SUNSET. CAME UP WITH 2 STRIPERS, AROUND 6 LBS. SIX GOOD SIZED WIPERS. MANY WHITE BASS. THE FISH WERE REAL SPOOKY. COME UP ON A HOT SPOT FULL OF FISH ON THE FISH FINDER. I COULD ONLY GO THRU IT TWO TO THREE TIMES AND COME UP WITH FISH THEN THE FISH FINDER SHOWED NOTHING. MIGHT HAVE HAD SOMETHING TO DO WITH NO WIND? LOTS OF FISHERMAN OUT ON THE HOT SPOTS LAST NIGHT. MARK.

July 28, 2003 - Cheney - Sat afternoon around 3:00 two friends and I went out to find some dinner. We headed out to find Mike E and get the Striper report. No bites says Mike so we do not even rig up the big poles. We anchor up on a hump and toss out a #4 or #6 hook with a half inch of worm. After a few small ones are caught for bait, we went in search of eating size. As always it is much harder to find the bigger perch but a little patience can pay off. As the sun started to get lower we started picking up bigger fish. Around 7:00 we found a spot where some close to one lb fish were hanging. We cast the #1 bait keeper hook with a slab of perch filet about 30 feet from the boat and let it hit bottom. Almost the second it hit bottom you would get a hit. If not, just drag the rig a foot toward you to get their attention. We had some fish pull out drag on our 4# and 6# rigged ultra light rods. It is WAY more fun to catch them on light tackle. David set the hook on a bite than REALLY put the bend in his pole. I thought it was going to break the rod! (I have done that more than once) When the fish broke the surface it was a channel. Get the net he yelled and when Pat grabbed the net a big deep diving plug came along with it. As Pat tried to untangle the lure, the cat took off on another run and I was sure we would loose him. We were lucky and got the 3.5 lb fish netted.

Fellows, I can assure you those perch are GREAT tasting. They are second only to Walleye and Crappie and that is a close second in my opinion. I would strongly suggest you go after some (or several) with some light tackle. I find it just as exciting as catching the Stripers on heavy tackle.

Chris
July 27, 2003 - Cheney - Thanks guys for the info! I appreciate it. I have received several emails describing numerous places to catch fish on the west side. Not much luck for channel cat info, but My boat is all better, and Ive fished the last 2 days with a steady barometer and caught nothing but white perch and white bass, and 4 Wipers in the SMALL category. I kid you not, when i say WHITE PERCH are everywhere! You can go straight out to the middle of the lake and stop, and put a slab spoon down, and yup, catch white perch. My friend Chris has been doing some white perch fishing, and having super success. Just catch your first one, and filet it out, cut the filets into 1/4ths, and put a piece on a #1 hook with a small slip sinker and a barrel swivel and catch a hundred in no time at all. We went over to the refuge this morning, and Everywhere I stopped were Massive schools of Perch. Its unreal. I really can believe they could take over the lake. Man, they will soon be eating all our Stripers and Wipers and CHannels too! cant you just picture them surfacing after Walleye? hahaha ok, sorry. Anyhow, It is alot of fun on a nice day when its a bit cooler than today, ( 105 degrees) to anchor up and catch perch. Chris says they taste just like Walleye. He loves them! We have to have another white perch tournament.
Anyhow, thanks again for all the info.! I now have to find the toadstools, and the handicap jetty. I have a slight idea where they are, and with a little luck I will soon find out.
And Mark, IT IS NO FUN TO HAVE A BROKE BOAT! Keep yours running good! I have never used downriggers in ks, and I know you do. You should take me sometime and let me see just how they work!
MIKE E.
July 26, 2003 - Cheney - JULY 25, 2003 FRI. LATE AFTERNOON. I WAS ABLE TO MAKE IT ON THE LAKE. WINDS WERE STRONG BUT THE WESTSIDE KEPT THE WIND DOWN ENOUGH TO FISH. FISHED TILL 8:45PM. IT WAS REAL SLOW AT FIRST. THEN AROUND 7PM OR SO WE WERE ABLE TO COME UP WITH A 13.1, 13.4 LB. STRIPERS, TWO WALLEYE 5.5, 5.0 LB. NO WIPERS. MIKE HAS BEEN MORE THE FRIENDLY ON LETTING ALL KNOW OF DETAILS OF HIS FISHING WHICH IS GREATLY APPRECIATED BY MOST INCLUDING ME AND I'M SURE THE CHENEY BIOLOGIST. KEEP IN MIND WITH OUT THE FISH HATCHERY THE KANSAS FISH AND GAME PROVIDE WE WOULD NOT BE ENJOYING CATCHING THESE MONSTER WIPERS,WALLEYE, STRIPERS. AND I WOULD PROBABLY NOT HAVE MY $18.000.00 BOAT.I'M NOT A BASS FISHERMAN. ANYWAY ME AND MY 10 YEAR OLD SON ENJOYED BOTH LANDING THOSE STRIPERS, ONE EACH BETWEEN BOTH OF US LAST NIGHT. I'M USING THE THREE WAY SWIVEL MIKE USES AND ON THE BOTTOM IS A 4 3/4" BLUE AND GOLD RAPAL HUSKY JERK SUSPENDED. THIS BAIT IS NOT DESIGNED TO BE USED ON DOWNRIGGERS. THERE FOR LARGEMOUTH BASS. AND UP 8' IS MY SWIVEL WITH A 4" SASSY SHAD JUST LIKE MIKE USES. I GOT THIS GIS-MO IDEA FROM A OLD FISHING GUIDE OUT AT WILSON LAKE, HE HAS SENSE PASSED, 6 YEARS AGO AND LANDED MY PERSONAL RECORD OF A 22 LB. STRIPER. FOR MORE DETAILS ON THE WESTSIDE. IN FRONT OF THE HANDICAP JETTY ABOUT 1/4 MILE OUT LITTLE SOUTH. FIND THAT 12-13' OF WATER AND I'M SURE YOU WILL BE RIPPING LINE. THERE'S NO DOUBT MIKE'S THREE-WAY SWIVEL SET UP AND HIS SPEED HE TROLLS YOU DON'T NEED DOWNRIGGERS. THERE'S TWO OTHER HUMPS NORTH OF THE JETTY THAT'S JUST TO DIFFICULT TO GIVE LOCATIONS ON BUT WHEN YOU FIND THEM HANG ON. MARK.
...
I HAVE SPENT COUNTLESS MONEY ON MY EQUIPMENT. COUNTLESS OVERTIME AT WORK TO PAY FOR THESE TOYS FOR MY BOAT. MY WIFE THINKS I'M CRAZY. BUT, THIS IS MY HOBBY. IT MAKES ME HAPPY. I'M MUCH CLOSER TO MY KIDS FISHING WITH THEM AND THERE'S NO FEELING YOU CAN DESCRIBE COMING HOME FROM THE LAKE WITH SUCH SUCCESS AFTER LEAVING THE LAKE LIKE LAST NIGHT. I FEEL BLESSED. MARK.

July 25, 2003 - Reply to "it's your turn" - JULY 25, 2003. HEY MIKE. I HAVE ALWAYS WONDERED HOW I WOULD REACT, ACT, BE ABLE TO HANDLE MYSELF IF MY BOAT BROKE DOWN RIGHT IN THE MIDDLE OF EXCELLENT FISHING AT CHENEY. HONESTLY. LUCKILY IT HAS NOT HAPPENED YET TO ME. TELL ME HOW IT FEELS. I'M CATCHING ALL MY FISH WITH MY DOWNRIGGERS TAPPING THE BOTTOM MOST OF THE TIME. I'M GOING TO TRY SOME PM. FISHING TONIGHT AFTER WORK IF THE WIND DOES NOT BLOW ME AWAY. I DON'T EXPECT ANYONE TO GO OUT AND SPEND $1000.00 ON DOWNRIGGERS AND ANOTHER $500.00 ON A G.P.S. BUT THAT'S MOST OF MY SECRET ALONG WITH LOCATION. HOPE YOU GET THAT BOAT BACK SOON. MARK.
July 24, 2003 - It's your turn on Cheney - Hi all,
My boat is in the shop getting the lower unit seals replaced. Water in the lower unit is not a good thing!
Anyhow, I would like some info from some of you. I have shared my secrets with the world, now would some of you give me some info on the west side of Cheney? I tried it over there once or twice, but haven't spent any time figuring out the bottom structure. Where are the fish located on the west side of the lake? DETAILS>> I NEED DETAILS! I keep hearing sailboat cove, where abouts in the sailboat cove? I have never fished the upper end of the lake past the island. Are there any 18+ depths up there? If so would you please share with me? I would greatly appreciate any info you all can give me.
I also would like some channel cat tips. I have a friend that wants to go catfishing with me and I'm clueless as to where the major concentrations of channels are. And what baits to use to catch them. Yeah, I've caught them spooning, but have to time it just right to catch very many. I often catch larger ones trolling for stripers, but only one or two a day.
SO... Please give me some pointers. I would greatly appreciate it.! MIKE E.
mikeelliott@cox.net

July 23, 2003 - Wilson - Was on Wilson this morning at 6:00 a.m. Took on run to Hell Creek and around the west shoreline and saw nothing but when I got back to the east side the strippers were going. They surfaced till about 7:45. I brought home a 5.5 and a 4.5lb. fish. They were going as strong as strong as I have ever seen them.
Vance; Tescott
P.S. Heard a good report on wipers at Milford. One of the fish at 13lbs.
July 23, 2003 - Cheney - I fished cheney 7-20-03 from 6pm-dark. We boated several nice white bass, many many white perch, and a 20inch walleye. All were caught on the three way rig with shad-raps and 3 inch sassy shads. I had been going in the early am but tried the afternoon and it didn't seem as good. Another boater was fishing the same time and area I was and they had a 27, 24, and a 21 inch walleye along with several white bass. I was just not as lucky as them. We were both fishing the area of M&M point. gregsoutfishing@aol.com
July 22, 2003 - Banner Creek - Banner creek, Holton Ks. July 15 2003
830 pm Full moon
We started out at the dam, then to deep water ,and then we fished the
break waters and still had not a fish.
We were tossing everything from jitterbugs- spinnersbaits-buzzbaits to
crankbaits, nothing would strike.
At around 11:30 the moon was finally up full and bright and the bite was on.
We started with 10 inch black worms on the dam, several times the
blacks would hit befor you turn a crank, what a blast.
Lots of 2 to 3 pounders and several 4 and 5s.The deep ledges produced
good numbers and lost one that was not coming up .[ always happens ]
BANNER CREEK NIGHT FISHING ,FULL MOON -10 INCH WORMS
TIGHT LINE, CHUCK
July 22, 2003 - Cheney - I need to make a correction to my last e-mail. I was on the lake Sunday the 20th, not Saturday. Also, Mark I saw your green and tan Sylvan and you were not the one I was talking about. This boat was definitely blue and tan. I have been trying the afternoons off and on but haven't did much good the last couple of weeks. MAC
July 22, 2003 - Bone Creek - Southwinds had their club tournament July 19-20/03 at Bone Creek. It took almost 22lbs. to win the tournament. Most guys caught 20-40 fish a day. Lake is clear and water temp. is in the mid 80's. Small fish are in 4-15 foot and Big girls are in 20-35 foot. We are a paper club with 15 inch limit. Aaron Brown Southwinds Bass Club
July 22, 2003 - Milford - Milford Lake, Friday two of us caught around 50 white bass in the morning from about 7:00 till noon, surface action was great. Sat. three of us caught about 25 before the wind picked up at 9:30 and on Monday they were going when we got on the lake at 7:15 but skattered as we got to them and by 8:30 they were done. They were surfacing between the dam and the south island in 45 to 60 feet of water. Vance Stirn, Tescott
July 21, 2003 - Cheney - JULY 18 AND 19, 2003. BOTH DAYS EARLY IN THE MORNING. FRI. WAS QUITE GOOD. FISHED TILL NOON. CAME UP WITH 10 WIPERS. THREE WALLEYE, ONE WAS 7.1 LBS. THEY DID NOT TURN ON TILL 10AM. SAT. WAS A DIFFERENT STORY. EXTREMELY HOT AND HUMID AND VERY LITTLE WIND. ONE WIPER AND THREE WALLEYE AND SEVERAL WHITES. FRI. FOUND THEM SOUTH OF SAILBOAT COVE. SAT. FOUND THEN NORTH OF SAILBOAT COVE. THE HEAT AND HUMIDITY WAS SO GREAT AND THE LACK OF WIND MADE IT UNBEARABLE. I LEFT THE LAKE VERY EARLY IN THE AM. IS ANYONE DOING WELL FROM 4PM. TO SUNSET? I KNOW IT'S EXTREMELY HOT AT THIS TIME OF DAY BUT LAST YEAR AT THIS TIME OF THE YEAR EVENING FISHING WAS EXCELLENT TILL SUNSET. I'M THINKING ABOUT CHANGING TO PM. FISHING. MARK.
...
I HOPE I'M NOT THE ONE THAT CUT THE OTHER BOATER OFF IN FRONT OF THE HANDICAP JETTY SAT. I'M IN A TAN AND GREEN SYLVAN DEEP "V" WITH DOWNRIGGERS. I DON'T THINK IT WAS ME. BUT IF SO I DEEPLY APOLOGIZE. I DID MAKE A PASS IN THAT LOCATIONS SAT. MARK.

July 21, 2003 - Cheney - Sat. July 20th- Cheney Lake. What a beautiful day to be at the lake. I was on the water at 6 a.m. probing the shallows for walleye. The last few days I have been catching them in three to four feet of water. Today there were several wading fisherman out so I left Refuge and Wichita point to them, hope they did well. I finally found the fish clear on the other side of the lake near the handicap jetty. When I got to that spot there was only one other boat there. I knew the guy and we both started catching fish. In a matter of minutes boats came from everywhere and started fishing in this one spot. We were all trolling and everybody was doing a good job of being courteous and then the slob fisherman showed up. He kept cutting everybody off. It didn't matter what direction you were going he would pull right in front of you. I watched this guy, in a blue and tan Sylvan deep v, go right behind a dad and his daughter as they trying to troll through the spot. I don't see how some people can be so inconsiderate. To make a long story short I ended up keeping one 28 inch striper and two keeper walleye. Two of these were caught on a white four inch twister tail trolled in front of a shad colored crank bait. MAC
July 20, 2003 - Cheney - Got to the lake early about 6:30am, as I needed to catch some catfish for an upcoming fish fry I headed to the red bluffs feeder. Stayed there till about 8:15 with no luck. I decided to troll firetigers and a smithwick rogue up to the Island. On the southside of refuge point I hooked into a 22.5" Walleye. I was going 3-4 mph and slower at times. We retraced the troll and My son caught a bigger one but, with my misuse of the net He got away. We then continued up to the island and around a little hump to the south of the island, My son caught a smallish perch. I stopped the engine on the boat while he brought in his fish when a 7 pound 26 inch channel hit my crank bait. (jointed #5 fire tiger.). He was fun and He also tasted real good. (If you guys need any good recipes email me and I'll send you some. rvkin@aol.com) We had one other Walleye trolling on west side of island He was 20". Left Cheney about 1pm. We'd never taken the boat to Kingman so we went there with no luck either. I didn't know that lake was so shallow. deepest i found was 4ft.
Question for Fish and Game: What is the criteria for checking boats? This was 2nd time you've been checking boats where I've been fishing and both times You've gone on to someone else and seem not to pay any attention to me. Just curious you can reply to same email as above if you like.
Ron and Mike
July 20, 2003 - Cheney - 7-19 Cheney - What a day! A beautiful morning, light winds and biting fish made this an exceptional day! No sooner than the lure hit the bottom, My friend Scott had a fish on! 28" Walleye! What a beauty. And it just got better and better. We started trolling the 3 way, and caught lots of Wipers, White bass and White perch, only 2 Walleye. I m sure we caught 100 fish. Spooned for awhile, over massive schools of White Perch, they hit as soon as the Kast Master hit the bottom. All sizes. Of course the sun was shining bright, and the thermometer rose quickly. Left the lake 3pm, went home rested awhile and picked up another friend and hit the water 6pm. The wind was up to around 15 mph from the S.E., and the fish were still biting hard. Wiper after Wiper were landed. Several times we had 4 fish on between the two of us. Most of them were 4 to 8 lbs with a couple pushing the 10 lb mark. I was exhausted as sun dissappeared behind some distant clouds. Its hard on a fat guy, reeling in so many powerful fish! But Lots of fun as well. Only caught one 11 pound Striper, I think the 85 degree water has them cruising out in the river channel.
I had a few boats following me and of course wondering what I was doing that they werent. I would cruise right by them and they would still troll SLOW! Fast is the key, TROLL FAST! 5mph. IT works. MIKE E.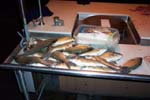 July 20, 2003 - Milford - Went fishing sat night at Milford had 30 big whites bass that we keep. let a lot of small ones go, Started at 9:00 PM and left at midnight. Put in at rolling hill and fish right around the bluff. Bob Moore - Salina Kansas
July 17, 2003 - Answer to question below - 80,000 wiper fingerlings were stocked at El Dorado this spring. Ron Marteney, our fisheries biologist there for many years, just transferred to the Emporia research office so the striper idea would have to be answered by his replacement, whenever that happens.

I can tell you that the main reason large predators like stripers and wipers were not stocked before was the concern that they would compete with largemouth bass.
July 15, 2003 - Cheney - Hi all, havent been fishin alot the last few days, just a little windy for my little boat. However, I and my friend Chris, went last saturday 7-12. I didnt think the wipes and Stripes would bite due to the wind change, so we went out to the tip of Wichita point and anchored up to try our luck for Channel cat and White perch. I had ran into a guy cleaning fish at the cleaning station and he had landed 10 exremely nice channels that morning. He was drifting shrimp right outside of marina cove all the way to mid lake. He said they were biting great! So i went and bought some shrimp and we tried that with no luck. ( NO, Im not a catfisherman, but love to catch them just the same!) I decided to anchor on the tip of wichita point, and of course the white perch were plentiful as always. I also caught a 4 lb channel on a piece of shrimp. We caught several perch, from the usual small 3 inchers to some nicer pounders. It was fun! We caught our first few perch and filet the side out of a few and used them for bait. WHITE PERCH LOVE TO EAT FILET OF WHITE PERCH! we did good for a few hours till the wind changed and the bite was off. I have noticed out in the deeper water from 20 to 35' massive schools of perch. They are litteraly EVERYWHERE! If some of you have kids that like to fish, just head out off a point to some 25' water and watch your depth finder till you find fish. use worms for smaller perch and when you catch some just cut out the sides, put it on a hook and toss it! You will be amazed at how many perch you can catch this way! ITs a blast on ultralite tackle. NOW I HAVE A QUESTION>
Does anyone know if Wipers were stocked into El Dorado lake this year? I read an article last winter stating this would be the first year for wipers there. GORDON??? Do you have the answer?? AND>>> why not put Stripers in EL Dorado lake as well?? there is plenty of deep water and cover there to sustain Stripers! Email me if you have the answer. Thanks, MIKE E> email is mikeelliott@cox.net
July 14, 2003 - Harvey County Lake - Sat July 14 we went to Harvey County lake. Got on the water about 7pm. Started out trolling Mikes 3 way rig and boy was that a mess. Our lines kept getting VERY tangled and snags, needless to say we caught nothing trolling. We are kinda new to boat fishing. So we moved on to fishing along the banks for bass. I caught one bass on a green tube about 15". We should/could have done better but nothing seemed to be going right. Anyway, we moved on to catfish at dark and that is when the fun started. The bites started right away. We ended up catching about 10 maybe 15 channel cat in about 2hrs with the biggest being 6 pounds also caught a 4 a few 3 the rest were 1-2 lbs. We were fishing water from 5-8' deep. For bait we were chicken breast scraps (from trimming whole boneless chicken breast) there is a strip of meat/gristle/fat/skin/slime between the two halves. I mix the chicken scrap with chicken liver and let it spoil some and soak up the liver smell. This stuff stays on the hook real well, my buddy caught 6 catfish on one chunk one night. btw have you used the "GAMAKATSU Octopus Circle" hooks? I will never use any other hooks for cats. Every one we caught on the octopus hook were hooked in the corner of the mouth, every one of them. I believe that every fish that gets this hook in his mouth is caught, unless he breaks your line of course. The trick is not to jerk. Wait until he is swimming away with it in his mouth just raise your rod tip and start fight the fish. The hook just slides through the mouth until it starts coming out the corner of the mouth and that odd looking point of the hook catches in the corner of the mouth and digs in and it holds, they are hard to get out by hand. Thanks to all of you who are sending in these fishing reports, I have learned a lot from them. Good fishing all. Danny

July 14, 2003 - Pott City State Lake #2 - Hello, I have taken my young granddaughters (ages 5 and 7) fishing at Pott Cty State Lake # 2 (and Anneberg Park in Manhattan) and the bluegills are able to eat the worms off our hooks most times. Is there bait or a special technique you would recommend for children catching fish like bluegill, sunfish, or small bass or catfish? Thanks. Dave Kromm If you have suggestions for him, email us and we will forward.
July 14, 2003 - Cheney - Fished Cheney last Saturday and Sunday with my old man. We trolled damn near the entire lake. There were fish stacked up on the depth finder from 5 to 30 feet in places, but we could not get a bite. We trolled Wichita and M&M points the most with a run down the dam and another troll clear back to walley island. We caught one small wiper each evening. All that I can
guess is that most of the fish showing up must have been white perch. Hope
you all had better luck than we did. What color do you all find works best
at Cheney. I have never caught anything on firetiger, but others rave about
it. Ryan Schiffelbein If you have suggestions for him, email us and we will forward.
July 14, 2003 - Cheney - JULY 13, 2003 SUNDAY. FISHED EARLY IN THE MORNING TILL NOON. FISHING WAS EXCELLENT TROLLING. FROM SAILBOAT COVE SOUTH TO THE HANDY CAP JETTY. 10 WIPERS, LARGEST WAS 10 LBS. FOUR WALLEYE, TWO STRIPERS. CAUGHT ONE GOOD WIPER IN FRONT OF WICHITA POINT. BE CAREFUL WHEN THOSE WIPERS HIT. ABOUT LOST MY $100.00 ROD AND REAL WHEN I WAS TURNING AND THE QUICK RELEASE ROD HOLDER RELEASED WITHOUT ME RELEASING IT DO TO THE TURN AND THE 10LB. WIPER HITTING. ALMOST TOOK IT ALL WITH HIM BEFORE I COULD GRAB IT. IT HIT LIKE A 20LB. STRIPER. TALK ABOUT MY HEART TAKING A DOUBLE BEAT. I'D SEND PHOTO'S BUT I HAVE NO DIGITAL CAMERA OR INTERNET AT HOME. MARK.
July 13, 2003 - Cheney - Got on the water about 7am. Started drifting M and M, nothing but Perch. Started trolling the 3-way rig and moved toward Wichita Point. Hooked a 4 pound wiper in about 22 feet on the sassy shad. Worked all around Wichita Point but only got that 1 wiper. I then moved over to the West side. Was trolling around the toad stools but no action in deep water. I put on a couple of Hot an Tots to see if that would make a difference. I was in about 12 feet when I went over a small hump that seemed to be holding some fish. I guess it was because right about then I hooked up with what turned out to be a 7 pound wiper. That is the biggest one I have ever got into the boat. What a great fight that fish put up. Randy.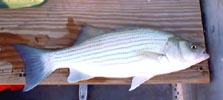 July 10, 2003 - Cheney - Cheney 7-10-03 fished from 6am-7pm and cought loads of fish. In the pic is the days biggest wiper. Not huge but it was about 22 inches. You can see the 20 inch mark on the seat in the pic. The other pic is my best striper caught in California (34lbs). The biggest walleye I got was a 24.5 incher and sure
was a nice fish. Two big 8lb+ channel cats also decided to bite my trolled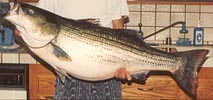 lures. During the day I think i got 7 walleye from 19-24.5 inches, 3 wipers,
2 channel cats, and dozens of white perch. That 3 way rig Mike E. talks
about does work as you can see. I fished something like Mikes 3 way rig in
when I lived in California for stripers. There I used rapalas that looked
like the stocked rainbow trout the stripers liked to eat. Here at Cheney I
use shad-raps and sassy shads on the 3 way. I think I saw Mike E. yesterday
late in the day at M&M point before he headed toward Refuge point. Wonder if
he caught anything? gbringhu@hotmail.com
July 8, 2003 - Cheney - JULY 08, 2003 TUESDAY. HAD MY VERY BEST DAY YET THIS YEAR BESIDES MY BEAVER LAKE TRIP LAST WEEK WITH OUR LIMIT OF STRIPERS IN THE 18 LB. RANGE. HIT THE LAKE AT 7:30AM. ALMOST DID NOT GO DUE TO THE FORECAST OF WINDY CONDITIONS. THE WESTSIDE DID KEEP THE WIND DOWN A BIT. I USED STRICTLY DOWNRIGGERS AND FISHING WAS EXCELLENT. ONE OF MY FAVORITE AREA'S, (MARKED ON MY G.P.S.) NEXT TO A DROP OFF WAS HOLDING FISH ALL DAY. AND TONS OF BAIT FISH. I HAD TO KEEP WITHIN A CERTAIN AREA (THE SIZE OF TWO LARGE HOUSES) OR I WOULD BE OFF THE FISH. NOTHING HUGE BUT MY CATCH WAS 10 WALLEYE, 4 WERE OVER 21" THE REST 18-20". 15 WIPERS BIGGEST 8.5 LBS. THREE STRIPERS, 5LB RANGE. FEW WHITE BASS. AND MY PERSONAL RECORD OF A 12" WHAT I THINK WAS A SHAD. I SNAGGED IT. FIVE DAYS AGO SAME PLACE PRODUCED NO FISH. HAD SEVERAL TWO FISH ON ONE POLE. TWICE BROKE ONE OF THE LINES HOLDING THE YELLOW SASSY SHAD USING 20 LB. TEST. DID NOT KEEP A ONE THREW ALL BACK. I HAVE NO ROOM IN THE FREEZER. THE FISH AT BEAVER FILLED 5 LARGE FREEZER BAGS. MARK.
July 8, 2003 - Perry - I caught a 5 lbs 5 oz Channel cat last night. Measured 25 inches. Lake Perry Thanks, Jonna
July 8, 2003 - Cheney - (July 4) Got on the lake at 6:30 am. Started out off of M&M point. Had no trouble locating fish, but could not get them to bite. We decided to troll towards Refuge and when we got there we headed across to the river channel. Went back and forth on the river channel without success. Decided to try going parallel to the dam, but still no success. All that seemed to be on the lake at this point were jet skis, ski boats, and sail boats. Very few fisherman. The wind picked up quite a bit so we decided to troll our way back in. Got to Refuge and were in 2-3 feet of water when my pole bent straight back. Thought I was snagged, but when I pulled back on the poll whatever was on the other end moved my way. Thought for sure I had caught a log or something, but when I got it to the boat it turned out to be a 24" 5lb walleye. We decided to circle around and go over the spot again. My friend caught an 18.5" short as soon as he got his line out. At this point we were fighting some pretty big waves, but there was no way we were going in. After a couple more passes I hooked into a 21.5" 3.5 lb walleye. Made several more passes without any luck and decided to call it a day. Was kind of surprised to find the fish in such shallow water??? CG


July 4, 2003 - Cheney - Here is one I caught the other day on Cheney..Anyone want to guess what this one weighed?? Definately over 20lbs.... She was a line ripper, and took a while to land! And Gordon dont think there are any more big stripers in the lake! I beg to differ! Cheney has plenty of hogs left! MIKE E.
July 4, 2003 - Cheney - Cheney 7-4-03 6am-10am Caught 3 keeper walleyes (21 inch, 22, 23+) and 2 smaller walleyes. Also caught 1 large crappie, 3 white bass, and several white perch. All the fish were caught on trolled shad-raps in about 15 feet of water off M&M point. I also had a really big walleye on just long enough
to see it was bigger than the 23+ inch walleye I already had. Oh well, have to get that one next time. gbringhu@hotmail.com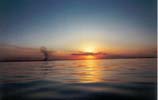 July 4, 2003 - Cheney - Here are a couple of pics from 2 weeks ago when the 3 of us had the lake to ourselves on a fabulous Thursday evening. I so appreciate it when you all stay home on weekdays!! haha MIKE E.
Editor's Note - Would that sunset make a great screen background or what?
July 2, 2003 - Milford - Milford lake is my usual haunt. The wind was steady at 4 MPH from the SE, and the water level was up almost 3 feet from the rain. Fishing in view of the Farnim Creek Campground using nightcrawlers and bouncing them off the bottom I pilled in 1 small wt. bass, 1 22 in walleye, and my very first WIPER! I know it was dumb luck, but my light tackle managed to bring in my very first WIPER measuring 55CM (the inches on my ice chest are rubbed off, sorry). This is the last time I go fishing without my camera (no photo, again sorry). Jay Quicksall Junction City, Kansas 66441 familyq1@cox.net


July 2, 2003 - Cheney - Vacation time! Yeah!!! and this year my relatives came to me. Of course I had to take them to the lake for a try at our illusive Stripers. We used 2 boats, for 9 people, and Trolled from Saturday to today Weds. Each day has been very very slow! Yeah we caught Walleye, and wipers, and white bass, but no Stripers till today. Today I took my brother Floyd and his son Travis. They live in Grand Junction Colorado, where it can be 100+ in town and only 30 minutes away it can be 60 degrees. They chose to come here cause my 13 year old nephew Travis had his mind set on catching one of our BIG stripers! And of course my brother did too! So we have fished hard every single day till sunset with out any luck..... BUT TODAY... well lets say the fish were still pretty tight lipped but a couple of rather large stripers opened up and inhaled the lure! My bro caught a rather hefty 22 lb Female unspawned Striper. and my Nephew caught an 18 lb spawned female Striper. YEAH THEY WERE HAAAPPPYYY!!!! Me too. I was thrilled for their success.. But wanna hear a weird one? We were trolling along when my bro hollered I have one!!! and SNAP! his line broke. He reeled in and the line had broken where it had been tied to the 3 way swivel. For those of you who dont know, I use a 3 way swivel rig with a #9 Rist O Rap rapala and a 4" pearl Sassy Shad. Well, darn the luck!! We kept trolling for a while, and he hollered again! I have one!!! I hit reverse, and finally he drug his catch to the surface... I watched in AMAZEMENT at what I saw.... up came his Rapala, with one of the hooks going right through the 3 way swivel he had lost a few minutes earlier, and on his broken line were 2 NICE Wipers, one on the Rapala and one on the sassy shad! 2 lures, 2 sassy shads, 2 3 way swivels, and 2 large wipers. Now.. I truly wouldnt have believed it If I hadnt seen it for myself. Wish i would have had a video camera! Dumb luck I suppose.. But reality just the same! What a day!!! See ya, MIKE E.
Source: Kansas Anglers like you. Send us a report.
Back to Current Reports
Reports for 2003 September - December | July - August | April - June | January - March
Reports for 2002 September - December | July - August | April - June | January - March
Reports for 2001 October - December | July - September | April - July | January - March
Reports for 2000 October - December | July - September | April - June | January - March
Back to Current Reports | Kansas Angler Home Page
Reports for Kansas | Colorado | Missouri | Nebraska | Oklahoma | Texas