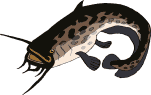 Kansas Angler Home
Fishing Reports
Kansas Fishing Reports
Arkansas Fishing Reports
Colorado Fishing Reports
Iowa Fishing Reports
Missouri Fishing Reports
Nebraska Fishing Reports
Oklahoma Fishing Reports
Texas Fishing Reports
Kansas Hunting Reports

Reader's Nook
Latest Angler News
Current Angler Articles
Kansas Angler Archives
Angler's Academy
Fishing and Tackle Tips
Tackle Manufacturer Tips
Lure Making Tips
Club Corner
Kansas Fishing Clubs
Tournament Schedules
Kansas Tournament Results
Tournament Trail
Tournament Organizations
Kansas Fishing Clubs
Tournament Schedules
Circuit Tournament Results
Success Stories
Fishing Photo Gallery
Bragging Corner
Anglers Sharing Stories
Kansas Angler Info
About the Angler
Advertising Information
Contact the Angler
Angler Links
Tackle Manufacturer Links
Departments of Wildlife Links
Other Links of Interest
| | |
| --- | --- |
| 50 years in Wichita | See Zeiner's online catalog. New items are being added regularly. |
Click here for Zeiner's secure online catalog
Help keep others informed by emailing fishing reports to us. Include your name in the message part of your report if you'd like to receive credit for the report.
KS and OK Corps of Engineers Lake Levels | Wichita Lake Info
BASSMASTER'S 40 page 2004 Tackle Guide is available free at Zeiner's
Three Way Rig Instructions
See Our Sound Off page Commentaries From Kansas Anglers
Send in your report or answers to questions today
August 31, 2004 - Question on deep lake fishing - Not sure this is the right source to inquire about fishing deep in Kansas Lakes or not. If not could you direct me in the right direction? I do not usually pursue any one particular species of fish, I just like to have some success when out on the lake and enjoy being out there. I have had success drift fishing for catfish in Perry Lake and some success in Clinton. I am not into baiting and waiting at the hog trough, I like to move around and enjoy drifting or trolling.
I am getting started in Downrigger and long line fishing. Have been successful to some extent on picking up a keeper sauger or two at Perry Lake long lining crankbaits. I notice on my sonar the great numbers of fish that are showing on the bottom in thirty + feet of water. I understand in our lakes here in Kansas we have an enormous amount of rough and bait fish, but we also have some very large catfish that set on the bottom also. I have been told stories of Arkansas fisherman using downriggers to catch enormous cats on the bottom. I am wondering why that can not be done in Kansas with great results. I just do not know how to start pursuing these monsters by using downriggers to get down where they are. I guess I know how to get down there, just not what to use. I can control the depth with downriggers so I could put the bait wherever needed. I have tried running fresh 4" shad on a three way swivel just off the bottom, through, and over the top of what I suspect to be catfish but no interest. Am I wasting my time pursuing these fish? They are two large a fish for bait fish, they appear as arches on the sonar not a solid mass usually within 10' off the bottom. The only thing it could be would be drum, carp, gar or catfish right? Thank You for your time. Steven E. Woelk

August 27, 2004 - Tuttle Creek - I caught and relaeased this 75#paddlefish August 21 at Rocky Ford fishing area below Tuttle Creek. Caught with cutbait. James Blake
August 27, 2004 - Cheney - WEDS. AND THRUS. MORININGS. WEDS. WAS TERIBLE. RAINED ON ME THREE TIMES. HAD TO GET OFF THE LAKE ONCE DUE TO LIGHTING. ENDED UP WITH THREE WIPERS AND A CATFISH. AFTER THE RAIN, DID SEE MILLIONS OF SHAD EXPLODING ON TOP OF THE WATER. I WAS RIGHT WITH THEM WITH THE ELE. TROLLING MOTOR JIGGING WITH BIG FISH BELOW BUT NOT FISH. THURS. WAS WINDY CAME UP WITH ONE BIG WIPER. OTHER THAN THE EXCITEMENT OF THE SHAD BREAKING I DID SEE A B-2 STEALTH BOMER RE-FUELING ABOVE WICH WAS NEAT, THAT'S IT. MARK.

August 26, 2004 - Cheney - I went alone today, left work @ noon, got to the lake around 2pm, Nice warm day, 74 deg water, a little wind, Went straight out to M&M, put down the 3 way, and 10 seconds later, WHAM! landed a 11lb Wiper. Weighed her, put her back and turned around. a few seconds later another nice 6 lb Wiper. I had a large school of fish under me, so i went through them a few more times and didnt catch anymore! I put down a spoon, NOTHING! This was strange... I left there, went on to Wichita point, put down the 3 way, a minute or so later line was peeeeeling off my reel! I reeled and played for a few minutes, got the large fish to the boat, to discover I had hooked a rather LARGE Channel Cat in the tail with the Risto! No wonder it took me awhile to land this brute! I hauled it into the boat, put it on the scale, 14 lbs. Ever pulled a 14 lb channel cat in backwards? haha, It is a little like work let me tell ya! Threw it back, trolled for 30 more min, nothing! Went over to Refuge. Put down the 3 way again. 10 seconds later WHAM! Line was once again peeling off the reel. Once again another LARGE Channel cat! This one was hooked in the mouth, but still took a minute to land this nice 8 lb fish. Threw it back, trolled awhile longer, NOTHING! I put down the anchor and decided to spoon. I had a couple hits, but no solid takers. Pulled anchor, saw a small White Perch floating on top still alive, with a chunk of his side gone! Neted him, and headed to M&M point again. Put down the anchor, filleted the Perch cut the filets into chunks, put on a hook and slider sinker and chucked it out into the middle of a school of fish I had found. 2 min later my line was singin off the reel once again! Another nice Channel cat! 9 lbs. I threw it back, put out another chunk of perch waited 20 min, NOTHING! Picked up my spoon and threw out. caught a nice White bass. Then another White bass, 2 large Perch, and a 1 1/2 lb crappie! All within 15 minutes. then it was all over once again. Picked up my trolling rod, and decided to zig zag! The thing I do when im alone, and no one else is around to get in the way. I only let out 50' of line and went all aorund the school of fish, when I felt the lure hit the middle of the school, I turned sharply to the right and hit the gas! WHAM! line peeled, I caught a beautiful 16 lb Striper!! Then a 18 lber, then A 7 lb Wiper on the shad, and a 12 lb Striper on the lure! Finally they all spooked out so I went out to the far point off m&M, put down the 3 way, went over my favorite hump, saw something on the graph right on top. Lure hit the top and WHAM! line once again peeled off the reel. I pulled in a 14 lb FLAT HEAD!!! THis was a first for me on CHENEY! I guess it was mainly a catfish day! Then I didnt have any more hits. Decided to go home early.I had the lake to myself, only one other truck at the dock. Not a bad Weds after noon!
MIKE E.

August 26, 2004 - In reply to : July 14, 2004 - Fishing Story -I was fishing at Lovewell lake in Kansas this past weekend and caught a fish and I'm unsure of what the name of the fish is. I tried to research and find out what it is, but haven't found any information on it. I was wondering if you could tell what kind of fish it is. It was a white colored fish with yellow eyes and teeth. The eyes were almost like walleye eyes, but it was more of the shape of a drum or carp and had teeth. Also my dad hooked a carp that was probably at least 40lbs, do you know what the state record for carp is? If you have any information on this let me know. Matt

The fish in question sounds to be the Goldeye. Here's a link where you can find a description and picture http://kansasfishes.com/Pages/goldeye.htm .

Kansas state record for common carp is 47 lbs. 1.6 ounces .You can find all Kansas records at http://www.kdwp.state.ks.us/fishing/Fish_Records.html#anchor426478 .

Craig M. Johnson
District Fisheries Biologist
Kansas Department of Wildlife & Parks
August 24, 2004 - Tuttle Creek - The catfish just below tuttle creek damn are going nuts on chicken liver and blood. I caught 15 8-12 inchers last night!-Kevin Rogosch
August 24, 2004 - Cedar Bluff - First of all thanks for the updates, I use your site alot to see what direction I NEED to go. Here in Colorado water is hard to find.. Now about Cedar Bluffs Ks spent two days there caught one white bass... several others nothing. Spoke with a guide and a boat load his fishermen He was asking if I found any thing.. The morning and evening boils did not happen, so loaded up and went home.. This is just for your info.
August 23, 2004 - Question on Lovewell Lake - Here is another website you might find useful for identifying Kansas fish species, especially the mystery fish out of Lovewell Lake. The website is: http://www.kansasfishes.com/Pages/goldeye.htm Dean

August 23, 2004 - Cheney - BEEN ON VACATION. WENT OUT THREE TIMES LAST WEEK. MON. EVENING CAUGHT TWO STRIPERS AROUND 12 LBS. TUES. MORNING WAS EXPOSIVE. STARTED AT 7AM. AND HAD THREE WIPERS TO OUR CATCH. REAL SLOW TILL NOON. WAS GETTNG READY TO LEAVE AND TRIED ONE MORE AREA AND BOTH DOWNRIGGERS WENT DOWN WITH TWO 8LB. WIPERS ON EACH. MY BOY CALLES THIS DOUBLE TROBLE. WHAT A BLAST. THAT ACTION LASTED 1.5 HRS. AND ENDED UP THE DAY WITH THREE STRIPERS, 8 WIPERS. WEDS. CAUGHT THREE WIPERS. AND TWO BIG STRIPERS. WOULD HAVE CAUGHT MORE BUT TWO ANGLERS WERE JIGGING AND I COULD NOT TROLL MUCH IN THE AREA. STILL ENJOYED THERE COMPANY. WENT OUT TO BEAVER LAST WEEKEND AND COULD NOT BELIVE THE GUIDES WERE WEARING COVER ALLS AUGUST 14. IT WAS THAT COOL. DID CATCH A FEW OUT OF OUR BOAT. THE OTHER GUIDE NEXT TO US DID GOOD. 11 BIG STRIPERS BIGGEST WAS 34 LBS. MARK.

August 21, 2004 - Kanapolis - Fished the brush piles off of Buzzard Bay both days. Saturdays catch cosisted of several large white bass, a few decent crappie , and some nice channels. Sunday, the cloud cover had the wipers on the prowl. Several fish between 5lbs. and 9lbs. and a few good whites. The fish have been surfacing in this area for a couple of weeks but only for short periods. This area has a large concentration of shad right now. Most of our fish were caught using live shad or minnows under slip floats, 6' to 9' deep, except when fish were surfacing, then we caught them on an assortment of jigs and crank baits.
Tight Lines,
Ks.Angler

August 21, 2004 - Winfield - Caught this nice 24-inch walleye and big white bass on the west end of the refuge trolling thundersticks and shad raps in late evening. Also caught several smaller white bass and sub-legal wipers.


August 21, 2004 - Winfield - Well this lake is a very nice lake and says it's stocked with tons of species... and I can't catch any of them. I know it's mostly not knowing how to fish for the certain types as well as fishing a larger body of water. It seems that every time I take the boat out a problem occurs... this time... one of the blades on the trolling motor broke. So I trolled very little from there. So I went to trolling with my engine... just when I was about to give up I caught a nice white bass. Then nothing. Then I loose my lure. I think I don't have heavy enough line for trolling. I was trolling a kastmaster spoon and I swear it was a fish and not a snag since it seemed to fight for the few seconds the lure was still on my line.
Once the pleasure boaters got on the lake fish didn't seem to pop up on my finder.
I did catch a bunch of little hand sized crappie.
I might just have to give Cheney a try since I know there are white perch in there and that's better than nothing at times.
Good fishing all.
Dominic
August 15, 2004 - Cheney - On Sunday August 15, 2004 Brian Schaffer of Wichita Kansas caught a 27 1/2" Walleye out of Cheney Lake. An eye opener that he's proud of. To hear Brian's story give him a call at (316)524-0901.

The Happy Fisherman from Kansas!

August 14, 2004 - Cheney - Sat was a pretty slow day. I located a few Wipers caught some nice 8 & 9 pounders, some nice White Bass, but they were few and far between! A friend came up from oklahoma, and she wanted to catch some big fish. I went over to the same area as the day before on M&M, and located the large perch school. Again, there were some rather large fish hanging out around them, but we trolled and trolled thorough them and caught NOTHING! I stopped right over the top of them and spooned, and NOTHING! So, I told Linda to reel in, and I showed her how I do it when Nothing else works! I trolled my lure to the middle of the school and hit the gas and turned! THe lure stopped, and when the line caught up to it, It darted off, and WHAM!! I caught an awesome 15lb WIPER! What a fish! Linda was amazed! She said you keep fishing I will watch! I zigged and zagged and caught 4 More large wipers in the 9 & 10 lb range! Then they seemed to spook out, and that was it. We had a great time, even though they werent biting all that great. WHen I got home, I turned on the weather, and wouldnt you know it! A STEADY BAROMETER! Figures! MIKE E.

August 13, 2004 - Cheney - Thursday afternoon, I went out with another Mike, and we had a great time spooning up Perch and some Nice Wipers. I have no idea how many perch we caught, but the livewell was pretty full. Mike says if you like to eat fish these White Perch are really hard to beat! I actually HATE to eat fish, So I would have no idea!! Yeah, I know, I love to catch em, but when it comes to eating them, I will let someone else do it!

Friday the 13th! I didnt have any bad luck today! It was all pretty doggone good! I started fishing arount 4pm, trolled for awhile boated a couple 8 lb Wipers, some white bass, and a few large Perch. I was by myself, and totally enjoyed the afternoon. What awesome weather for August! Fish kept biting pretty good till about 7pm. Then it was like someone flipped the switch, and they shut their mouths! I had located a huge school of Perch off M&M, and all around the outside of the perch were large fish. I had caught some nice Wipers, and White bass a half hour before, then they just quit. Well, I will tell you what you can do, IF YOU ARE BY YOURSELF, and no one else if fishing close to you! This can really work, on a no bite day!! I let out about 60' of line, just enough to let my deep diving crank hit the nine foot hump I was fishing, and head straight over the school I had located at a pretty fast troll. (even faster than I usually troll!) When the lure hits the fish, you can feel it hitting them. I know this will sound a little crazy to some of you, but When I feel the lure hit them, I cut the boat immediately to the right or left, hit the gas, and completely turn a wide circle around the fish! I dont know what it does to them, but when i did this tonight, Wham! almost every single time I did it I caught Large White Bass or Wipers. If I went straight through them, NOTHING! something about the lure slowing down, turning and darting off, really gets them going! I had a couple of spectators watching me, and Im sure they thought I was nuts! Oh well, I caught fish! When you turn, your line goes slack for a few seconds. Then when you speed up and the line gets tight, I suppose the lures lunge forward and act like baitfish trying to get away from the school! And man they hit with a vengeance! I caught my largest Wiper on Cheney doing just this technique. I only do it when all else fails and I am alone. Trolling with 2 people and turning like that would create quite a mess! Good luck,
MIKE E.

August 12, 2004 - Matt's question about Lovewell: - I was up there a few weeks ago and I caught a couple of those fish. I asked a local and he told me they called them "moon eyes", and I think they are overgrown shad. Tom
August 8, 2004 - Cheney - Well the warm weather is back and so are the fish. I went out about 10:00 Sun. morning, and found some large fish about 100 yards. from large school of perch. On the third pass I hooked a large fish but it straightened out the hook on the jig. That kind of set the tempo for the day, I boated a few but lost a lot. If I remember right I broke off eight or nine fish. This was rather surprising since I just put new line on last night. The fish seem to be moving deeper and one of the best crank baits I've found to get down to them is also one of the cheapest. I don't know if our host carries them but the Norman DD22, with a 1/2 ounce jig will reach 24 to 25 feet with 12lb test on. Almost all of the fish I caught today hit on a five inch grub, four feet in front of the crank bait. I hope this info. does you some good. Also I saw lots of catfish being cleaned at the cleaning station today. MAC

August 8, 2004 - Cheney - Aug 7, Sat morn, I turned on the tube, saw barometer steady. to be s wind 10-20 today, I thought I better wait till later since a steady barometer almost always never alows me to catch much fish. So I waited, and waited, finally about 1pm, it started moving. I and my buddy Scott headed to the lake. I found Chris fishing Wichita point and he said they had not kept a single keeper! just a few small white perch. My hunch was right! We went out to the northern point of Wichita, and started seeing several large schools of perch on the graph. I decided to slow drift using kastmaster spoons. We started catching average size perch, with an occasional White Bass. 2pm, a little more wind, and more fish. by 4pm, we were catching fish every single time the spoon hit the bottom! We killed aver a hundred perch easily, the gulls were going crazy picking the small ones up and flying away! I landed 20 or so large White bass and a few very nice Wipers. I ended up anchoring on the North end of the hump and we caught fish steadily from 3 to 7 pm. We had a ball! I love the 3/4 oz silver hairless Kast master spoon. I almost always catch fish on this lure. it sure beats having to bait the hook!
Last Monday, I took another guy fishin, he had never spooned before, and I introduced him to Cheney for the first time also! I cleaned 45 very nice White Bass, and we caught lots of Very nice Wipers. It is so much fun spooning Wipers! Throw it out away from the boat, let it hit the bottom and jerk it up let it fall! WHam the line starts ripping off the reel! Just slow troll over points until you find the schools of fish, then hang out over the top of the school and drop your spoon right down to them or 30 or 40 feet away from them and kast to them. either way it is great fun! Believe me the fish are still biting, you just have to find them! MIKE E.
August 7, 2004 - Cheney - So far for the month of Aug. I have only caught one white bass. For the month of July we boated over 70 large wipers and 16 stripe bass. This last week all of my usual spots are holding perch and shad but I'm not seeing anything large. Usually a couple of days after the front has moved through I'm right back on the fish but so far nothing for Aug. I even watched Mark go by and not catch a fish, you know somethings up when that happens. I can't believe I'm going to say this but i hope the hot weather comes back. MAC

August 4, 2004 - Request for info on Melvern - I have a small club tournament for bass at the end of august. I would like to know if someone would share a little information on this lake. Thanks Rich
August 3, 2004 - Cheney - Saw a couple disappointed reports on the fishing at Cheney and thought I might give you some ideas. White bass and wipers are very active right before sundown on the west end of the refuge in very shallow water. Look for places where the water gets shallow quickly and the wind piles up the shad. Gulls will move in and tell you where the fish are, and then you will see the white bass and wipers "boiling" under the birds. When the gulls start crying and diving, sometimes you can ease up close and cast to the fish with sassy shads or spoons. If they aren't staying up long, just troll the area with Shad Raps, Rattle Traps, etc. Be patient, keep your eyes open, and it's a blast. We caught maybe fifty wipers, and white bass last evening and took home fourteen very nice white bass. Gordon Schneider, Fisheries Biologist, KDWP.

August 3, 2004 - McPherson State Lake - Went fishing this morning at sunup and had a lot of bites but only caught four catfish, only one was a keeper. We were fishing at the first fish feeder. At about 9:30 the bites stopped so we went home, getting really hot. We watched one guy catch about five nice ones in about an hour and a half. One he caught was around the 10 pound range and he had another one break his line.
August 2, 2004 - Cheney - THE PAST SEVERAL DAYS HAVE BEEN POOR. I HAVE NOT BEEN SKUNKED BUT VERY FEW FISH CAUGHT. MONDAY ONE 6 LBS. WALLEYE. HAD ONE BIG FISH ON UP TO THE BOAT AND GOT OFF. BEEN SEEING HUGE SCHOOLS OF BAIT FISH AND PERCH BUT THE BIG ONES ARE NOT FEEDING. FOUND TWO HUGE SCHOOLS OF BIG FISH AT FACE OF DAM, 26' DEEP STACKED UP TO 20' BUT COULD NOT GET THEM TO BITE. MY BOAT AND TWO OTHER BOATS WORKED THAT AREA FOR 30 MIN. WITH NO FISH. I SUPPOSE THE DROP IN WATER TEMP. FROM 80 DOWN TO 75 DEGREES. MUDDY WATER HAS THE FISH WITH LOCK JAW. MONDAY WAS A GOOD DAY TO FISH. S.W. WIND AROUND 10-15 MPH. HIGH PRESSURE IN THE AREA. SOMETHING'S UP. I HAVE BEEN SEEING PEOPLE CLEANING FISH AT THE CLEANING STATION. TALKED TO THREE OTHER FISHERMAN THEY ARE EXPERIENCING THE SAME ON POOR CATCHES. I DON'T THINK WE HAVE TO WORRY ABOUT A FISH KILL THIS SUMMER. GIVE THE LAKE A WEEK AND MAYBE THINGS WILL CHANGE. MARK.

July 31, 2004 - Cheney -Fished Sat morn, saw several boats on the water, best I could tell few if any stripers and wipers were causht. We did not see one decent fish boated and we were in the middle of the boats. We trolled and spooned and caught nothing. Guys in the camo flat bottom caught some white perch. I would rate that action for wipers and stripers on the fishing report as poor, unless we really missed it. If it has been excellent, it was not Saturday July 31st. We were going to fish the weekend but went to Sooner lake and caught and released some nice black bass, the next day. Thx, Striper Tom

July 31, 2004 - Marion -Went to Marion Reservoir last night and caught 1 19 inch Walleye 1 15 inch Walleye and 4 wipers. We was trolling Silver and blue Wiggle Warts in 8 foot of water. The Walleye fishing seems pretty good, but they to be all over the lake.

July 28, 2004 - Cheney - JULY 27, 2004 TUES. EVENING WAS SLOW. CAUGHT HAD ONE POLE DOUBLE UP WITH TWO 8 LB. WIPERS. LOTS OF FISHERMAN OUT TUES. AFTERNOON. WATER TEMP. 76. SO MANY FISHERMAN OUT I COULD NOT CONCENTRATE ON MY HOT SPOTS. MARK.
July 26, 2004 - Question on Hillsdale - I wanted to know if anyone knew of any good places to do some fishing at Hillsdale from the bank. I will be going over the end of this week and I have never been there. Bass, Crappie, Catfish.What is my best bet and where? Thanks, Chad
July 22, 2004 - Cheney - JULY 21, 2004. WEDS. AFTERNOON. DID GOOD. CAME UP WITH TWO STRIPERS. 14.5, 11.5 LBS. LOST THREE GOOD FISH AFTER SECONDS OF FIGHTING THEM. TOOK A FRIEND THAT BANK FISHES AT CHENEY. FIRST TIME HE HAS BOAT FISHED. HE WAS THRILLED TO COME UP WITH HIS CATCH. CAUGHT ON WESTSIDE ON HUMP. THE BREEZE FELT WONDERFUL LAST NIGHT. HE PURPOSED TO HIS WIFE 14 YEARS AGO AT CHENEY IN A RUBBER DINGY. KIND OF NEAT. MARK.
July 21, 2004 - Question about bass at Kanopolis - At Kanopolis Lake there is nothing said about bass on the report. My question is what happened to them? Was there a die off? Could the lake support them? Because there are not many in the lake.
July 21, 2004 - Private property near Sedan KS July 3-4 - You will never believe this one!!! With family to celebrate weekend with fishing and fireworks. We caught several smaller, 11/2 lbs to 3 lbs, Channel Cat. While cleaning fish with my mother, one of the catfish fell from the cleaning table to the ground, so I thought. Now if you have ever been poked by the fins of a Catfish you will really appreciate the rest of this story. When I looked down the lateral fin, closest to the head, had passed completely through the middle of my foot. What a sight showing up to the hospital with a fish stuck entirely through my foot. After two hospitals, four shots, 6 hrs. of digging, and an IV, now 3am, I am laying on an Operating Table ready to be knocked out for surgery to remove the fin. It had wedged between two of the bones in my foot. Haven't gotten the bills yet, (thank god for great insurance), but I sure this will be the most expensive fish, I will ever catch.

I can now laugh at this incident, what are the chances? Got a polaroid from the hospital to prove it really happened, oh yeah and they returned the fin. Thought you all might appreciate the story. Good luck and watch the feet!!!!

Eddie


July 20, 2004 - Cheney -Fished morning and earily afternoon on Saturday. As usual, Mike E. got the big one!


July 19, 2004 - Watershed Butler County - went last friday evening out to the watershed. got out the floating fish lights for the first time this year and headed across the lake to where we have some brush piles sank in the lake. set out two lights which was plenty for the 2 man boat we were in. Crappie were under us in about 15 minutes and it was non stop from there. Ended the night with probably around 40 crappie, non of them were real big but decent 9 to 10 inch crappie. Released all of them, not much fun to clean fish at 2 in the morning when you get home. We also caught 7 bass and two of them were right at 4lbs which was a pretty good time on ultra lights and 4lb test line. All of our fish were caught on minnows except a couple of bass came on 10inch worms right before dark. What a great way to beat the heat in july, just put on alot of insect repellent. mosquitoes were bad but, after the third layer of deeps woods off they left us alone. travis

July 19, 2004 - Cheney - BEEN AWAY FOR A WEEK ON VACATION. ALL LAST WEEK HAVE BEEN FAIR TO GOOD ON STRIPERS AND WIPERS. WENT OUT FOUR TIMES AND AVERAGED 3-5 STRIPERS AND 3-10 WIPERS. FOR ME THIS SUMMER HAS NOT BEEN AS GOOD AS LAST SUMMER ON BIG FISH. I WOULD HAVE TO BLAME THAT ON THE WEATHER. MOST OF THE TIME THE WIND HAS NOT BEEN UP ENOUGH OR NOT IN THE BEST DIRECTION. THIS SPRING WAS EXCELLENT BUT AS FALLEN DURING THE SUMMER ON NUMBERS AND QUALITY. DID HAVE ONE EXCELLENT DAY LAST TUES. MORNING. 16,14 AND MANY 10 LBS. STRIPERS. MANY TWO FISH ON ONE POLE THAT DAY WITH LINES BREAKING. SO I CHANGED MY LINE BELOW THE SWIVEL TO 50 LB. SPIDER WIRE. I WILL HAVE TO SEE HOW THAT WILL WORK. SUNDAY TRIED SOMETHING DIFFERENT. WENT WITH A 6" PEARL SASSY SHAD AND A 5 3/4" RAPLA HUSK JERK. (MUCH BIGGER THAN USUAL BY 2") ALL THE STRIPERS CAUGHT SUNDAY HIT THE 6" SASSY SHAD. ONE DAY RELEASED A 15 LB. STRIPER AFTER A QUICK PICTURE. TRIED TO REVIVE HIM. LEFT AREA AND CAME BACK 1 1/2 LATER AND HE WAS FLOATING DEAD. SO PICK HIM UP AND GAVE IT TO ANOTHER FISHERMAN. THERE'S STILL ALL OF AUGUST FOR BIG FISH. MARK.

July 18, 2004 - Cheney - trolled shad raps between m&m and wichita point, caught several whites, a few small wipers, 1 8lb wiper, and 1 13lb catfish, was trolling in about 8-13 ft, my shad raps are gettin slim, i had a shad color and a baby bass color in the water, both of em jointed number 5's.ive hardly ever caught anything on the baby bass shad rap but this morning the 13lb cat and 8lb wiper hit it. What a fight though, both caught on a 6' mh berkley series one......dont usually troll with that one but the reel on my falcon was acting up. Anyhow thats about all that happened.
Shawn H.

July 7, 2004 - Marion - WE SPENT TUESDAY MORNING CHUMMING ON MARION LAKE. BROUGHT HOME 3 LIMITS OF CATS. RELEASED MAYBE 20 MORE. THE PART THAT MAKES THIS TRIP INTERESTING IS THE BAIT WE USED. WE JUST PUT 1 SOYBEAN ON A HOOK. DROPPED IT TO THE BOTTOM. THEN CAME UP TWO REEL TURNS. THEY HIT IT LIKE A FREIGHT TRAIN. SEE YOU AT THE CHUM WHOLE. BILL SPANGLER WALTON, KANSAS

July 7, 2004 - Cheney - HAD TO MOVE AROUND A LOT TO COME UP WITH OUR CATCH LAST NIGHT. FOUND NO FISH AT HANDY CAP JETTY. AT SAIL BOAT COVE (AREA) FIRST PASS HAD TWO HUGE FISH ON AT SAME TIME AND BOTH CAME OFF AFTER SEVERAL SECONDS FIGHTING THEM. MY BOY WAS PISSED THEY CAME OFF. WENT WAY UP TO ISLAND (AREA) CAME UP WITH TWO BIG WHITES, FOUR SMALL WIPERS, ONE BIG WIPER. I HAVE NOTICED UP NORTH WHEN I CATCH SMALL FISH THERE ALL UP NORTH. I DON'T CATCH SMALL FISH SOUTH PART OF LAKE. I WONDER WHY THAT IS? CAME BACK TO SAIL BOAT COVE AND STARTED CATCHING LOTS. ALL WERE BIG. TWICE BOTH DOWNRIGGERS FISH ON SAME TIME. TWO MORE TIMES HAD DOUBLES ON ONE POLE AND BROKE ONE OF THE LINES. I'M USING 30 LBS. TEST AT THE THREE WAY SWIVEL. WONDER IF I SHOULD GO TO 40 LB. TEST? I KNOW MY KNOTS ARE GOOD. FINAL COUNT WAS 6 STRIPERS ALL 11 -14 LBS. 6 WIPERS ALL 6-8 LBS. WHAT A PLEASANT DRIVE BACK HOME WITH MY BOY AFTER OUR BIG CATCH. ALL FISH WERE RELEASED. MARK.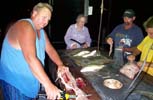 July 6, 2004 - Cheney -Here are some pictures of the following day. Mike's mom said she had a memorable day! She helped bag the filets


Here are the pictures Mike E promised. Does anyone recognize the Raycraft boat that Ron is standing on? His brother Floyd told me he had a blast reeling in those fish!


July 6, 2004 - Cheney - Speaking of out of state people coming to kansas to catch STRIPERS, My brother Floyd and my nephew Travis and a friend of his came to visit me to go Striper fishing at cheney this weekend. We fished Friday evening, and had a great time. Ron caught a 25lb Striper that he is getting mounted, Yeah, I think he is thrilled!! My brother told him to come with him to Kansas because Stipers here are large and plentiful, and I could get him in a position to catch a wall hanger! Thank god he caught one! My brother and Nephew werent quite as lucky as ron, they neither one caught one for their wall, but they did manage to land a few very nice fish! From 10 to 17lbs. We fished hard Sat and Sun, the weather was fantastic! Sat was a nice light NE breeze, and we caught plenty of Wipers, Stripers and a couple very nice Walleye. 24 and 27" fish.
As well as many White Bass! Sat we fished M&M, and Wichita Points, had a great time! Sun I couldnt find the fish on the refuge or Wichita, and ended up spending the majority of the day out on the far point of M&M. I found a large school of Wipers and Stripers, and we spooned for them for an hour or so, I landed my first Striper on a spoon that day! That was a blast! I had another Striper on a spoon shortly after the first, I fought him for awhile, then he came straight up to the surface, and spit the spoon out at me! Ron had never spooned for fish, and he loved it! We all had a ball. Cheney is still clear water, and the lake did not come up at all like El Dorado lake did. Water surface temp Sat, was 84 deg, and sunday it was back to 76 deg. I was shocked that there werent any other fishermen around me on Sunday! I practically had M&M to my self. We ended up catching for the whole weekend, 12 Stripers, and numerous Wipers and White bass. and only the 2 Walleye. I have lots of pictures I would love to put on here, but no scanner at the moment due to lightning! My buddy Chris was there Sat, with his digital camera, he will post some pics im sure. See Ya,
MIKE E.

July 2, 2004 - Cheney -My wife and I got to Cheney about 5 and started trolling the 3 way set up at M and M. Nothing biting there so we tried Wichita point and points North. I marked a lot of fish but nothing was hitting our lines. After moving south on the west side and across the dam it was back to M and M. I finally hooked up with a 25 inch walleye. It was our only fish of the night but it was a good one. One other thing I would like to say as far as some of the comments about Mike E. We saw Mike out on M and M about 8:30 and he had 2 other guys with him. If people dont believe that he is catching the fish he says he does they should have seen what we saw Friday night. One of the guys in his boat hooked up with what was either a huge wiper or striper. We have seen him out there before and the guy can put some fish in the boat when no one else around him is. Do I know Mike E, no I have never met him. I just know his boat with the white moter cover and his fast trolling speed. So as far as saying Mike E is on this page too much we dont need comments like that. I myself look forward to his posts and have learned a lot from him. Randy and Martha.

July 2, 2004 - Cheney - My son and I caught these white bass, several wipers, and hundreds of white perch in the early morning on chartreuse road-runners and pink and white marabou jigs. We anchored on the drop-off from 4 to 10 ft just south of the rock pile. Really a fun trip! That would be a great location for the white perch frenzy
.
July 2, 2004 - Cheney - JUNE 30, 2004 WEDNESDAY. NOT A GOOD DAY AT THE LAKE. HEADED OUT WITH THE BOYS FOR A TWO DAY CAMPING AND FISHING. VERY LITTLE WIND. COULD NOT LOCATE ANY FISH SOUTH PART OF LAKE. HEADED NORTH TO ISLAND AREA AND FOUND HUNDREDS OF SHAD BREAKING WATER. DID MANAGE ONE LARGE WIPER. MANY SMALL STRIPERS/WIPERS AND A FEW HUGE WHITES. NOT TOO BAD. HEADED TO THE CAMP SITE. PAID MY FEES. TOOK A NAP IN TENT. BOYS HIKING IN THE AREA HAVING A BALL. STARTED TO RAIN HEAVILY AND I STARTED GETTING SICKER THAN A DOG. FIRST TIME IN 6 YEARS. ON MY KNEES IN THE RAIN THROWING UP. HAD TO LEAVE IN THE RAIN. BEAVER LAKE TRIP WAS A BLAST. CAUGHT MANY BIG STRIPERS AND SURPRISINGLY MANY BIG WIPERS. ABOUT 50/50 ON THE CATCH. GUIDE USED 8" LIVE SHAD FROM GRAND LAKE. GOOD LUCK THIS WEEKEND. I'M STAYING OFF THE LAKE. MARK.
July 2, 2004 - Catfish at Marion- If interested in catching cat's at Marion, try this. Two bouys north of Cottonwood Point on the east side, drift T.V. (Texsas Verity) Shrimp. Don't remove the shell, just hook it, and let it drift. We have been doing this for almost 15 years with great success. June and July are the best. Be careful, the 2nd and 3rd bouys gets shallow. Good luck, Many line cat's in the past several years, secret handed down for 3 generations, and still enjoy.

July 1, 2004 - Cheney - i waited til 7am to head out and fished til about 11am. right off the bat hooked and landed a 19" walleye on shad colored jointed shad rap size #5. that was off m&m south side. tried several more passes nothing but bass or perch so i moved over to the reef 1/2 east of refuge n side and hooked and landed a 12lb channel on fire tiger jointed shad rap #5. both of these were released. a couple of 8 - 12 inch walleyes some more small perch and a 1-2lb drum. a little bit more wind would've been helpful but, it was a fun day. especially that 12 pounder. (biggest fish of adult life and no camera) nothing like seeing a big fish rolling at the surface a hundred yards out and you know its on your hook. sorry no pictures. happy fishing everyone ron

July 1, 2004 - Cheney - I just read the fishing report for Cheney posted under the Fishing Reports section of the Angler. I dont think it is quite correct.

Wiper fishing is EXCELLENT!! using the 3 way rig with a deep diving crankbait, and a 3 or 4 inch pearl sassy shad, trolling over submerged humps and ledges. I personally have caught many many of these fish in june, and expect them to keep biting all summer long!! The vast majority are weighing in the 5 lb range, and several up to 10 lbs! I have caught them up to 16 lbs this year!
They completely left the STRIPER catagory out of the report! STRIPER fishing at cheney is FANTASTIC!! Sure you have to find them, but once you do, hang on! They are traveling in nice sized schools in the same areas as the Wipers. I lost count of the Stripers I have caught in june alone, somewhere around the 50 mark. Most are ranging 14lbs, several 20 pounders and a 26 lb and a 27 lb fish! Here is a tip! When you actually catch a Striper Immediately look at the surrounding landscape! such as a structure you can line up with on the land to continue a pattern to keep on the school! These schools usually will hang out in a particular area during the mid day light hours, I have been finding them around submerged humps where they can ambush prey fish, in around 13 to 19' of water. If you are fortunate enough to have a depthfinder that reads on fast speeds, constantly watch it for anyirregular humps you may go over as your are making your way across the lake. Stop, Go back and troll the humps. This is where most fish like to wait in ambush for white perch or shad to swim over them and they ambush them from below. White bass is EXCELLENT!! I have found so many large schools of these fish while looking for wipers and stripers around M&M point. they are stacking up the same way as the wipers and stripers, but in 9 to 11 foot of water. When I find a school i stop and throw a kastmaster spoon. Man that is fun! We filled my live well last monday evening doing this! I wish you all great success! MIKE E.

July 1, 2004 - Marion -Went fishing at Marion last night and caught 20 small White Bass. We caught them in 5-7 feet of water. We was using a 1/16 oz pink jig head with a 3 inch twister tails above a small Rattle Trap. We was trolling close to the Road Bed. Todd Becker Marion,ks
Source: Kansas Anglers like you. Send us a report.
Back to Current Reports
Reports for 2004 September - December | July - August | April - June | January - March
Reports for 2003 September - December | July - August | April - June | January - March
Reports for 2002 September - December | July - August | April - June | January - March
Reports for 2001 October - December | July - September | April - July | January - March
Reports for 2000 October - December | July - September | April - June | January - March
Back to Current Reports | Kansas Angler Home Page
Reports for Kansas | Colorado | Missouri | Nebraska | Oklahoma | Texas