| | |
| --- | --- |
| | See Zeiner's new online catalog. New items are being added regularly. |
Click here for Zeiners new secure online catalog
Be sure to refresh your browser to be sure you get the latest information.
The Angler keep others informed by emailing fishing reports to us. Include your name in the message part of your report if you'd like to receive credit for the report.
September 30, 2000- Lake Ray Roberts, TX - Went out Thursday evening to Ray Roberts and found the sand bass schooling. It was a great day to be outside. The birds were working an area in the middle of the lake but the sandies were moving fast. We caught a few by being at the right place when they surfaced but they were gone in a flash. Visit our website for details about a very dangerous hump in the middle of the lake.
July 5, 2000- Lake Ray Roberts, TX - Hello, I thought that I would write you and give you a very recent report on Lake Ray Roberts in Pilot Point, Texas. My fishing partner and I went out on 7/20/00. We were fishing a favorite spot of ours in the evening. This spot has water 15-25 ft deep. We were carolina rig fishing 10 inch power worms. We started getting hit at 7 and it didn't stop till around 10:30. We ended up catching a few fish under three. Then we caught two 4.5's a 5, three 6+, one 7.6 and finished with the last fish which was 8.4. It was awesome. This was the best total big fish night we had ever had.
We went back to Roberts 7/23/00 and started at the same place. The fish were there but they were not biting. We decided to try some shallow water on a main lake point and no bite there as well. We noticed black bass schooling just 40 yards from us on the same point but there were in 35ft of water. We trolled over and my buddy threw in a rattle trap and they hit. I did the same and then we had four fish in the boat. These fish were suspended in some trees on the point and were feeding on shad. I decided to throw out a topwater and they went nuts. We fished topwater in 35 ft of water from 10 am till 1 pm. And when were were done we had 26 fish that were 3-4 pounders. This was awesome and the first time I had ever caught schooling blacks. And on topwater till 1 pm. I guess the fishing gods were being nice to us in these two trips since there are so many times that we go to Roberts and catch the goose egg. Tom Kivlehan
July 5, 2000- Lake Ray Roberts, TX - My son And I went fishing with my friend and his son on Ray Roberts. We used live minnows on red/white crappie jigs over a core of engineers brush pile in Johnson Branch. We caught a few crappie and the ugliest catfish I have ever seen. Take a look at it at:
http://www.geocities.com/metromonte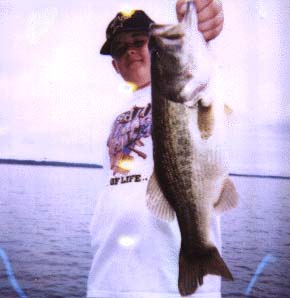 June 7, 2000 - My 11 year old son and I caught 9 Bass drifting across the
weed beds west of Wolf Island. The weather was very overcast and rainy
which had the fish busting topwater baits at midday. We caught em on
spooks, buzz baits, flukes, and worms. It will clear your arteries
when one trashes a buzz bait right at the boat. We took pictures. See
them. Also see the Kingfish that we limited out on while offshore last week.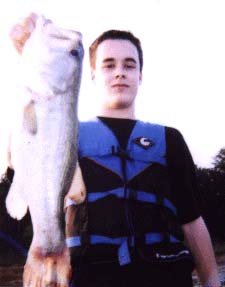 May 11, 2000 - My sons and I fished Lake Texoma Wednesday evening. One of them came up with a 4.5 pound Bass while chasing the stripers. We didn't catch any stripers but another boat under the same birds we were under did. Guess
we need to improve on our striper fishing skills. Any pointers would be
greatly appreciated. Visit us
See More Fish Photographs
April 10, 2000 - Have been putting the kids on the white bass the last couple of days on Lake Ray Roberts. The birds have been showing us the way mostly
around the swimming area of Johnson Branch. The sandies have been real
active there from around 4 pm till dark. You don't even have to jig a slab.
We have been simply chunking and winding chrome traps. See the kids having a real good time.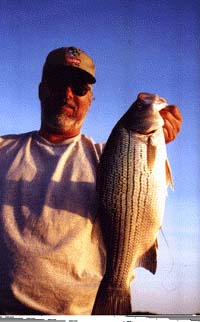 April 10, 2000 - Fished Lake Fairfield on Monday. Caught Hybrid Stripers up to 5 pounds. The wind was gail force but we faught it from sunup till 1PM. Bass bite was off for us and we couldn't find the redfish either.
On the stranger side of things, look at the picture of the 5 pound fish
Monte is holding. That's not a flaw in the picture. It's monofiliment line being passed through the fish. Monte gently tugged on it and it didnt budge. Rather than injure the fish we simply cut the
line and threw him back. In fact we threw all of them back. They are
there for someone else to catch now.
See more pictures
of the Hybrids Monte
See more fish photographs in The Kansas Angler Photo Gallery

March 18, 2000 - Fished Lake Monticello starting @7am. Caught 15 bass ranging from 6-1/2 lbs to 3 lbs. Fished Texas and Carolina rigged black 4" ringworms. Fished the cattails and moss. Fish were in 3' to 10' of water. wind was from the east and conditions were rough. Going tomorrow and will send another
report. Jerry Cummins
Source: Texas Anglers like you. Send us a report.
Current Reports from Texas Anglers
Kansas Angler Home Page
Reports for Kansas | Colorado | Iowa | Missouri | Nebraska | Oklahoma | Texas