| | |
| --- | --- |
| | See Zeiner's new online catalog. New items are being added regularly. |
Click here for Zeiners new secure online catalog
Be sure to refresh your browser to be sure you get the latest information.
The Angler keep others informed by emailing fishing reports to us. Include your name in the message part of your report if you'd like to receive credit for the report.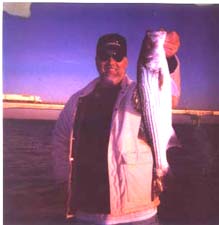 December 17, 2001 - Texoma - Got into the stripers again on Texoma last Friday. Birds were everywhere showing the way. We caught em on glow sassy shads at the
Willis bridge. See the pictures and details at: http://www.geocities.com/metromonte
July 22, 2001 - Calaveras - Water is clear to 4 ft. water is 86 degrees, redfish to 7 lbs on crawfish in 20 ft water and at crappie wall. stripers 5 lbs great on trolling and live shad in river, channel catfish and blues fair on dead shad and liver, and dead shrimp in 5-20 feet of water by bridge, yellow catfish are slow on live blue gills.
May 19, 2001 - Lake Ray Roberts - Fished Ray Roberts Saturday evening. Fishing buddy caught one dink and that was it. It fell for a weightless yellow trick-worm. Frustrating to be outfished by one little fish. I can't even catch a sand bass right now. Guess I need to hone my fishing skills by going more, eh? I have a
buddy that says they're biting good on Ammon Carter. Anyone else heard
that? Visit our website at: http://www.geocities.com/metromonte
March 13, 2001 - Lake Ray Roberts - Water Surface Temp 52-57 - Fished Ray Roberts Tuesday evening with my 12 year old son. It was a great day to be outside. We tried Indian Creek and Bonny Pond with no luck. Only found one sand bass trolling a white Model-A in Johnson Cove. The lake is way up. We took a picture of the fishing pier at Isle Du Bois which is about to go under water. Take a look at http://www.geocities.com/metromonte
Feb. 10, 2001 - Lake Fairfied, TX
Caught a few on Lake Fairfield on Saturday. Fished the hot water discharge area with a bubble gum colored weightless trick worm. The fish were deep in the reeds. Water temp was 76 where the fish were. We started outside of the discharge area in 62 degree water but got no hits. Once we moved to the discharge area westarted catching fish. See the pictures at:
http://www.geocities.com/metromonte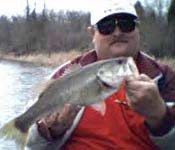 January 26, 2001- Lake Fairfield, TX - My fishin buddy outfished me again on Lake Fairfield. He caught an 18 1/4 inch long bass on a 12" purple culprit worm in 5 feet of water. He caught another dink bass a couple of hours later and I caught the smallest one of the day right at dark on a bright yellow culprit trick worm. We took a picture of his 3 pounder with his new digital camera. http://www.geocities.com/metromonte
Source: Texas Anglers like you. Send us a report.
Reports from Texas Anglers Current Year | 2000
Kansas Angler Home Page
Reports for Kansas | Colorado | Iowa | Missouri | Nebraska | Oklahoma | Texas