| | |
| --- | --- |
| | See Zeiner's new online catalog. New items are being added regularly. |
Click here for Zeiner's new secure online catalog
June 25, 2001 - Wilson -The fishing at Wilson for the last ten days has been disappointing at best. With the lake levels rising the fish slowly shut down, once they started to release water it did improve for awhile and then went to slow as soon as the mud line was pulled to the main lake. The gates were slowed to 400 CFS this morning and the lake is near conservation level again. I just came back from fishing below the dam and caught 8 stripers up to 6 lbs, fishing minnows in the fast water. There were allot of stripers released so nows a good time to catch a few below the dam. Fishing conditions should improve rapidly now if the wind would slow to below 20 mph. Good Luck. Jack Hoskinson Madd Jack Striper Guide
June 18, 2001 - Meade State Fishing Lake - The wife and I fish Meade State Fishing Lake on the weekend of June 16 and 17. Each day we caught about 40 large mouth bass, most of these were around 14 to 15 inchs. Also caught channel cats on crank baits, they averaged around 4 to 5 pounds. We caught several bass that weighted over 4 pounds. Enclosed is a photo of the wife and her biggest one. Happy Fishing - Ron and Jeanie Phillips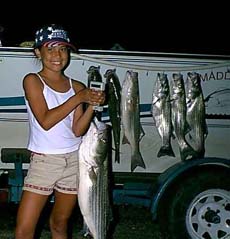 June 15, 2001 - Wilson - Fished wilson the evening of the 13th and caught 9 stripers up to 9 lbs, the largest was caught by the youngest in the boat, an 11 year old young lady visiting here from Hawaii. June 14 fished again this evening and caught 7 stripers up to 9 lbs. Fishing the Lucas park area with live shad in 44 feet of water. I saw my first school on stripers on top today they were small fish maybe 3 lbs. but at least maybe this is the beginning of the surfacing action. With the rains lately the lake level is up but is being lowered, water temp. is 71 degrees. Good Luck. Jack Hoskinson Madd Jack Striper Guide
June 14, 2001 - Harvey County East - (6/13/01) Went out in the boat on one end of the lake & around 3:30 p.m.started catching channel cats. My husband caught 5, the largest 18 1/2 in. long. I caught 2 cats & 1 perch. It was hot but fun! Evelyn
June 13, 2001 - Sedgwick County Park - Black bass are 0.5-2.0, rains bringing bass into shallow. Fishing near docks is best in clear/stained water.
June 12, 2001 - Cheney - I have been fishing Cheney Resevoir for the last two weeks now about every night that is nice out. Been having luck on walleys on worms and white bass. The channel catfish have biting on shad and shad sides and the stripers. The fish have been 1to5 lb on the white bass and the catfish have been 2 to 18 lbs and the walleye have been 1 to 6 lbs and the stripers have been 3 to 11 lbs have been slow during the day but have been realy biteing at night. in the swimming area at Wichita point where they put all the rocks in the water. Thanks Alex Turley
June 10, 2001 - Scott State Park - We wwnt fishing to Scott State park yesterday and we caught 3 carp that were 15, 14, and 10 pounds. they were huge, and we caught 7 catfish that were all around 3, to 4 pounds each. thanks for this site. Juan Sandoval
June 10, 2001 - Shawnee - was at shawnee lake(topeka) last night(6/9) from around 3pm. till 11pm. small channel cats(-1lb.) biteing on chicken livers and shrimp. didn't get many hook sets due to short timid bites but had alot of bites.hope this helps to inform.
June 10, 2001 - General - The best things to catch bass and other fish are worms and jigs. Use worms with bobbers.
June 9, 2001 - Wilson - The walleye are still biting at Wilson. Went yesterday and after a day of poor results decided to go back in the evening to a spot that we had fished most of the day and only had 3 keepers to show for our trouble. The evening was a different story. We ended the day with 14 keepers between the three of us. The largest was 4lbs. Vance Stirn, Tescott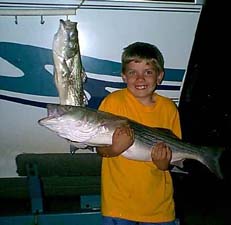 June 9, 2001 - Wilson - Fished Wilson hard today only to end up with 5 stripers up to 12 lbs. missed at least 10 more but still had a good time! With the water levels on the rise it has certainly changed the fishing but it should improve soon. We were fishing the lucas park area with live shad at about 38 feet. Good Luck!
Jack Hoskinson Jack Hoskinson Madd Jack Striper Guide
June 8, 2001 - Cedar Bluff - On June 6 and June 7 my wife and I caught a really nice mess of black crappie on Cedar bluff. We were fishing the tree lines in about 10 to 14 foot of water. Most of the fish were in the 10 to 12 inch range. We caught several nice whites and a few sub legal Walleye while crappie fishing. Also managed to catch a few suspended blacks in the same locations; two of which were of legal size. Cabin cove, cove 4, and Boy Scout cove were the best locations.
Fishermen seemed to be having success all over the lake black bass fishing. We observed some nice fish being caught from the shallow bays near the fronts of the coves or near secondary points. Also helped a fellow photograph a 9lb. 3oz. Walleye. What a great little lake on the Kansas prairie. Rich Clark, Smithville, MO.
June 4, 2001 - Kanopolis - Went out this weekend the wypers are going crazy!!Fish any point on Venango area but hold on to your poles cause it don't take long.That is if you can keep the inconsiderate BOAT FISHERMAN from anchoring right where your catching them. Good Luck, Richard Frisbie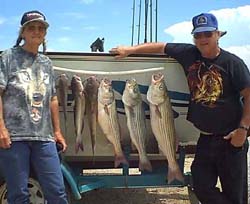 June 3, 2001 - Wilson - June 2 the fishing was great catching Eleven stripers up to 11 lbs and we had two BIG FISH on and lost them both. Fishing the Lucas area with live shad in 44 feet of water. June 3 with an incoming cool front and high winds the fish shut down and we only ended up with 2 stripers up to 5 lbs. That's the Kansas weather for you. Good Luck! Jack Hoskinson Madd Jack Striper Guide
June 1, 2001 - Big Blue River - May 26-28 Big Blue River, Set out 8 bankpoles all baited with live perch, caught 10 flathead, biggest was 30 lbs.
May 31, 2001 - Wilson - May 31 fished 8 hrs today only to catch 7 stripers up to 6 lbs. and caught 4 of those in 15 minutes fishing a 36 foot hump in the dam area. The prevailing northerly winds seems to have taken it's toll on the fishing. June 1 fished the dam and lucas area and caught 7 stripers up to 13 lbs. and several nice catfish. The stripers were still not on the feed but we did manage to get a hook in a few. Good Luck Jack Hoskinson Madd Jack Striper Guide
May 30, 2001 - Cheney - Wichita and M&M points are great for wading in the mornings and evenings for walleyes. Use Rattle Traps, or shallow diving cranks! It can definately pay off! Any point area on the East side of the lake will usually produce nice walleyes and white bass using this technique. GOOD LUCK! MIKE
May 27, 2001 - Wilson -Fished wilson friday evening and the stripers were hitting a little funny. We caught only 5 up to 6 lbs. in the Lucas park area on shad. Saturday morning they were still hitting funny but we ended up with 7 stripers up to 10 lbs. The last few days on northerly winds have slowed the fishing down a little but I am still getting reports of lots of nice walleye being caught. Most are drifting jig and worm combos but most of the larger walleye are being caught on leeches or minnows. Good Luck Jack Hoskinson. Jack Hoskinson Madd Jack Striper Guide
May 23, 2001 - Hillsdale - the bass are biting pretty well on black / blue pig n jig in any muddy water of about 3'-7' of water. the bass are holding very tight to the
cover. make sure you have rattles and some kind of spray on the jig.
the bass are slow at finding the bait but they are sure there. i caught
4 keeper size bass in a few hours up the little bull arm of the lake.
the biggest weighed in at 6.03lbs and the smallest was 3.4lbs i have a
total weight of 16.93lbs of bass this fine day. just keep it slow. will
May 23, 2001 - Hillsdale -Just a little fishing report from me (will rogers) at Hillsdale lake. the flathead cats are making their move. they are pretty active in eating everything in their sight. I have caught 3 -15lbers, 28 lber, 35.9 lber, and a whopper for this lake a 50 lber. all caught on trotlines on goldfish, green sunfish, and big big perch. that my report for now. thanks, will rogers

May 23, 2001 - Wilson -With the winds of the last few days the fish have been hard to get on, the windward side has been better suited to surfing than fishing. We still managed to catch 5 stripers to 8lbs. and one 5 lb. walleye, fishing in the Lucas park area on live bait. Have a safe weekend and make sure all your safety equipment, life jackets, fire extinguisher, sound producing device is in good working order, if you don't check it some one else might do it for you on this holiday weekend! Jack Hoskinson Madd Jack Striper Guide
May 23, 2001 - Cheney - Are there any suggestions on where those of us who bank fish or wade on the dam can get into the Walleye. I was out 2 weeks ago and we got into about a half dozen of 16"-22"er's. But this last weekend we just couldn't get into them. Sincerely, Soon to be Boat Owner Chris
If you have any suggestions, email them to us at the Kansas Angler Online and we will forward to Chris.
May 23, 2001 - Osage State Lake - Hi, Hope everyone is having a good time fishing. Went to Osage 5/21 & 5/22. Catfish @ Osage are biting on liver & shad sides better than anything, getting them hooked is another story, they seem to be very smart catfish! Last night I caught 2 13 & 14 inch bass on worms ( on the bottom!). I also caught a turtle approx a foot in diameter who planted himself on the rocks and looked at me for a minute (while I was trying to remember where my scissors were to cut my line), he took care of it for me and bit my hook in half. My son went bananas & warned me he would not eat turtle soup. (But he will eat crawdads, Go figure!?) Guys fishing near me on 5/21 were catching approx 8 to 15 pound catfish on shad sides. To the guys ( Matt, Matt, Sean, & Travis) I hope you are still pulling in the big ones, and Thank you for being so nice to my son and his friend (& me). Hope to see you all down there again! Sean, Thank you for the Fish! - Rhonda
May 21, 2001 - Cheney - They (walleye) were deeper on Saturday. Three of us caught limits in 12 ft. of water on No. 7 Fire Tiger Shad Raps between Wenzel Cove and Graber Cove. Took us a while to find them, but when we did we filled up quickly.
May 21, 2001 - Harvey County East - I CAUGHT A 14 IN. WHITE BASS & THREW HIM BACK. ON A SUNDAY AFTERNOON THIS MONTH, I CAUGHT 6 PERCH, 4 WERE SUNPERCH. I DECIDED TO QUIT CUZ THATS ALL THAT KEPT BITING. EVERYTHING WAS CAUGHT WITH WORM. ALSO ON MAY 12TH, I CAUGHT A LARGEMOUTH BASS AT CLINTON STATE LAKE. HE WAS 10 IN. SO BACK IN HE WENT! IT WAS FUN. EVELYN
May 21, 2001 - Wilson - The fishing on Wilson has been great the last week on Wilson with several stripers in the 8 to 10 pound range being caught and a 21 lber. being caught on the 20th. Most of the fish are being caught between Minooka and Lucas on live bait. Walleye fishing has also been excellent with a 9 1/2 lbers caught this week and lots of smaller fish. Right now is a great time to have a chance at a BIG striper or walleye. Good Luck. Jack Hoskinson Madd Jack Striper Guide
May 20, 2001 - Cheney - Fished Saturday 5-19 from 8:30 to 4:30 fish started biting at 12:30 pm, caught 4 20 to 24" Walleye, 3 Wipers 2- around the 3 lb mark 1 tipped 7 lbs. trolling in 11' depth. Sunday, was a bit better kept 6 Walleys from 18 to 26" and only 1 Wiper 8lbs. fished from 10am to 12 pm. Trolling deep bill Norman lures, with a 3 way swivel trailing a sassy shad. I read today that on 5-5 during the flw Walleye tournament on cheney, that 585 Keeper Walleye were weighed in. This year has been tremendous for keepers. I hope some of you are throwing some back!! Good Luck. MIKE
Editor's Note: The tournament referred to was the Kansas Walleye Association tournament. Results from that tournament can be viewed by clicking here.
May 17, 2001 - Cheney - My wife and I went to Cheney Wednesday evening. The fishing was a little tough. I don't know if it had anything to do with the recent hot weather, moon phase, or other factors. My guess is that the fishing pressure on the lake in the last few weeks has had a lot to do with it. We managed to catch
only 2 walleyes, both were keepers, drifting jig and nightcrawlers in about
12' of water. Both fish were caught within a few minutes of each other
right at dusk. Tony Cook
May 17, 2001 - Marion County - Fished most of Sunday the 13th. The crappie have not moved up yet (darn). But the channels are still biting all over the lake.Caught 2 16" channels in the dock on liver and 2 13" wipers on liver (weird).No luck jiggin for bass or crappie. The water is looking better and better though, wish those crappie would get it in gear!
May 16, 2001 - Cheney - I've been averaging two fishing trips per week to Cheney reservoir over the past two months. Excellent walleye fishing has been experienced. On several occasions I have been very disappointed to see walleye thrown into the trash near the boat landings. This is a waste of a very valuable resource. With the amount of walleye being harvested out of Cheney this year, it will probably be another three or four years to see another bumper crop of keepers.
Please if you don't plan on consuming what you catch....please consider catching and releasing.....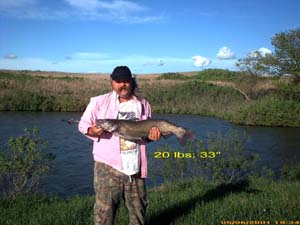 May 14, 2001 - McPherson County Lake - My sister, Sandy, and her husband, Jim, and I went fishing at McPherson County Lake on May 6th, 2001. We had caught 3- 16" channels in about 3 hours and I decided to move down the bank a little and try turkey liver on a treble hook and I hooked into this 20 pound channel a short time later. This is the biggest fish I have ever caught and the biggest fish I have seen come out of this lake. See More Fish Pictures
May 14, 2001 - Sebelius - Fished Keith Sebelius Res. the weekend of 5/13/01. a 15" lake. caught about 15 fish that were keepers and some smaller fish. the fish seemed to be very close to the bank, 1 to 4 feet, and were caught using plastics. 3/16 to 1/4 oz. weight.big bass was 6.4 lb.
May 13, 2001 - Cedar Bluff - I fished Cedar Bluff in northwest Kansas Saturday May 12 and my family and I caught about 37 crappie on road runners, the crappie were out holding off of spawning areas, about 5 were caugth in the spawning areas but most were in 20 feet of water, 7 feet down and to 20. We caught lots of little white bass, one walleye and a largemouth in shallow brush and one bigger white
bass about 1 1/2 pounds where we were catching the crappie and on the dam I
caught 3 whites using a zara spook. Lots of anglers had many small whites
and crappie. I seen one wiper that was about five pounds caught by another
angler.
May 11, 2001 - Wilson - May 11 Fished the Lucas park area with live shad on ballons working 20 feet of water and caught 8 stripers with one 9 lber. and one 12 lber. May 12 fished from lucas to minooka only to end up with 5 stripers up to 6 lbs. with one nice 5 lb. walleye. Jack Hoskinson Madd Jack Striper Guide
May 10, 2001 - Hillsdale - Bass biting at Hillsdale Lake in water from shore to 6 feet. Most of all big bass around 4-7 lbs are being caught in the 5-6 feet of water on lizards, soft craws and jigs.
May 10, 2001 - Cheney - Fished for Walleye on May 9 for about four hours. Me and my 4 year old son and friend ended up with our best stringer of my boats first year of fishing. It was to windy to fish our regular places, and took us awhile
to find them but once we did we had lots of fun. Yhe lake seems to be
filled with all sizes of walleye up to around the 24" mark. Fish seem
very healthy, and they sure taste good! KS ROCK
May 9, 2001 - Cheney - Fished the Walleye at Cheney on Monday. Light winds from the north and east made the bite tough but not nearly as difficult as it was in the afternoon when the wind stopped completely. Fishing from 9 to 12 feet we
still managed to boat 5 keepers between two of us and several shorts. All
were jig and worm fish taken off of the points. Tedd
May 9, 2001 - Cheney - Fished at Cheney last evening from 6:30 p.m until after dark. Was a real nice evening. I fished off of the refuge point in about 10' - 12' of water using a jig and nightcrawler. I caught 2 keep walleyes and 3 shorts, not to
mention the small whites and drum too. There were lots of boats out, but
not too many people catching fish, from what I could see. After I caught my
first keeper, I anchored in the area, which happened to be near another
anchored boat. I watched this family of 4, about 50 feet from me, fill
there limit or close to it, each. You should have seen the stringer they
pulled in when they left. I could see that they were using nightcrawlers
too, but couldn't see what they were using them on or exactly how they were
getting them to bite. I tried different sizes and colors of jigs, with no
noticeable improvement. There were several other boats circling around
them, with only an occasional fish being caught. It was some sight to see.
The fish seemed to bite really well right up to sunset and shortly after,
but shut off once it got dark. Good Fishing! Tony Cook
May 8, 2001 - Cheney - Again hit the Walleye at Cheney. This time it was much better. Strong south and westerly winds were really pushing the bait around and enabled us to get a good drift speed going. Fishing a jig and worm off of the points in 6 to 10 feet we had a 2 man limit by 11:00. We also went up in 2-3 feet of
water on the points and threw crank baits. This produced keeper walleye as
well as some nice whites. A large number of the walleye caught were shorts,
which is refreshing to see. Hopefully the lake will stay this hot for a few
years. When you see the fish and game guys tell them thanks! Tedd
May 8, 2001 - El Dorado - 5-8 6:00 p.m. 5 flatheads 9,12,14,and 2 maybe a pound threw the small ones back all caught on trotline no eggs oh and last night when baitng caught a 11lb with egg males no food in belly females with small crappie or perch in belly caught on black perch or gold fish
May 8, 2001 - Harvey County East - My two stepbrothers and I went to this place for the first time and heard people were catching channelcat and blue well we were there for 4 hours and I caught a 2 pound carp, 4 channelcats, 1 saugeye, 1 bluegill. My stepbrothers caught catfish,and bass I caught 7 fish, joey caught 6 fish, and steven caught 3 fish. It was great. Have fun fishing. Erik
May 8, 2001 - Kanopolis - Went fishing monday may 7 caught 12 walleye 3 wipers. Seem to be hitting best right at sunset. All fish were caught from bank in Venango Area using night crawlers. 2 fish over 22 inches.
P.S. THANK YOU to my wife for putting up with my fishing fever.
GOOD FISHING Richard Frisbie
May 7, 2001 - Wilson - Fished the Lucas area this evening and caught 14 stripers up to 9 lbs. missed at least 20 fish balloning shad and on down rods. Fishing from 10 to 28 feet deep over 50 feet of water using live shad. The stripers got real active at sunset! Jack Hoskinson Madd Jack Striper Guide
May 7, 2001 - Cheney - My wife (Janet) and I went to Cheney Sunday evening to do some walleye fishing. The wind had pick up quite a bit from what it was earlier in the day and had switched directions to the NNW. We started fishing about 6:30
p.m. and fished until sunset. We fished the point just south of the refuge
point (don't know the cove and point names out there, yet). Because of the
larger waves, we didn't want to travel too far and we didn't have a lot of
time either. Every shallow main lake point on the East side, that I could
see, had a dozen or so boats either drifting or anchored. We tried to
anchor, but the anchor wouldn't hold, so it became a slow drift. I managed
to catch 3 sub-legal walleyes and several very small white bass in about 11'
of water using a jig and nightcrawler. Janet caught one little white, but
she didn't fish much; the waves were getting to her. Those small
bait-stealing whites seemed to be pretty thick in the shallower water (less
than 10'). It was hard to keep bait on your hook. Well, better luck next
time, hopefully. Tony Cook
May 7, 2001 - Cheney - It doesn't get any better than the walleye fishing at Cheney Reservoir right now. Caught five keepers in three hours on Saturday and two of us caught six keepers and three shorts in about three hours Sunday afternoon. Every boat we saw was catching fish, and there were lots of boats. Trolling Shad Raps in about six feet of water, especially near humps of shallower water worked for us. Drifters using jig and worm were also doing really well. As the keepers get cropped off, it will get harder to catch what is left, so take advantage soon.

May 7, 2001 - El Dorado - SET ONE TROTLINE ON ELDORADO LAKE 5-6-01 CHECKED EARLIE 5-7-01 CAUGHT A 43LB AND A 5LB ON BLACK PERCH. 15FT OF WATER . JIMMY BABB AND HERB BABB LEON KS
WILLSEND PICTURE SOON AS GET BACK
May 6, 2001 - Marion County Lake - Just got back from Marion, County Lake, I was there the 4th-5th. We caught some of nearly every species living in the lake. The highlights were a few 18"+ Channels and a 4 pound drum. The latest kdwp reports is very accurate. The cats were particularly active.
We also caught: Bluegill, Largemouth, Crappie, Walleye, Wipers, Flathead
That was all in a 48 hour span. If the weather holds over the next 2 weeks Marion will continue to produce excellent angling opportunity!
Hope this helps you keep track of how this impoundment is doing.
The Angler's Friend,
Jason Gray
May 6, 2001 - Wilson - Well with the wind and the weather we were back to bank fishing! May 4 we caught 5 stripers up to 6 lbs. fishing live shad on the bottom. May 5 with an approaching storm the fish were hitting good and as the wind increased to 30 plus the waves were hammering the bank, it kind of reminded me of surf fishing! We caught 8 stripers up to 7 lbs. Jack Hoskinson Madd Jack Striper Guide
May 4, 2001 - Cheney - On the water on May 4th about 8:00 AM and caught 4 nice walleye, some wiper and white bass before 11:00 AM in Graber Cove.
May 3, 2001 - Kanopolis - Me and son went sun.evening caught 15 white bass,5 keeper walleye in about an hour off the face of the dam. Went again mon. a.m. caught 10 keeper walleye.The best part was the boaters were catching nothing.
May 2, 2001 - Wilson - The wife and I fished off the bank this evening between 5:30 and 7:30 at Lucas park. We caught 6 stripers up to 6 lbs. one catfish and one undersized smallmouth, fishing live shad right on the bottom. We missed at least 6 or 7 good runs. The winds of the last few days have made it tough to get on the fish and then to have it shift and come out of the north made it even tougher today. Jack Hoskinson Madd Jack Striper Guide
April 28, 2001 - Shawnee State Lake - (4/28) Crappie are starting to come up to the bank (far and few between). Caught a couple crappie right after sun down on minnows and caught a 5lb channel cat on chicken liver about three hours after sun down. Ryan
Apr 30, 2001 - Marion County Lake - Father-in-law came to visit, and wanted to fish. I went out Saturday morning to prefish some spots before he came in on Sunday. Found many fish up shallow, lots of crappie(mostly blacks) and channel, caught three small walleye, and one bass.
Sunday we started at 8a.m. and we into crappie with in the first hour. Caught them on shiners up shallow and out to about 6 feet deep over 8 feet of water. Wind picked up early that day. We only moved the boat three times, and were on fish in all three spots. Fish were in and out alot. Had to wait 30 minutes without a bite a couple times, the we would double and triple. Crappie came mostly from about 6 feet, walleye were caught about 8 feet down in 10 feet of water. Fish sort of shut off after about 11:00 am. Fish till about 4pm, then went mushroom hunting. Bart Peace, Aquatics Director, Newton Recreation Commission

Apr 29, 2001 - Wilson - Fished Wilson (4/27) in the evening and caught 8 stripers up to 7 lbs. fishing shad on ballons and downrods. The wind was strong and made it tough to stay on the fish. We caught most of our fish in the Minooka park area from 12 to 25 feet. Jack Hoskinson Madd Jack Striper Guide
Apr 27, 2001 - Marion County Lake - Fished Monday night the 23rd. Started at about dark. Fished the bluffs on the south side. Caught a few Crappie on shiners about 7ft deep. Two of us caught 14 Channel on night crawlers.Caught one nice Walleye. We used big floats and fished right in the down timber and along rock piles. Most bites came after 11:30, we were catching fish at 2:30 when we decided to quit and get some sleep. Good time of year to night fish, a little cool but not
too many bugs. Again we targeted a bank that had been beat all day with a little Kansas wind. The lake is starting to clear up some. I plan to hit it pretty hard this weekend. Bart Peace, Aquatics Director, Newton Recreation Commission
Apr 26, 2001 - Cheney - Fished from 10am till 7pm wednesday, fished the Island, saw several limits of keeper walleyes, I bagged my 5, from 18 to 22 inches. Worms and minnows worked just fine. Was wishing for a breeze and didnt get one. Used the Trolling motor on slow, worked around 4 to 8 foot levels and did just fine. Today, couldnt get a bite from a keeper Walleye. Hope you all had a good day! And.... If anyone knows where to find the Stripers and Wipers in Cheney this time of year, PLease let us know!!! SEE YA ON THE WATER>>> MIKE
Apr 26, 2001 - Wilson - Fished the upper end of wilson this afternoon and caught 12 stripers up to 11 lbs. fishing shad on ballons and downrods. The fish hit best at sundown. Good Luck. Jack Hoskinson Madd Jack Striper Guide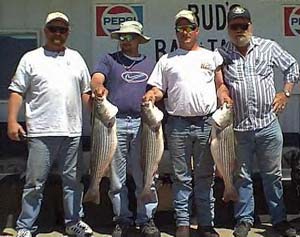 Apr 25, 2001 - Wilson - Fished Minooka park area this morning with live shad and caught 3 stripers from 11 to 15 lbs. Missed at least 1/2 a dozen hits. Good Luck
Jack
Hoskinson
Apr 25, 2001 - Hillsdale - Crappie still scattered, in 15 to 20 ft of water, fished hard today for 3 1/2 hours only 3 bites, two males 9 1/2 and 11, one female 10. none found near bank. males about 1/2 turned black , look for spawn in about 8 to 10 days, should be good then
Apr 22, 2001 - Cheney - Catfish was fair and walleye was excellent. Had fun.
Mike Cook - Four Lake Guides
Apr 22, 2001 - Fall River - Went to Fall River below the dam today. caught lots of Gar up to 25 lbs. Channel cat was slow, caught 1 weighing 2 lbs. 2 gates open 1/2 foot each, saw 1 White Bass caught weighed aprox 2 lbs. In the River above the lake, Nothing but gar and carp and plenty of them! Hope you all had better luck than I did. MIKE
Apr 21, 2001 - Barber County State Lake - On Saturday night at around 12: 00 AM to 2:00 AM fishing was excellent. I caught four catfish weighing over 20 pounds combined. The largest was 7 pounds. I caught these on dead perch. These fish were very aggresive, no nibbiling just slamming the bait.
Apr 19, 2001 - Hillsdale - Water dingy, crappie scattered and NOT biting this morning. ni , nor, jigs or minnows several boats but no one fisherman caught more than two small crappies.
Apr 19, 2001 - Crawford State Lake - 4/18/01 Just got in from night fishing at the lake. I used fresh cut shad to entice some channel with no luck. However the crappie action was very good from about 8:30 pm to 10:30pm. Probably caught and released around 30 crappie, all on live bait. Some times they were so hot they would hit just after my minnow hit the water. I think I will have to try more of this nighttime crappie action. Thanks, Matt.
Apr 18, 2001 - Brown Co. State Lake - April 14. Caught 15 bass up to 13 1/2 inches in shallows with mepps spinners. Good action in spots. Fishing was best in shallow water and fishing slowed in deeper water near the dam.
Apr 16, 2001 - Wilson - Fished the Minooka park area with live shad caught 3 stripers up to 8 lbs. missed 3 more. The fish were moving all the time and hard to stay on. We were fishing the river chanel breaks from 38 to 30 feet. Jack Hoskinson Madd Jack Striper Guide
Apr 16, 2001 - Wilson - Hey gang, Well I guess the fishing is starting to pick up at Wilson, we caught 23 stripers and 6 whites. All were caught on shad west of Minooka boat ramp on the edge of river channel and along the steep rock bluffs. Stripers were from 1-12Lb,1-11,1-8, and the smallest was 22" long. This was on April 14, 2001, we fished from 9:00 a.m. to 8:00 p.m. (4 of us). Good luck and keep your line wet! Roy Posey
Apr 16, 2001 - Marion County Lake - Fished on Sunday afternoon. Took my future wife out on the windy water. Started slow. As the wind changed we started to pick up a few small bass. To get out of the wind we worked that flats with large shiners. She caught her first walleye, minutes later she had her second. I had one get off at the boat. We moved into more shallow water along a wind-blown bank and hooked 5 channel and one flathead all over 4 lbs in the next 30 minutes. Caught a few crappie here and there. She hooked a little smallmouth as we were leaving. She had quite the mixed bag. Good day on the water considering the conditions. Water is stained and pretty cold. Wind limited places to fish.
Apr 16, 2001 - Hillsdale - April 14, Water stained in coves, muddy in river. 3 fish @ 12 lbs won it all. Tough day. We finished 6th with 1 fish weighing a little over 4 lbs. Fish caught on lizards, spinnerbaits, jigs, &
cranks. Tough day, appeared that water was dropping & fish had pulled
out & suspended in middle of river. Lost a good fish by flipping
junebug & chart clawed zipper craw. Big fish of tourney (6 lbs) was
caught early on black spinnerbait. Winners caught fish on lizards.
Most anglers went towards backs of coves. Only a couple of boats in
river. Many boats went east.
Apr 15, 2001 - Crawford State Fishing Park- Crappie are here. The bite is slow, but a limit can be reached by fishing around spawning beds. The crappie are mostly suspending in deep water outside of spawning beds and moving shallower occasionally. Live minnows works best.
Bone Creek Lake- Crappie are bitting, however slower than flarlington, again live bait works best. Blue Gill are aggressively attacking worms.
Mined Wildlife Area- have been having good sucess with small largemouths, most are just under or in the slot limit. Plastic worm worked very slow makes good presentation. Average size 12 inches. Don't worry the bigger ones will come!!
Thanks, - Matt Abella - Girard, Ks.
Apr 15, 2001 - Kingman State Lake -April 15th fished Kingman State Lake, no bites. Drove to Cheney. Fished east end of dam, lots of people. Very few fish were caught by anyone I could see. Water was very murky.
Apr 15, 2001 - Cheney -Today was tough. The weather was absolutely beautiful, and the water plenty murky. Started at 12:30 fished upper river, used grubs, no bites. Tried Night Crawlers, No bites. Tried Dip bait, NO bites. Water was high, lots of trash coming down the channel. Went to Wichita point, fished same baits, a few bites, no fish. Went to the face of the Dam, nightcrawlers yielded several small white bass, apporx 4 to 8 foot deep. Used all the worms, got tired, went home. Didn't catch a keeper fish all day. Hope you boat fishermen had better success! Take Care. MIKE
Apr 14, 2001 - Harvey County East - Fished the 13th & 14th, nothing caught except my wife caught a 71/2 lb channel cat. Geo. Rauh
Apr 14, 2001 - Fall River - Fall River near the Ladd Bridge. Crappie from .5-1.75 Pounds. Fair to slow fishing working 1/32nd and 1/8th oz. jigs in thick brush from 4-6 feet deep. 10 keepers in a 1.5 day fishing trip. Thanks. Jerrod
Apr 14, 2001 - Wilson - Fished this morning caught 4 stripers up to 5 lbs. and one barely legal walleye in the Otoe park area of Wilson. Hell creek area has gotten allot of pressure this last week from bank fisherman and boats but I haven't heard many reports of fish being caught. The bank fisherman are starting to show up in the Minooka area, the last few years there were some nice stripers caught fishing there. The main lake water temp. is 53 degree as soon as the temp climbs a couple of more degrees things should really bust loose. Jack Hoskinson Madd Jack Striper Guide
Apr 13, 2001 - Council Grove City Lake - The crappie are in the coves just before dark hitting chartreuse jigs. Also white bass and a few walleye.
Apr 13, 2001 - Rocky Ford Area - Water is very muddy, extremely high
rate of release from the spillway a few miles upriver. Nearly unfishable in
the main current - the shallow pool is still fishable. I had some very good
success there at this time last year, however, at that time the water was
very calm - caught numerous Channel Cat in the 5-10 lb range last Apr-May.
Numerous Flatheads 10-20lbs from June-Oct. One 10lb Blue in July last year.
Hoping to continue the success this year. Fishaholic. Jeremey
Apr 11, 2001 - Rocky Ford Area - Very heavy flow. Extremely muddy water. Difficult to fish. Jeremey Bailey
Apr 11, 2001 - John Redmon - Three of us caught 40 plus white bass all over 2 lbs most pushing 4 lbs. Using any small spinning jig in the few deep holes of John
Redmon Reservoir. Pink, chartreuse, and white bodies with dark heads
were the most productive. No small fish in these holes, released only
6 that were too small.
Apr 10, 2001 - Pomona -The White Bass are also starting to go at Pomona Res.
We caught 32 on Sat. and 22 on Sun with a couple of small crappie mixed in using the same as last weekend @Melvern. Over a 120 in two weekends. Boy the thumbs
are sore! Joe K
Apr 8, 2001 - Wilson - We fished Lake Wilson Apr 7 all day only to catch 3 stripers up to 4 lbs. We had one other bite that we missed. Two of these were caught in the Lucas park area and one in Hell creek balloning shad. The front that had moved thru the day before had certainly shut the fishing down. I did hear of a 16 lber caught the evening of the 6th and saw 2 stripers caught by wade fisherman in Hell creek one of the stripers I would guess at about 7 lbs. Jack Hoskinson Madd Jack Striper Guide
Apr 4, 2001 - Yates Center Lake (new) - 4/3/01 Largemouth good 12-17 inches.... Water Temp. 55 main lake..... Upper end of lake and creek as high as 63 degrees....Bait of choice is Zoom watermelon Brushhog.........
Apr 4, 2001 - Glen Elder - The walleye spawn is under way, many males being caught of of the dam with Rapalas and the females should be in their by this weekend. Joshua Cox, James Cox, James Cox Jr
Apr 3, 2001 - Geary County St. Lake - Fished Sunday afternoon in a terrible wind trying to catch crappie. Caught one in the first ten minutes and skunked for the next 3 hrs so we went home. Before heading for the house I talked to one other boater who had two crappie in the same amount of time.
Apr 2, 2001 - Melvern - Went to Melvern and caught 47 whites on sat and 21 on
sun. Using chartruse 1 1/2" sassy shad W/1/8 oz. head. They are in the early stages of running. If it's going to warm up this week they should be pounding later
this week. Joe K
Apr 2, 2001 - Marion Reservoir - Went fishing on March 27 & 30 at the dam for Walleye with no success. I fished till about 9:30pm each night and nothing. They are there, you can hear them splashing but no bites. Friday night, the 30th, there was about 20 people fishing and I didn't hear of one catch. I guess I will keep on
trying. Good Luck, Robert B. McPherson rbishop@mpks.net
Apr 1, 2001 - Wilson - Fished the Wilson Hell creek area friday evening and caught 7 stripers up to 5 lbs. Missed at least that many more balloning shad in this area. Saturday afternoon and evening fished the same area only to catch one small bass. We had several good runs but just couldn't put a hook in them! The Walleye fisherman are starting to show up on the dam at Wilson, I haven't heard any good reports but there were several there after dark on Friday night. Good Luck! Jack Hoskinson Madd Jack Striper Guide
Source: Kansas Anglers like you. Send us a report.
Return to current reports from Kansas Anglers
Reports for January - March 2001
Reports for October - December 2000 | Reports for July - September 2000
Reports for April - June 2000 | Reports for January - March 2000
Kansas Angler Home Page
Reports for Kansas | Colorado | Missouri | Nebraska | Oklahoma | Texas